See how easy it is to install Tidio on your Ecwid by Lightspeed store. Follow the steps we describe below to learn how to add the Tidio app to Ecwid.
In this article, you'll learn:
Install Tidio on Ecwid
Tidio Plugin
To install Tidio - open your Ecwid dashboard and head over to the Apps section. Type in 'Tidio' into the search bar to look for the Tidio app.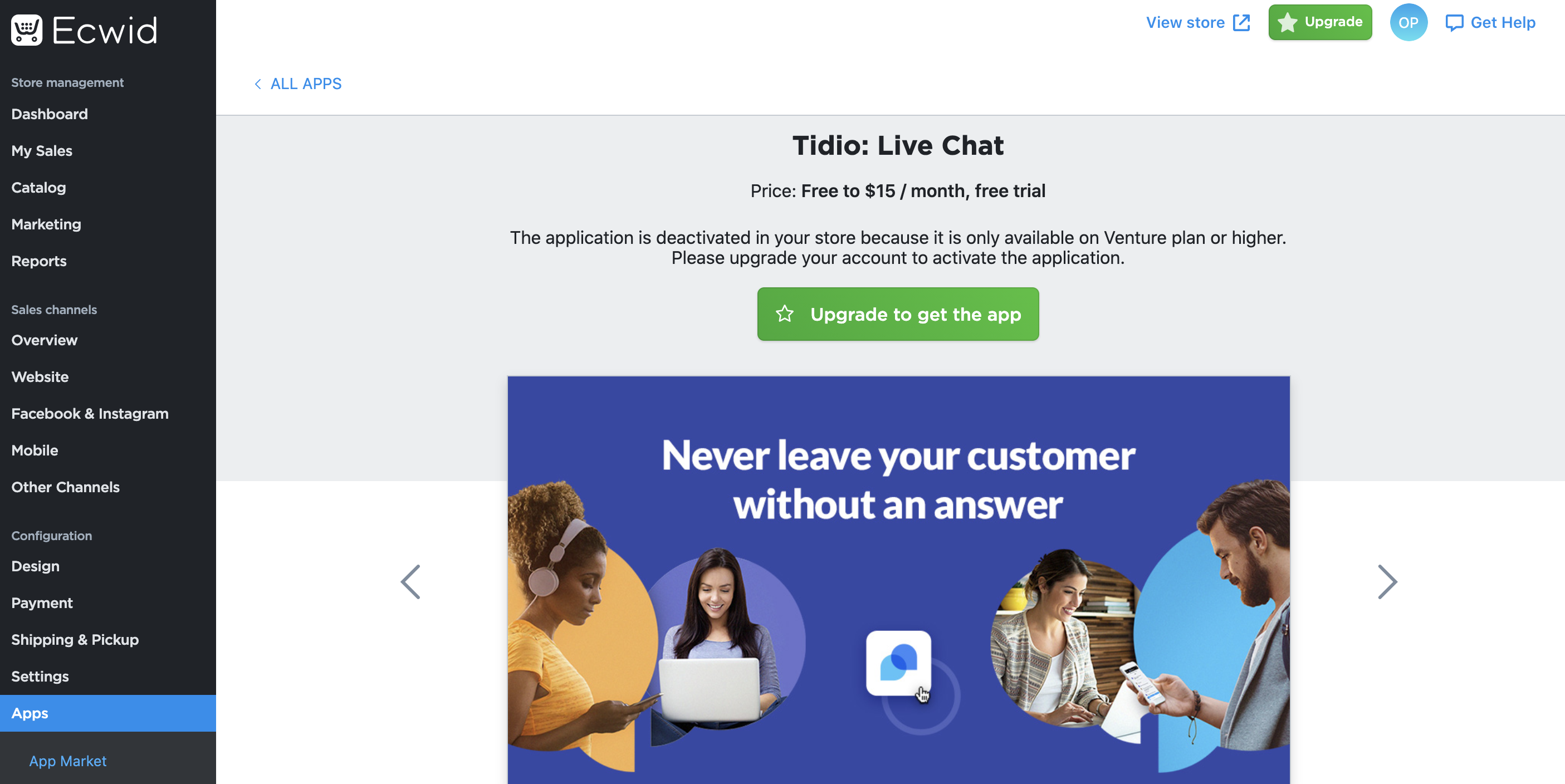 Tidio app can be downloaded only on the Ecwid Venture plan or higher plans.
If you're a user on the Ecwid Venture plan or higher - you'll see the blue install button.
Click the install button and confirm the privacy policy by clicking on the install button again.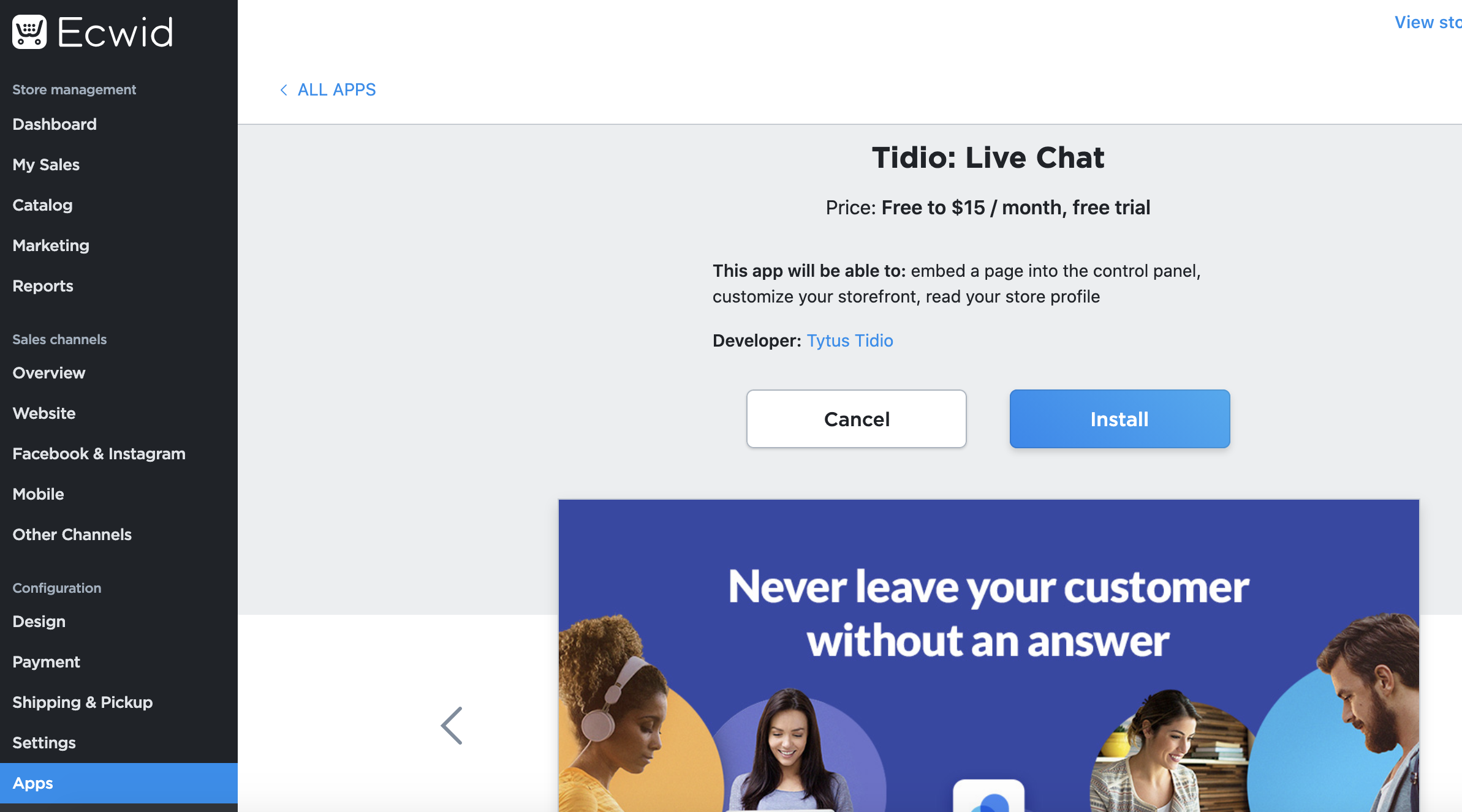 That step will take you into the login panel. If you have an existing Tidio account - you can log in to that account on the left side or create a completely new account by clicking on the blue button to integrate with your site.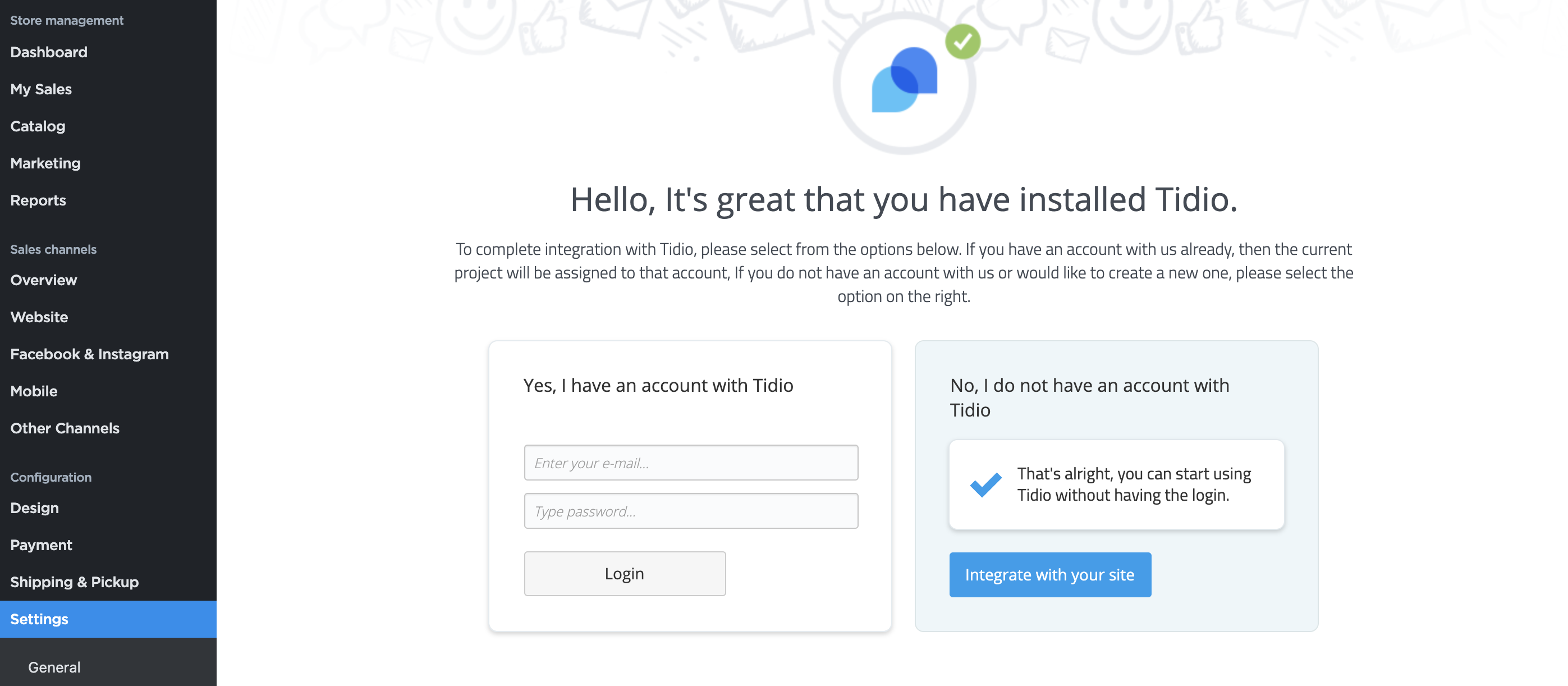 If you choose to log in to an existing account - a Tidio panel will automatically open for you. If you wish to create a new account - you will need to go through the panel customization steps.
If you cannot log in to the Tidio panel or create a new account, you can always find the Tidio app in the Apps > My Apps section in the Ecwid panel and open the app from there again.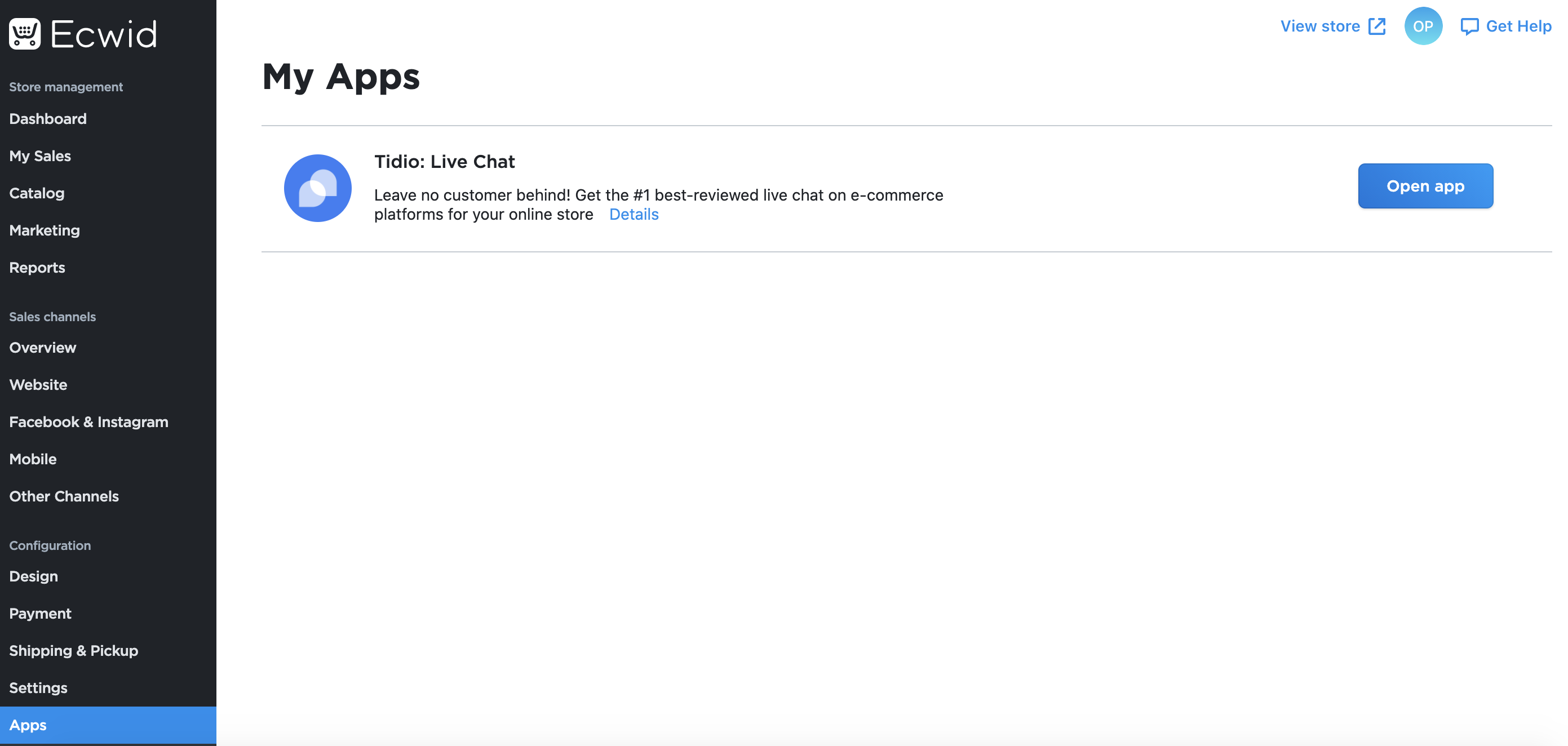 If your account was integrated with Tidio - you can click on the blue 'go to Panel' button to be transferred into the Tidio panel.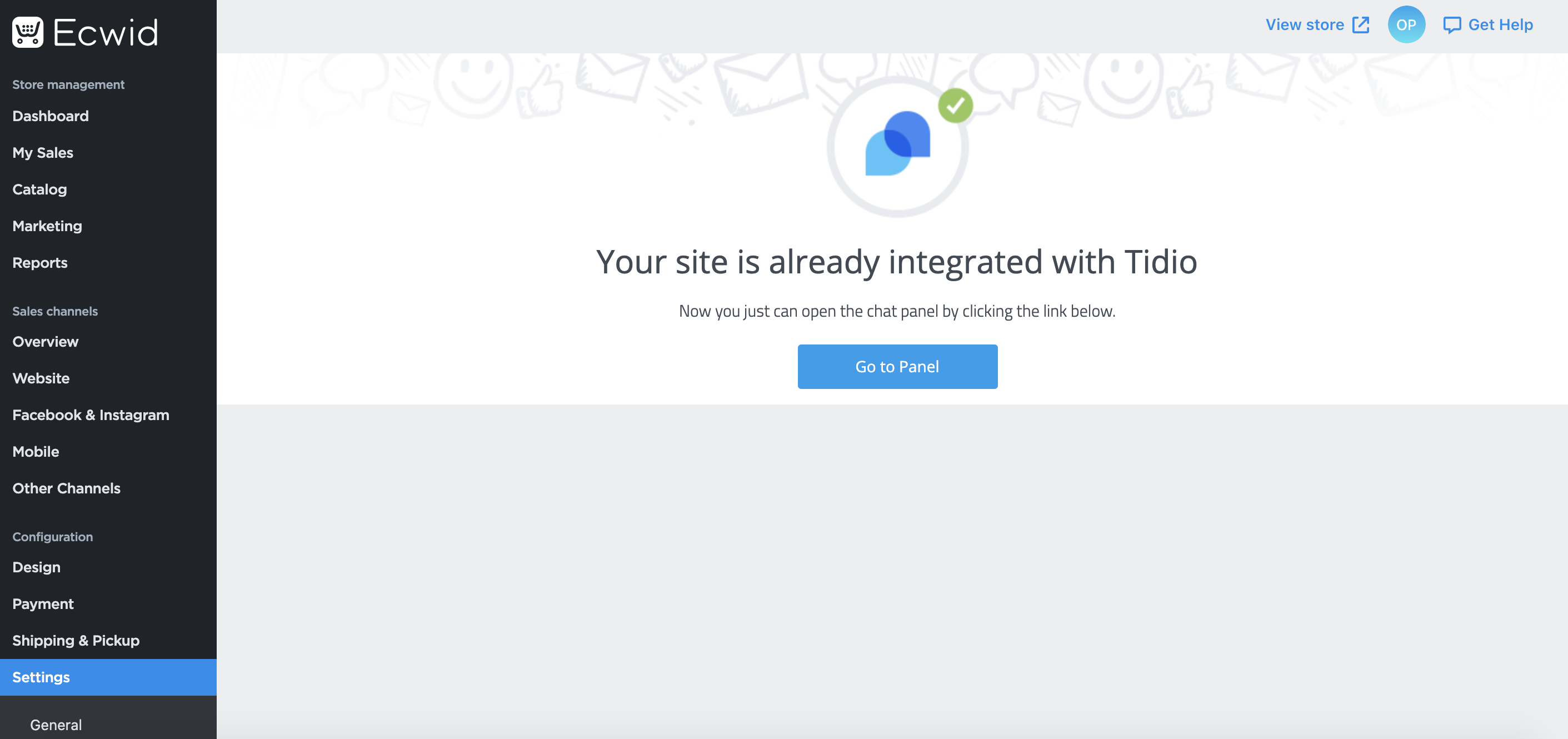 If you integrate with Tidio for the first time - you will see the configuration process of customizing your Tidio widget.
Once the customization steps are finished - you'll be transferred to the Tidio panel, from where you can manage all the incoming messages.
Alternative method
This method is also available only for paid Ecwid users who have created a Tidio account already. If you don't have a Tidio account yet, look at our article explaining how to create a Tidio account.
Open your Ecwid panel and head over to the Website > SEO section.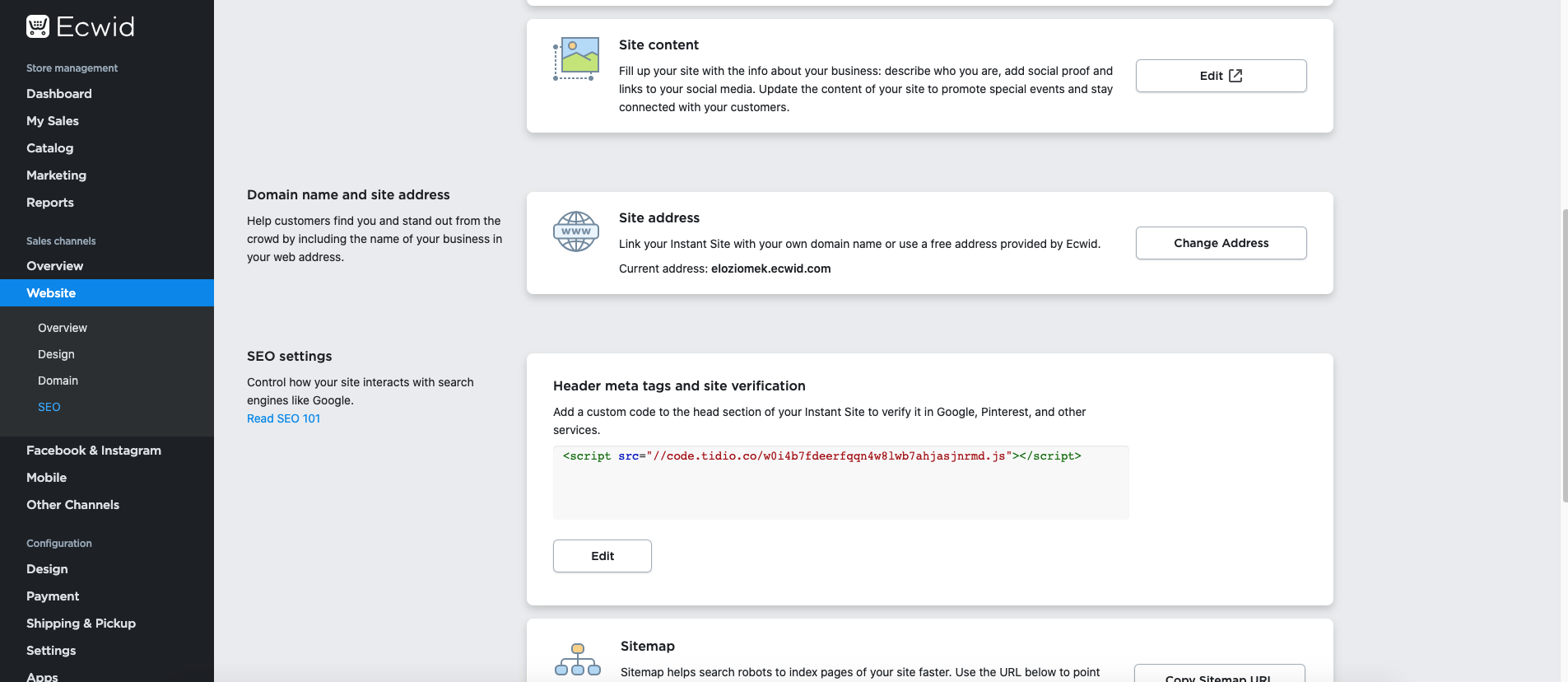 Scroll down to the SEO section and paste your Tidio installation code to the code field in SEO settings.
You can find your unique Tidio installation code in the Settings > Channels > Live Chat > Installation section in Tidio.

💡
You can install more than one script into the header meta tags as long as each of them is separated by a line. Please, put the Tidio javascript code below all the other scripts.
After pressing the Save button, the chat will be added to your website.
Troubleshooting
Recently, the Ecwid team has released a new Instant site where the home page blocked the loading of javascript codes.
As a result, in stores that activated the Instant site, the Tidio widget is displayed correctly only on subpages and does not appear on the main page.
Follow the steps below to correctly display the widget on the whole website (including the home page).
1. Locate the installation code
To find the installation code, please log in to the Tido panel and head over to Settings > Channels > Installation section in your Tidio panel. You can access a set of instructions with a JavaScript code by clicking the 'Click here' button. Then, just copy the JavaScript code to your clipboard.
2. Paste the Tidio javascript code into your Ecwid website
In that step, you will have to add a short script inside the website settings > overview > SEO settings section of your Ecwid admin panel.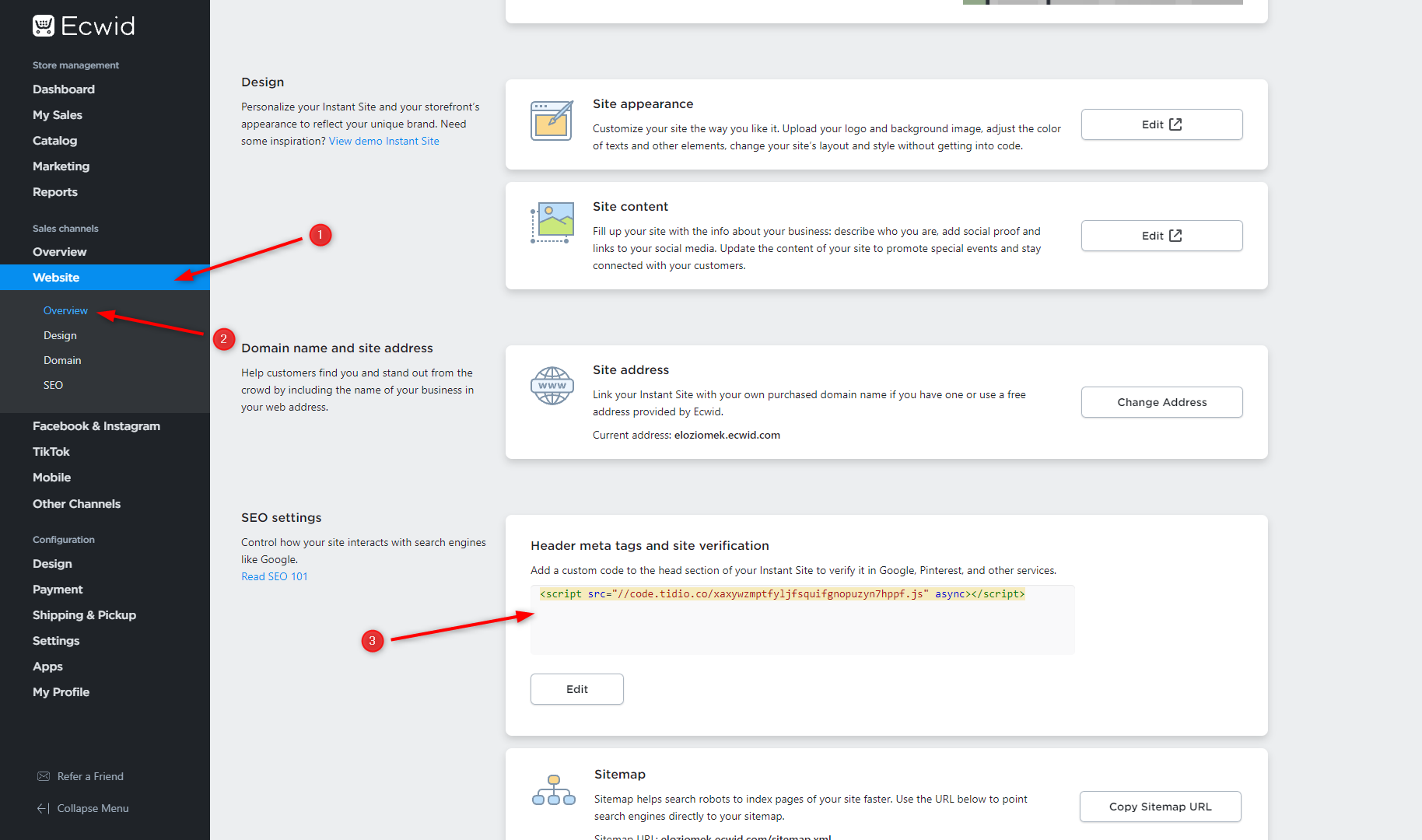 And that's it!
Thanks to our chatbots, you can now instantly communicate with your website visitors through the Tidio Live Chat and automate a big part of it.