We have good news for all users who operate their businesses on Instagram. You can now integrate Tidio with your Instagram Business Account.
In this article, you'll learn:
Benefits
Tidio integration with Instagram has many benefits that can improve the way you operate your business communication. Take a look at just a few of them.
Handle all conversations in one place
Now, you and your team can handle all strategic communication in just one Tidio panel.
See the Instagram story activities
You can see the replies, mentions, and reactions added to your Instagram story in your Tidio panel.
Automate your support on Instagram with Tidio's chatbots
You can set up chatbots to handle communication with your Instagram audience for you.
Easy to integrate
The integration with Instagram doesn't require any coding, and it takes less than 2 minutes to set up.
See the requirements
Set your account to Instagram Business
To connect Tidio to Instagram, you'll need to make sure your account is a Business Instagram Account. Do you have a standard Instagram account? Don't worry! It takes only two minutes to change it to the Business version.
To see how to switch your Instagram account to a Business Account - take a look at the official Instagram guide on setting up the Business Account. Please, make sure you've chosen the business account and not the creator account. At this moment, the creator account doesn't support the integration.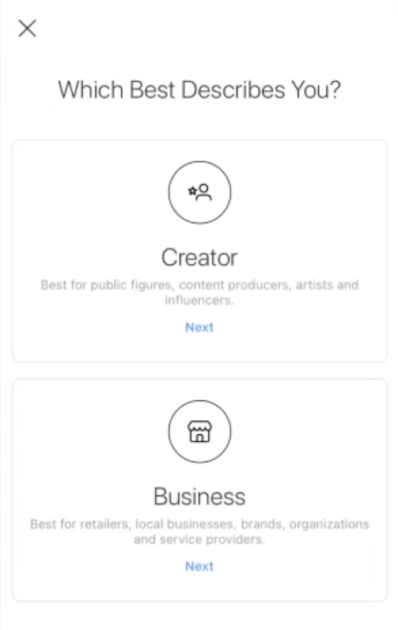 Connect Instagram account with a Facebook fan page
Since Instagram is part of Facebook now, your Instagram account needs to be connected to your Facebook fan page. To see how to connect Instagram to Facebook, take a look at an official Instagram guide.
Allow access to messages
You'll also need to ensure your Instagram account allows Tidio to receive the messages. To do that, open your Instagram app and head over to the Settings > Privacy > Messages > and make sure the Allow Access to Messages toggle is enabled.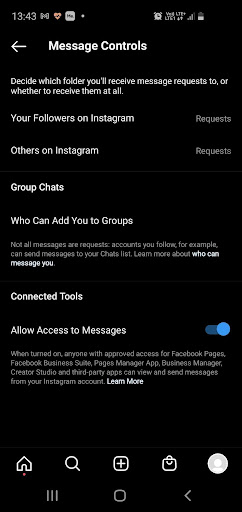 Integrate Tidio with Instagram
Before you connect Tidio to Instagram, make sure you meet all the requirements to integrate with Instagram (see above).
To connect Instagram to Tidio, head to the Settings > Channels > Instagram section and click on the blue button - connect Instagram.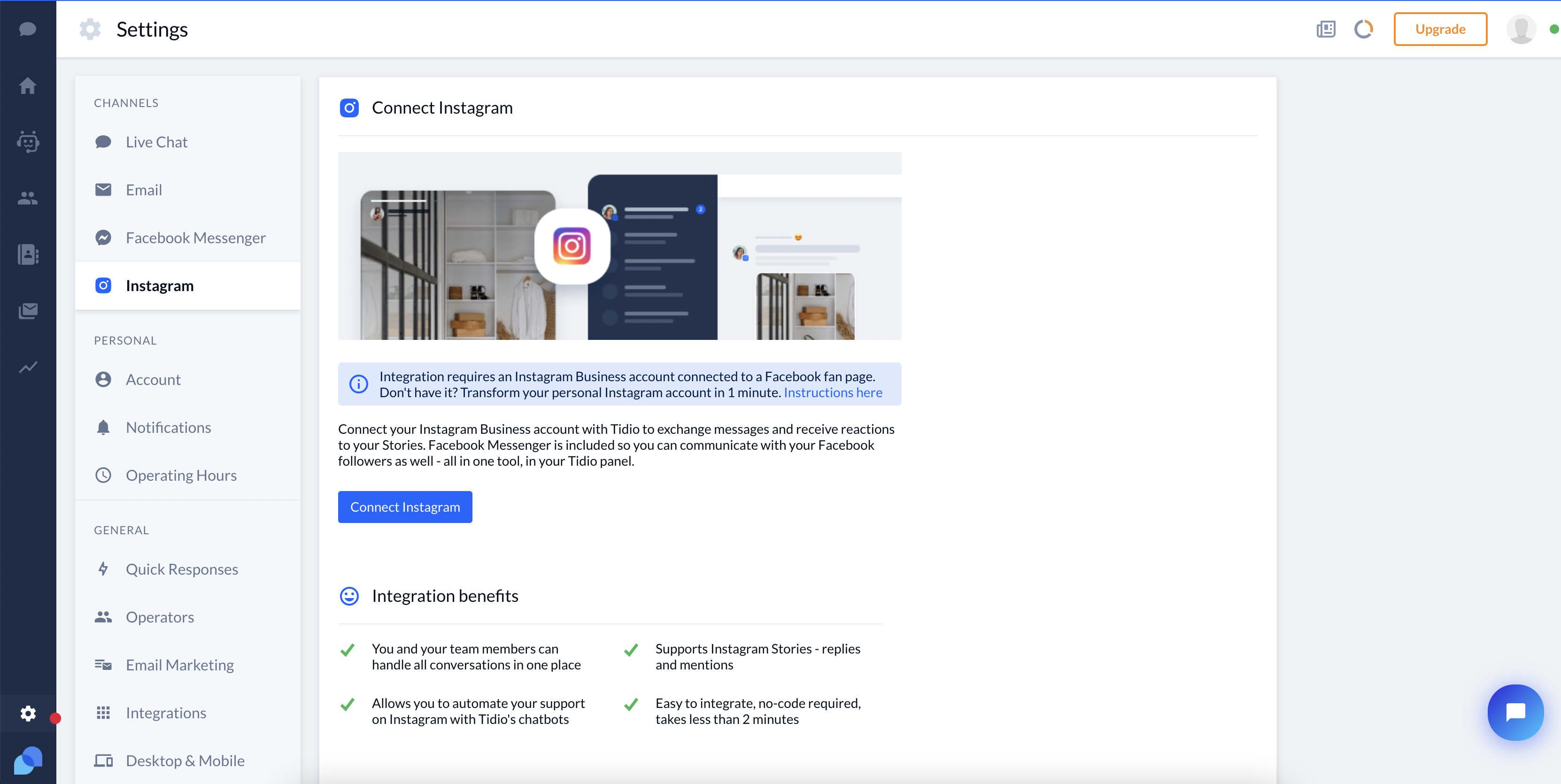 You'll now see a window that will ask you to log in to your Facebook account or continue with your existing Facebook session.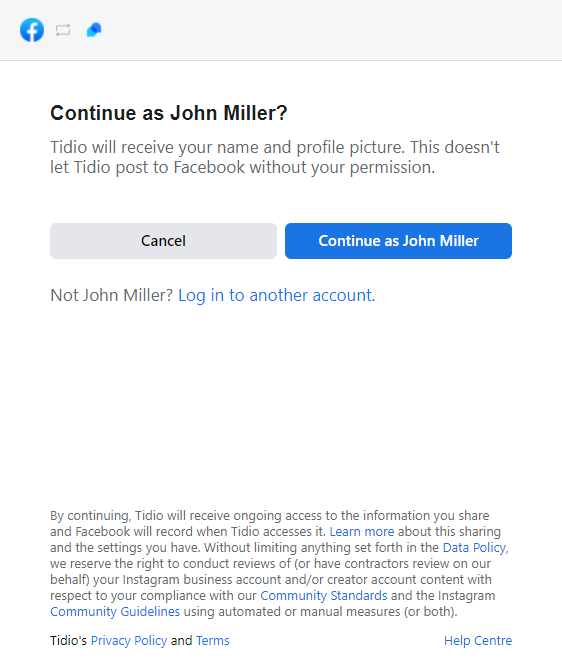 Later on, the integration will ask you to choose your Instagram Business Account.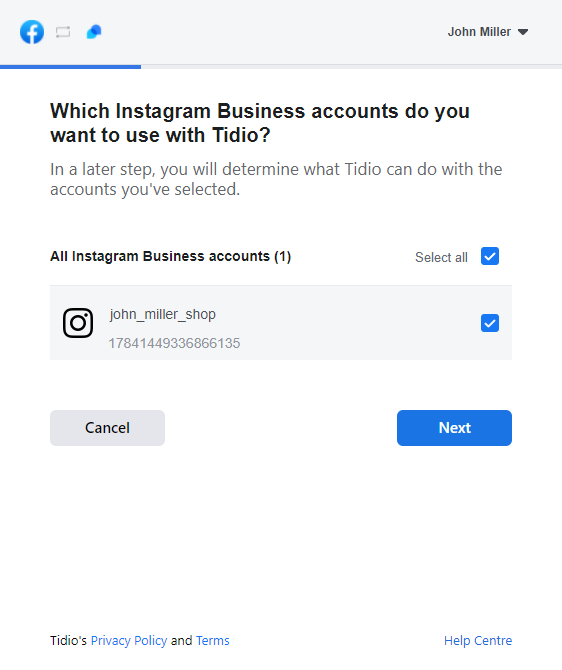 As well as pick up your Facebook page.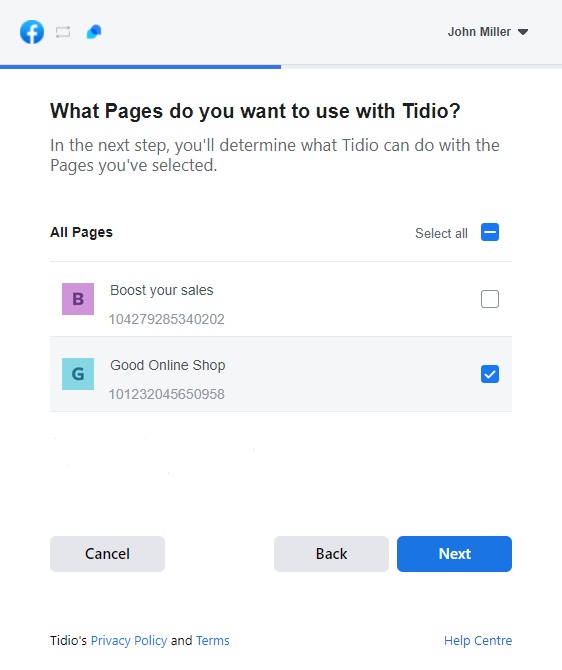 The last step will ask you to allow the permissions for the integration between Facebook and Tidio.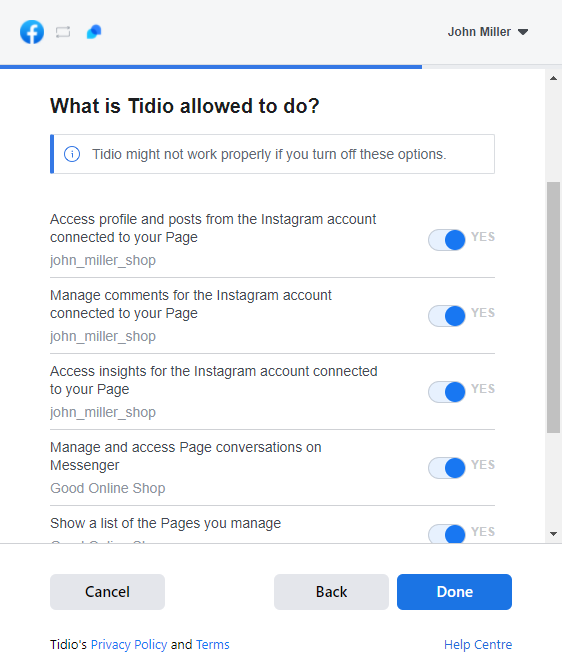 You've connected your Instagram with Tidio! Now, you will start receiving Instagram and Facebook messages.

Enabling the types of communications
After successful integration with Instagram, you'll be able to choose which types of Instagram communications you want to see in Tidio. To do that head over to the Settings > Instagram section and use the toggles next to the following types of notifications:
Story Mentions
Story Replies
Direct Messages ( always transferred, can't be disabled)