The Tidio integration with WhatsApp empowers businesses to manage WhatsApp messages directly inside the Tidio panel providing efficient and personalized support. With this integration, you can streamline your customer support workflows and enhance the communication experience for your customers.
In this article, you'll learn:
Tidio integration with WhatsApp allows you to:
Respond to all text messages received through WhatsApp. You have 24h to reply to messages received from customers

Exchange an unlimited number of messages

Boost your productivity by adding bots to automate routine conversation
Requirements
Access to Facebook Business Manager
To be able to integrate with WhatsApp, each business needs to have access to Facebook Business Manager. Without access to it, you will not be able to integrate with WhatsApp.
If you don't have a Facebook Business Manager, you can create a new account. However, keep in mind that there may be certain restrictions on use in the first 24 hours.
Phone number for WhatsApp
The phone number must be a valid phone number that meets the following criteria:
the phone number is owned by you and registered under your company's ownership. You should not use your personal phone number.
you are able to receive phone calls and SMS to the provided number.
If your number is being used inside the WhatsApp Messenger or WhatsApp Business app, you would need to remove it from the account that is being used and delete the WhatsApp Messenger from your phone device before integrating Tidio with WhatsApp.
Business details and legal address
While integrating Tidio with WhatsApp, you will need the following information:
name of your company that will be visible to all visitors you engage with
legal business name
the official address of your company
How to integrate
To begin the integration with WhatsApp, head to Settings > WhatsApp section in your Tidio panel. Then, click on the Integrate WhatsApp button to start the integration.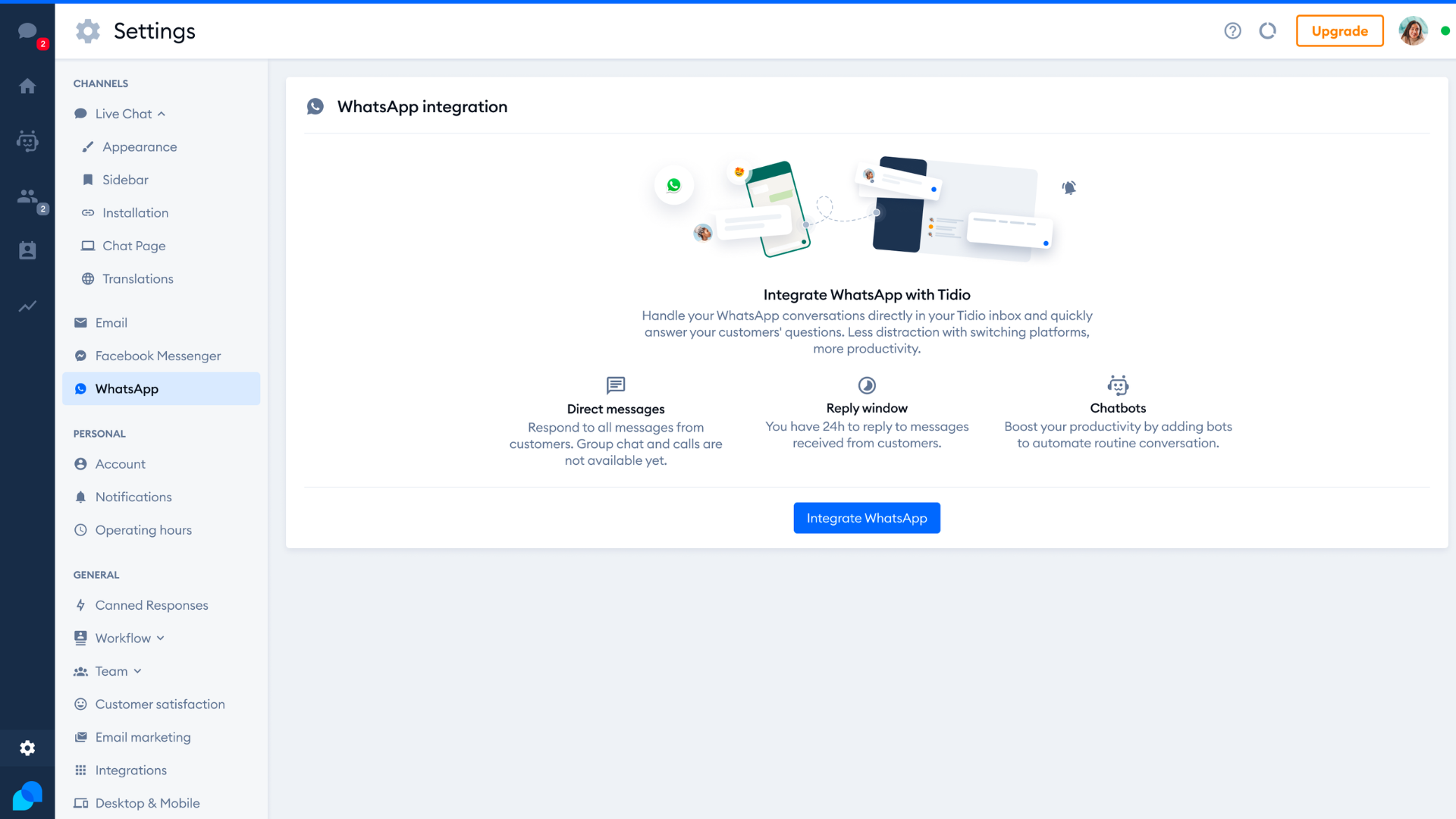 You'll see a window with a summary of all requirements that you need to meet in order to integrate Tidio with WhatsApp. To process, click on the blue Continue button.
Each requirement will be explained in detail. To move forward, click on the Next Tip button.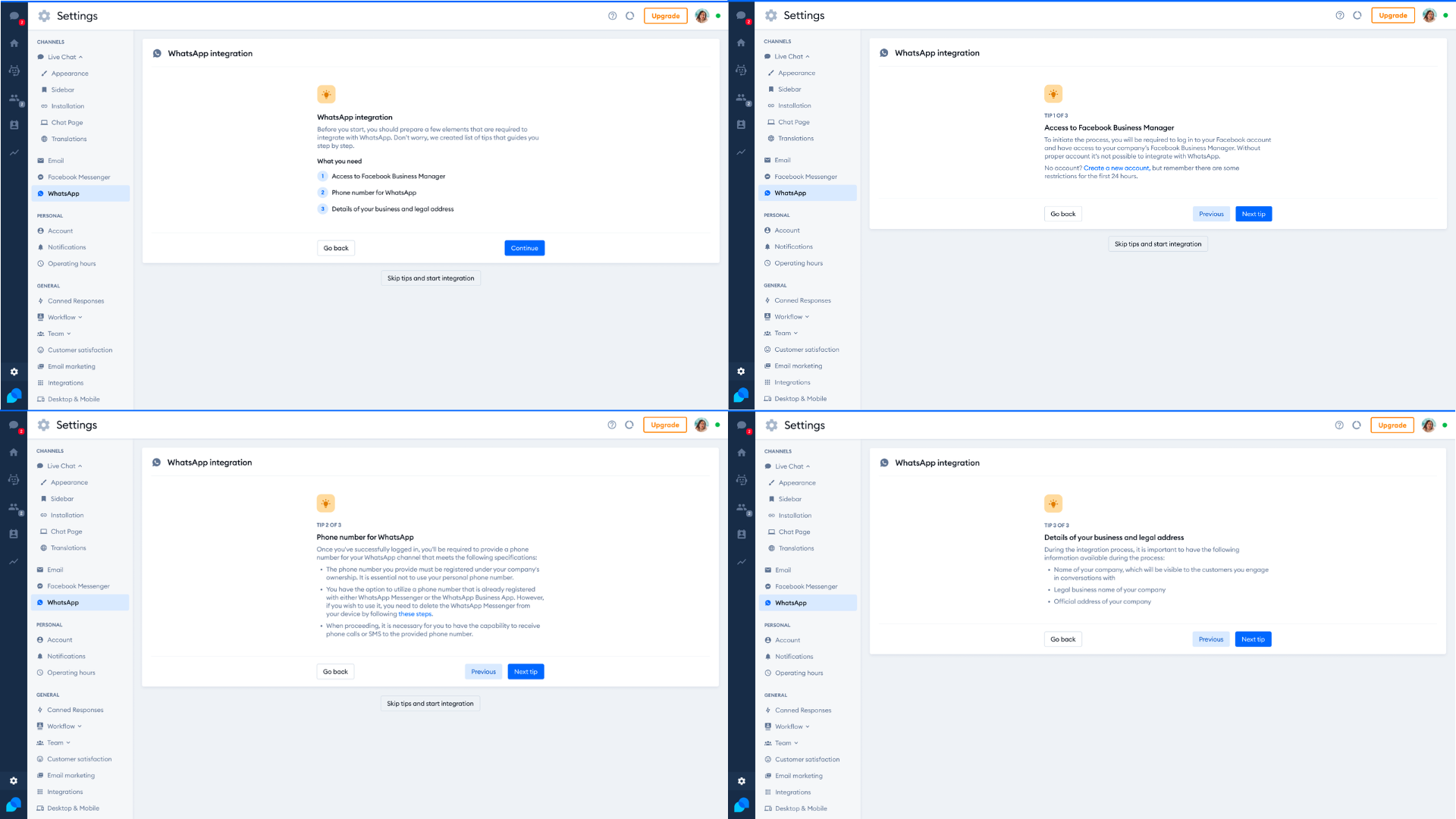 In the next stage, you'll see a Facebook Log-In modal. Please log in to your Facebook account associated with your Meta Business Account.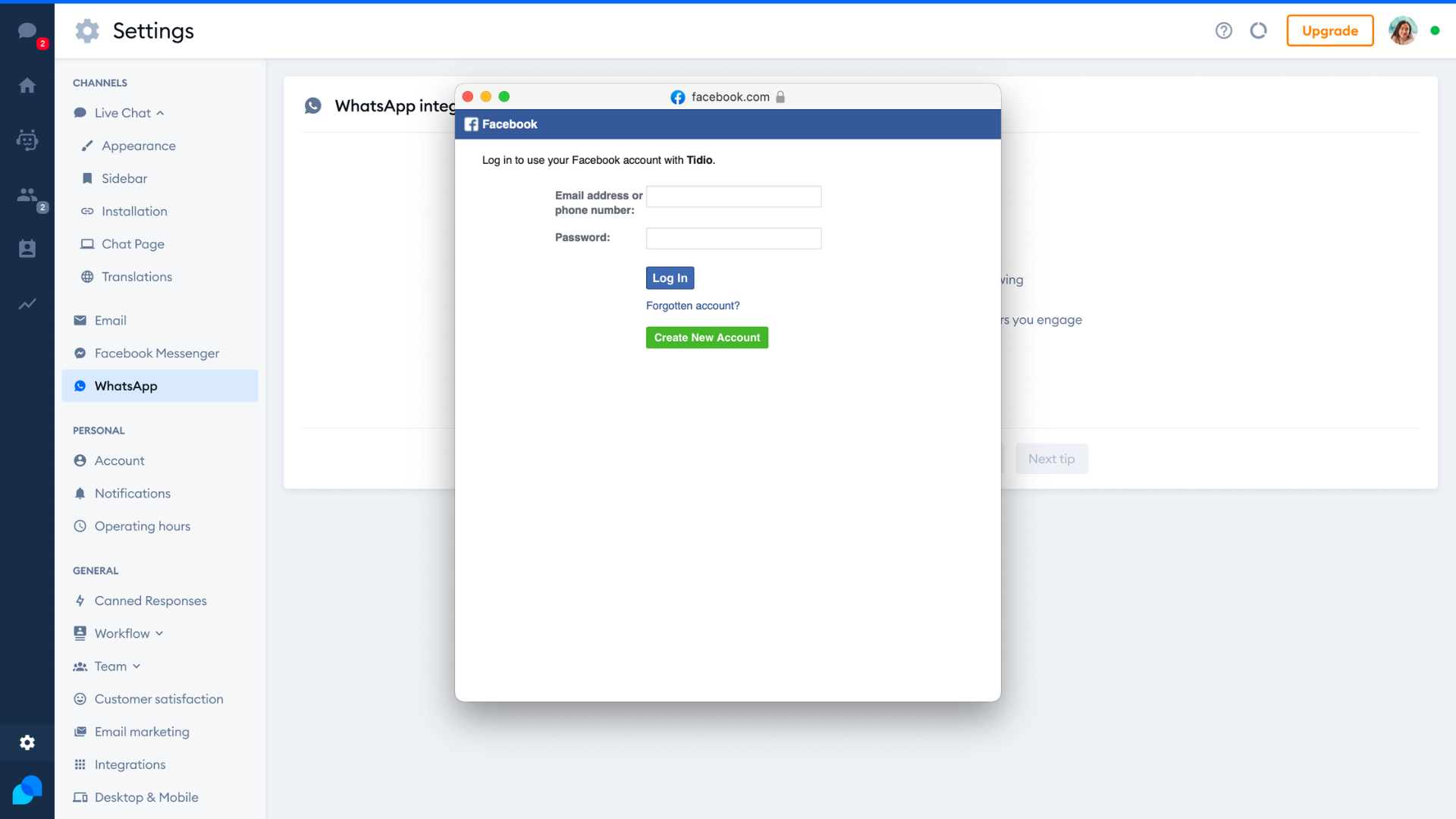 Select the Meta Business Account you want your integration associated with (or create one if you don't have one).
Create your Whatsapp Business Account (or select an existing one).
Submit the phone number that you plan to use as your Whatsapp Phone Number for verification. Please ensure that the phone number meets all the requirements. Receive your verification code and submit it in the Facebook integration window.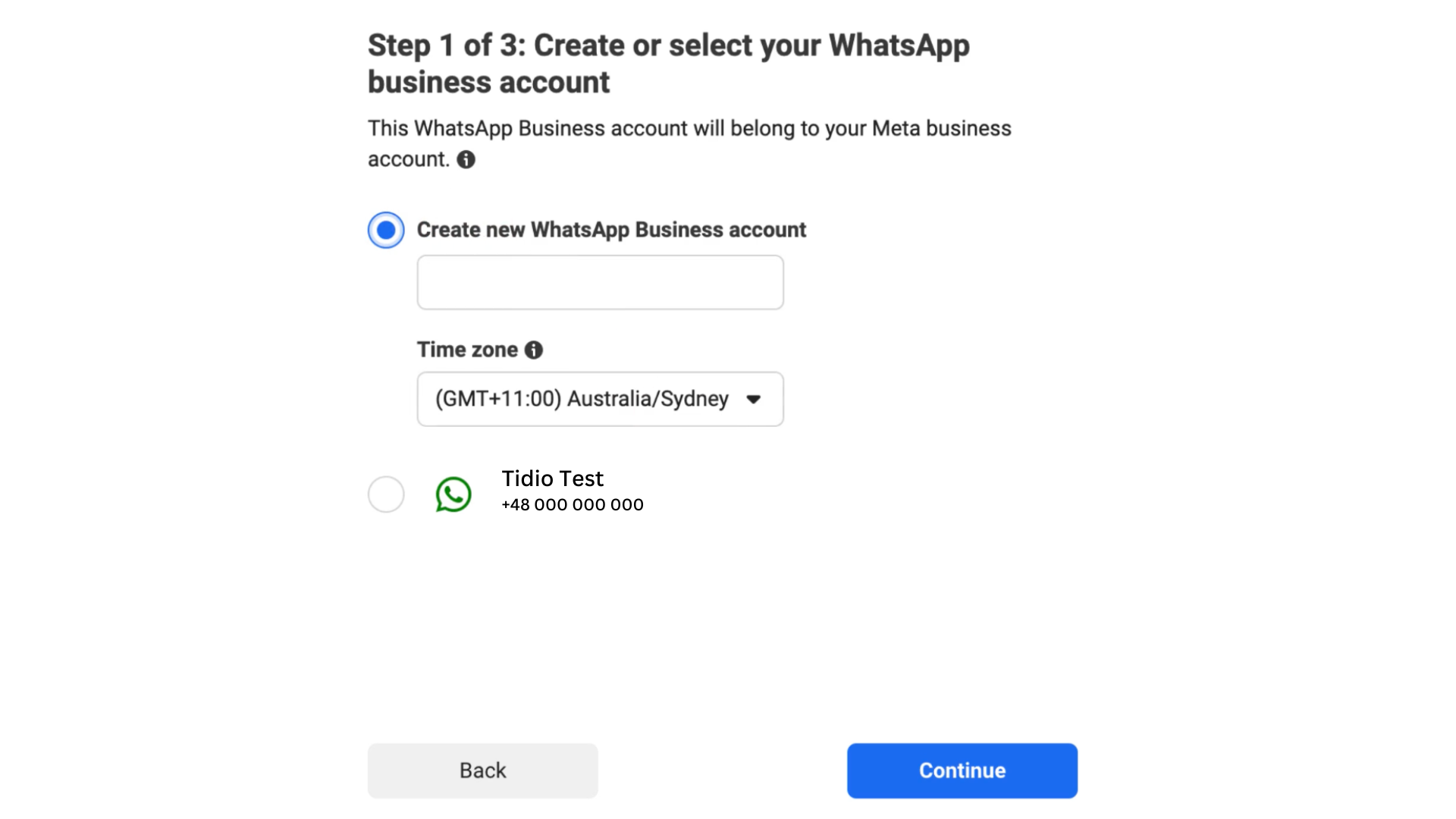 After the integration is completed, you'll come back to your Tidio panel where you will be able to see all the data about your integration.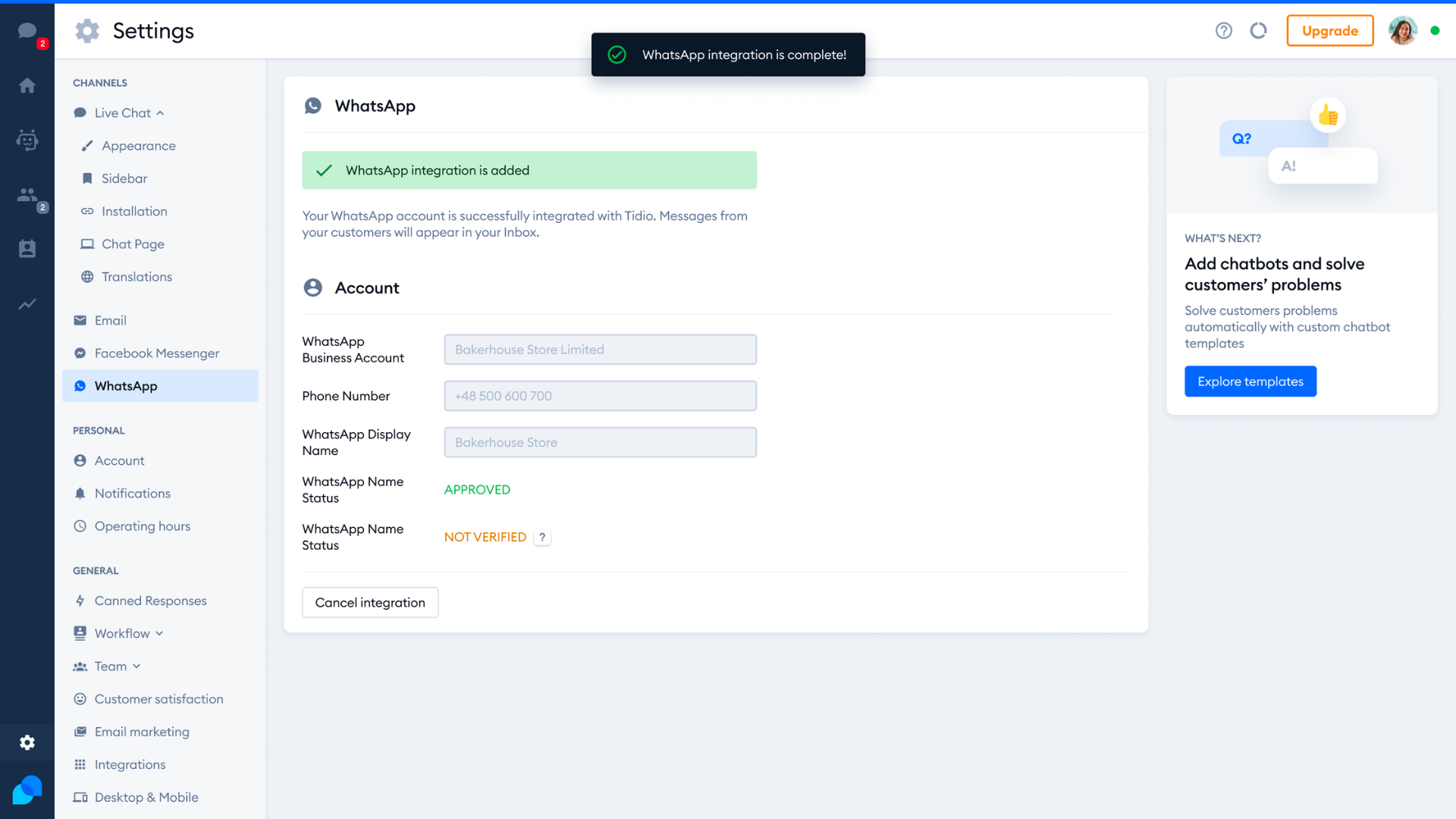 Bots for WhatsApp
You can take advantage of WhatsApp integration to provide a more efficient customer service experience. This integration supports chatbots, an additional layer of automation to your communication, allowing you to utilize some of the triggers for a streamlined customer service experience.
Available triggers for creating bots for WhatsApp:
Visitor Says
Operator doesn't respond during the conversation
Operator starts the chatbot
FAQ
Is the integration with WhatsApp free?
Yes, the integration is completely free and available on each plan.


Can I integrate a phone number that I've used for a different WhatsApp or WhatsApp Business account?
Yes. However, you must delete the number from the current account in order to reuse it for the new integration.


To delete the account:
Open the WhatsApp App/WhatsApp Business App
Navigate to Settings → Account
Select Delete My Account
Follow the steps described to delete the WhatsApp account. Please note it may take up to 3 minutes for the disconnected number to become available.
Delete the WhatsApp app from your device
Once the number has become available, you can undergo new WhatsApp onboarding.
Can I pick up calls from WhatsApp?
Unfortunately, at this moment, audio/video calls/WhatsApp statuses /reactions/ Group messages - are not supported on WhatsApp API. As a result, we are unable to implement these features in Tidio. We understand that this limitation may be disappointing, but please rest assured that we are continuously exploring possibilities and advancements in the WhatsApp API. Once these functionalities become available, we will do our best to incorporate them into Tidio and enhance your overall experience.