See how to integrate your Zendesk account with Tidio to create new tickets directly from Tidio.
In this article, you'll learn:
Integrate Tidio with Zendesk
Open your Tidio admin panel and navigate to the Integration section located in the left sidebar, right above Settings. Then, click on the Zendesk tile.
You've now added the app to your Tidio account. To complete the integration, you will need to provide your Zendesk API Key (Personal Access Token).

To find the API key - please follow the original Zendesk guide on finding your API token.

Return to your Tidio Chat panel and go to the Zendesk app in the Integrations section. Provide your email address, Zendesk URL, and the API token.
💡
Please note: the email address you need to use here is your Zendesk owner login address, and not the address that channels your incoming emails to Zendesk.

Click the Add button to activate the integration.
To send a ticket to Zendesk, open the menu in an active conversation window, and choose the Create a ticket option.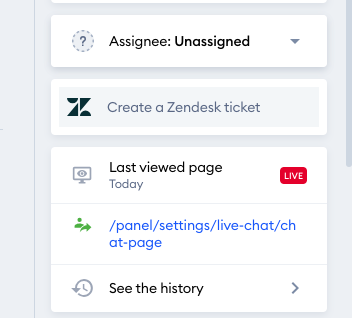 That's it! Your chat is now fully integrated with Zendesk.