Changing the language of your Tidio admin panel is very easy and requires only a few clicks in your dashboard. Tidio offers four language versions; English, German French, Spanish, Italian, and Portuguese.
In this article, you'll learn:
Changing the language
To change the language of your Tidio Panel - log in to your Tidio dashboard and click on your avatar in the upper right corner of the Panel.
You'll see a sliding window with a language symbol in the upper left corner. Click on the language symbol, and a list of available languages (English, German, French, Spanish, Italian, and Portuguese) will be presented to you.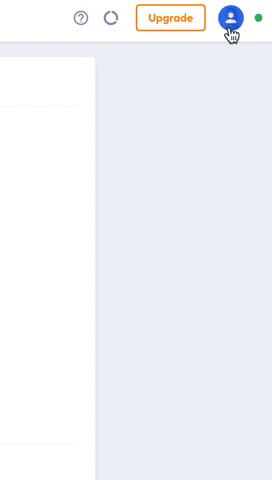 Once you choose the language - the Tidio panel will reload, and you'll see the Panel translated into the selected language.
A localized version of the Tidio panel will be visible only to the operator who made the changes. Each operator needs to make the changes in their own Tidio Panel.
This setting will change only the language inside the Tidio admin panel (for operators only). To change the language of your chat widget, visible to your website visitors - take a look at our article on changing the language inside your Tidio chat widget, as well as how to translate your bot's messages into different languages.
💡
Please, keep in mind that we keep English as our primary communication language in Tidio. Some aspects inside the Panel may still be presented in English, such as the Tidio Support Chat Widget, Help Center, Blogs articles, and our Home Page.