At Tidio, email marketing aliases allow you to personalize the email address that visitors see in your email marketing campaigns. In short, an email alias is an additional email address for an email account. An email alias is like a nickname for the email address.
In this article, you'll learn:
Setting up an alias
To set up an Alias, go to Settings > Email Marketing > Sending Domain and select the Tidio domain option. From the dropdown menu, choose the Add new alias option. You'll now be able to provide an email alias that you'd like to use.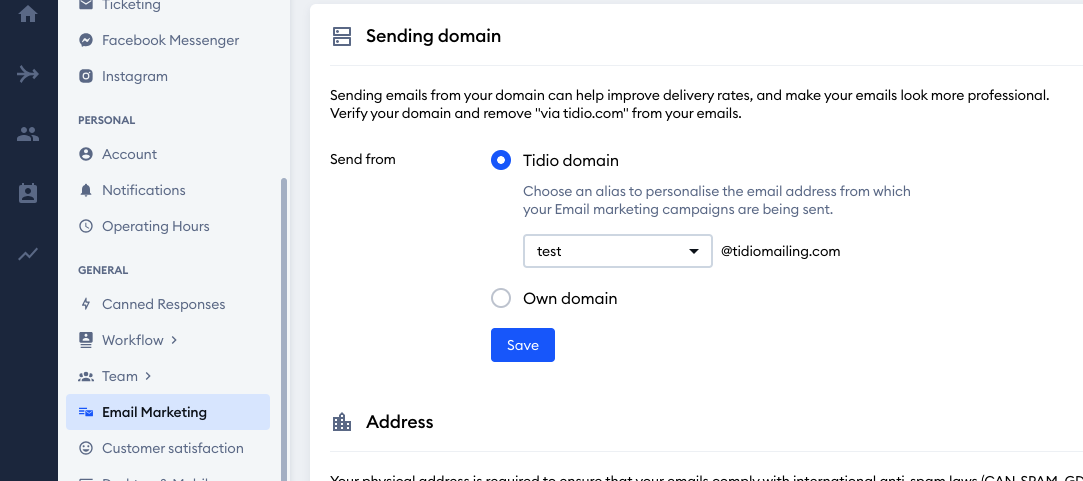 Any aliases you add will be available in the list for you to select as your active alias for Email Marketing.
You may have up to 5 aliases associated with your account. However, only 1 of them can be active at any given time.
💡
At this moment, we don't have an option to delete unused aliases.

Also, the aliases you create in Tidio will always end with @tidiomailing.com - that is the domain Tidio uses for sending out email marketing campaigns by default. However, you can connect your own mailing domain if you wish! This would allow you to send your campaigns with your very own email address as the sender. See the instructions for setting up your own domain later in this article, here.
Sending campaigns from your own domain
To improve deliverability with your subscribers, you can start using your domain to send email marketing campaigns. This allows you to set up your own DNS records, and for each domain you add and successfully verify - you can add custom aliases as well.
To do that, navigate to Settings > Email Marketing > Sending Domain and select the Own domain option.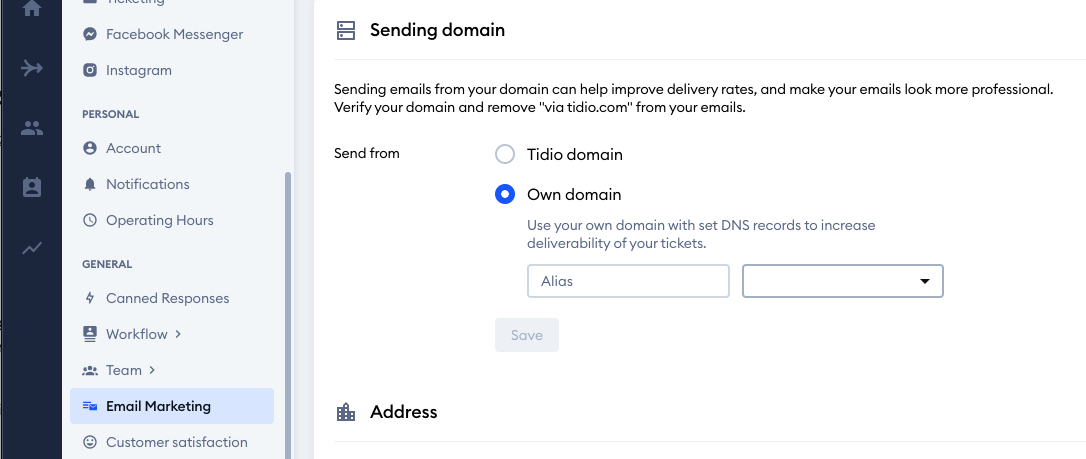 From the Domain dropdown menu, you can select any domain you've already added and verified. If you haven't done that yet, head over to Settings > Domains, and use the Connect your domain button there.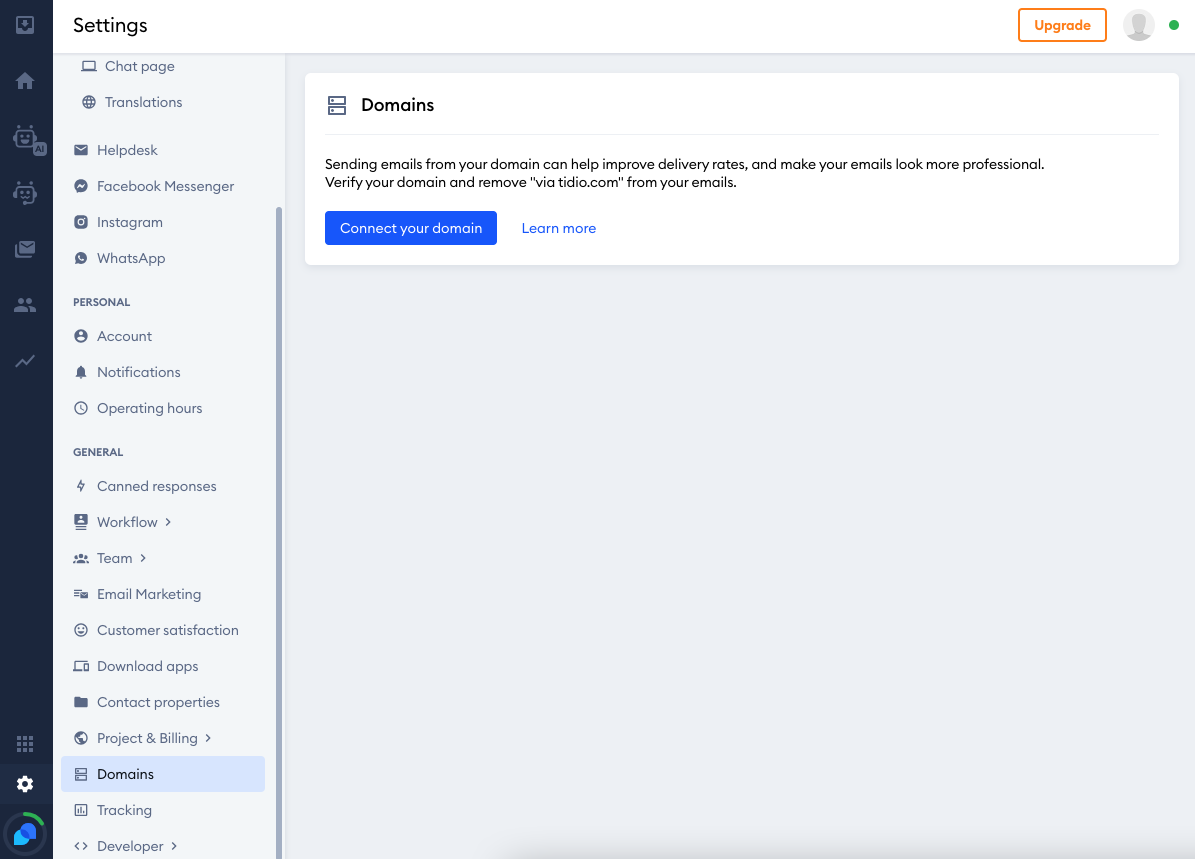 In the popup window, provide the domain you'd like to use.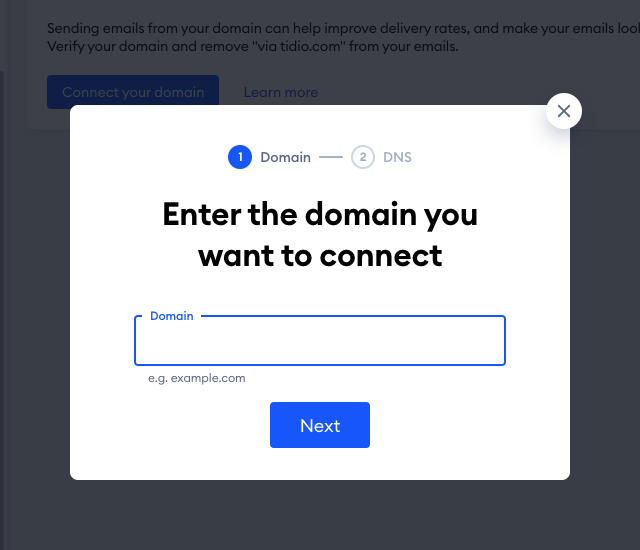 In the next step, you will see your unique DNS records - use them in your domain provider's DNS settings as instructed, and you are done!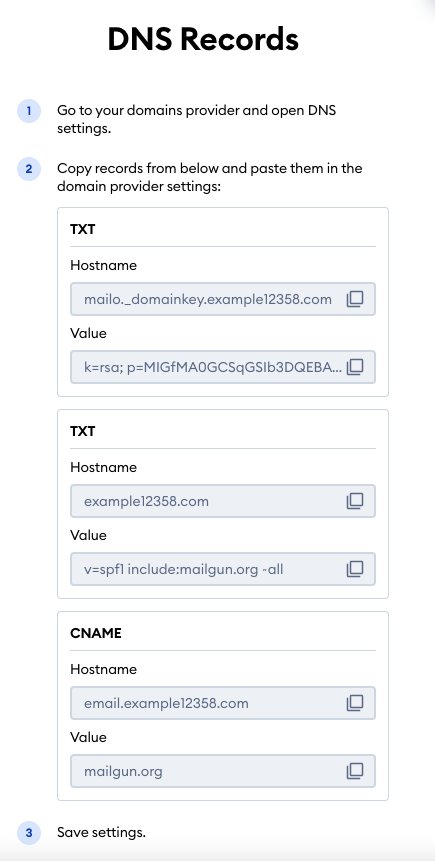 Once the domain is verified, it will become available in the Domains dropdown menu in Settings > Email Marketing > Sending Domain.
From now on, any email campaign you send to your subscribers will be sent directly from your own domain, using the custom alias you've created.