At Tidio, we want to ensure that the email campaigns sent via our Email Marketing tool are delivered to your recipients - free of spam. This article has answered some of the most frequently asked questions regarding the spam checking procedure.
In this article, you'll learn:
Spam checking
Tidio Email Campaigns follow strict procedures that allow us to deliver the content free of spam and phishing to the end recipients. Each campaign is checked for spam before its sent.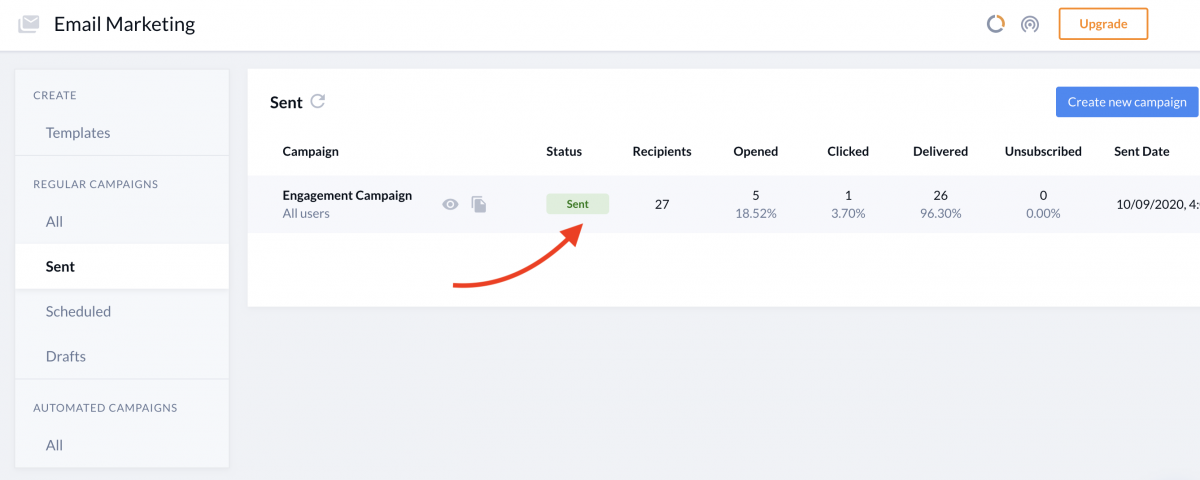 You can see the Spam checking status displayed in the Email Marketing Tool > Regular Campaigns > Sent section. The anti-spam system may accept or reject the campaign based on various criteria related to the campaign's content. If the campaign gets rejected by the anti-spam system, the rejected status will be displayed. If the anti-spam system accepts the campaign, it will proceed to the sending status and be delivered to the recipients.
Who is eligible for spam checking
All Tidio Email Marketing campaigns are checked for spam. This process is especially important when a new project registers an account and starts sending Email Marketing campaigns.
Can I skip the spam checking process?
No. All the campaigns are verified for spam, regardless of how old the project is. However, the higher the reputation, the quicker this process might be. Senders with a high reputation see no delay between clicking send and the start of the delivery process.
Will my Email Marketing be blocked if I send spam campaigns?
Yes. Our anti-spam system may block access to the Email Marketing tool if spam campaigns are being sent out. Please refer to our T&C to learn more about the requirements and obligations of Email Marketing users.
Sender's reputation
Our anti-spam system contains its own reputation measurements for each Sender. The more spam-free campaigns sent from a particular account, the better the reputation of the Sender. A higher reputation allows for quicker anti-spam checking and quicker delivery of email campaigns to the recipients.
Content is not the only factor. The anti-spam system checks the deliverability of the recipient's email addresses. If the percentage of non-existent email addresses is unusually high, the campaign may also be rejected. Therefore, it's essential to make sure that you know your recipients and deliver them good content.
Learn more about how to avoid spam filters and improve email deliverability rates.