Say hello to a new way of managing your customer support. We're introducing Lyro - our revolutionary tool that delivers personalized customer support, just as a human service agent would.
In this article, you'll learn:
Benefits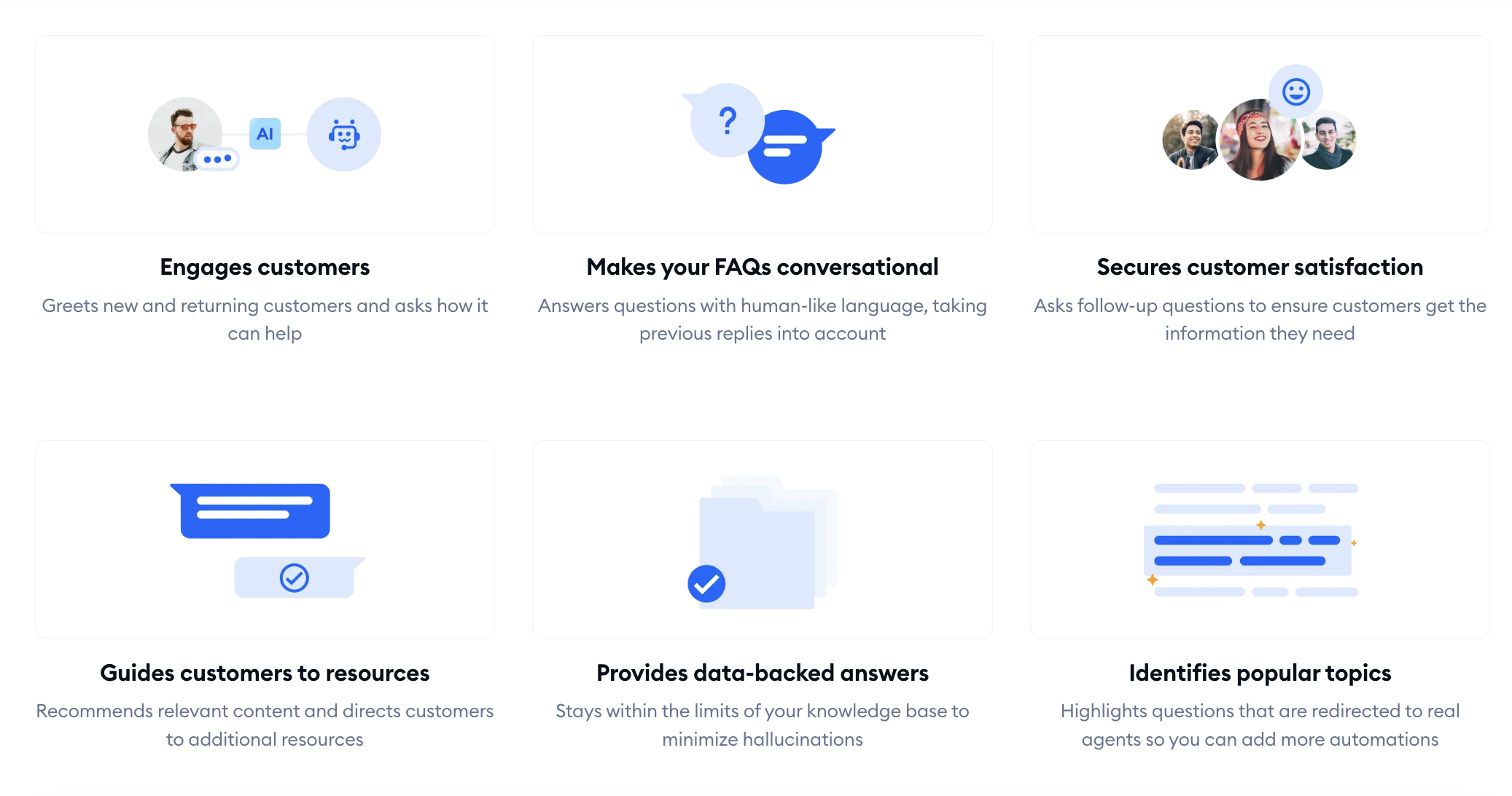 Save money on hiring additional agents
Let Lyro handle up to 80% of common customer questions, freeing your real agents to solve complex tickets. Improve your response times and increase customer satisfaction with automated support conversations.
Increase your support team's efficiency
Let Lyro detect and answer questions about order status, shipping policies, product availability, and more within milliseconds. This frees up your operators to focus on complex or profitable issues so you can make your business more prosperous.
Skip the training
Empower your customer service with instant automation. Lyro makes implementation a breeze and eliminates the need for extensive training. Experience the power of Lyro with our help to enable round-the-clock customer conversations. Lyro prioritizes brand safety by utilizing solely the data you provide, guaranteeing precise and reliable answers.
What is Lyro?
Lyro utilizes artificial intelligence and natural language processing to engage in human-like customer conversations. It can ask additional questions to gather more questions from your website visitors to provide the most satisfactory answer. Lyro's knowledge is based on your website's FAQ page to help respond quickly if the information is available. However, if the answer lies beyond the FAQ, Lyro will seamlessly redirect the question to a human agent for further assistance.
💡
Lyro is now supported only in the English language. We are working on including more languages.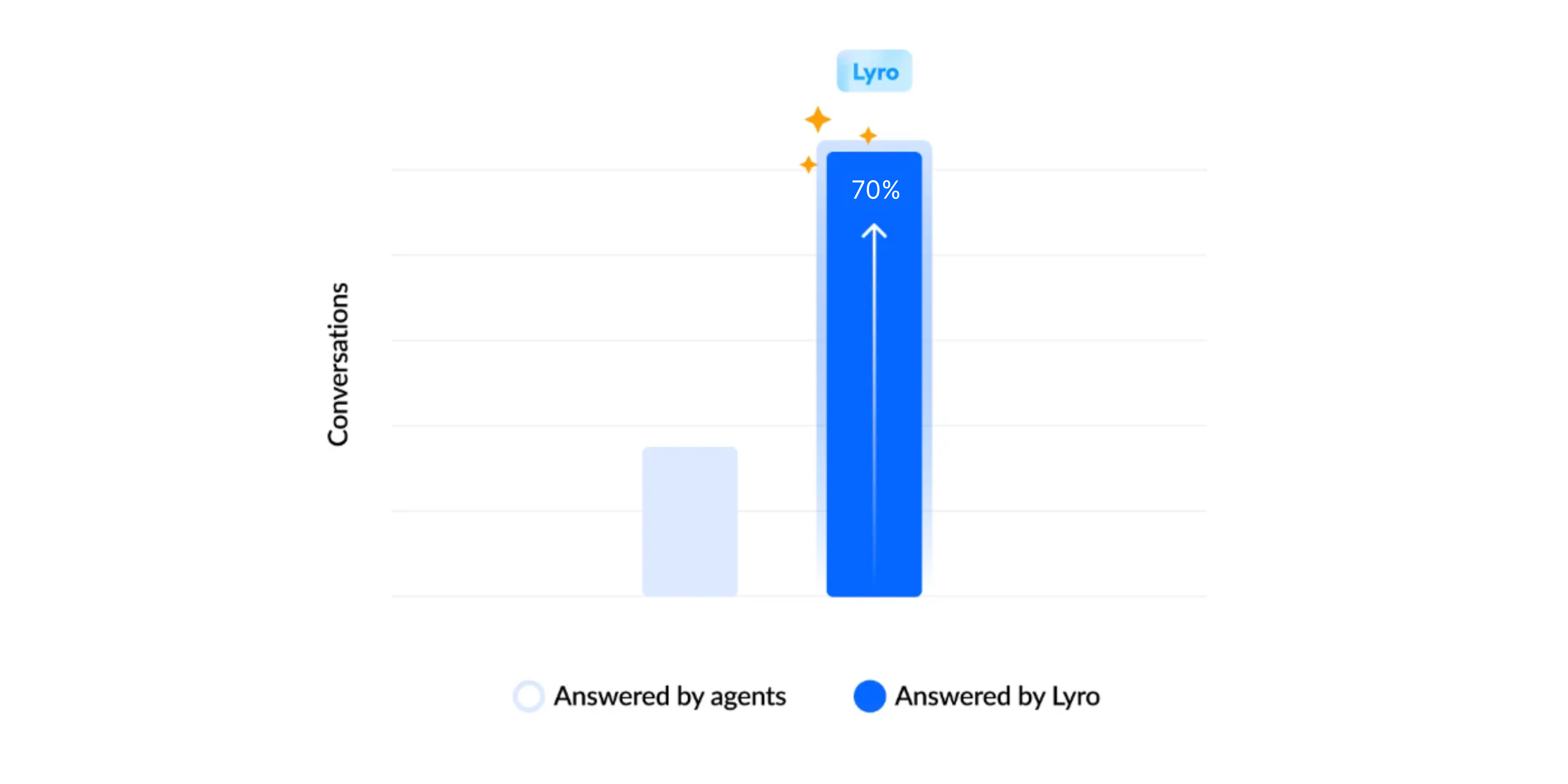 How to enable Lyro
To enable Lyro on your Tidio project, navigate to the Chatbots panel and open the Lyro tab.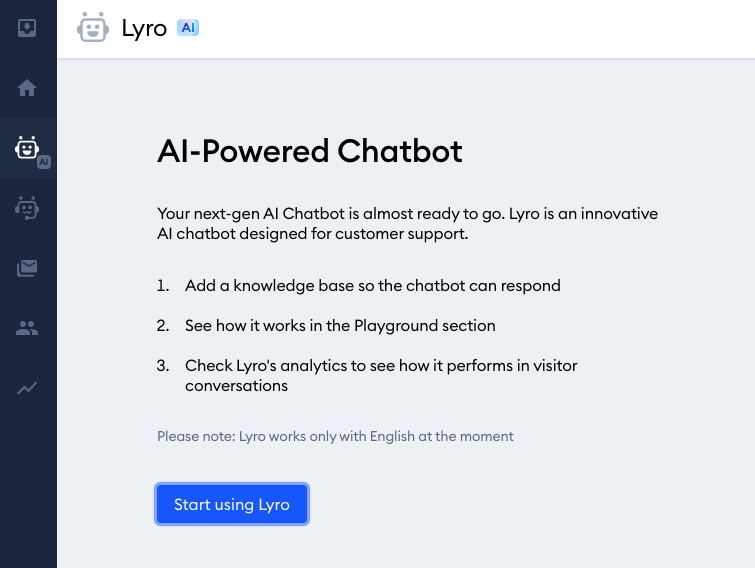 In there, you can decide if Lyro should base its knowledge on your website's FAQ or if you prefer to create the FAQ from scratch yourself: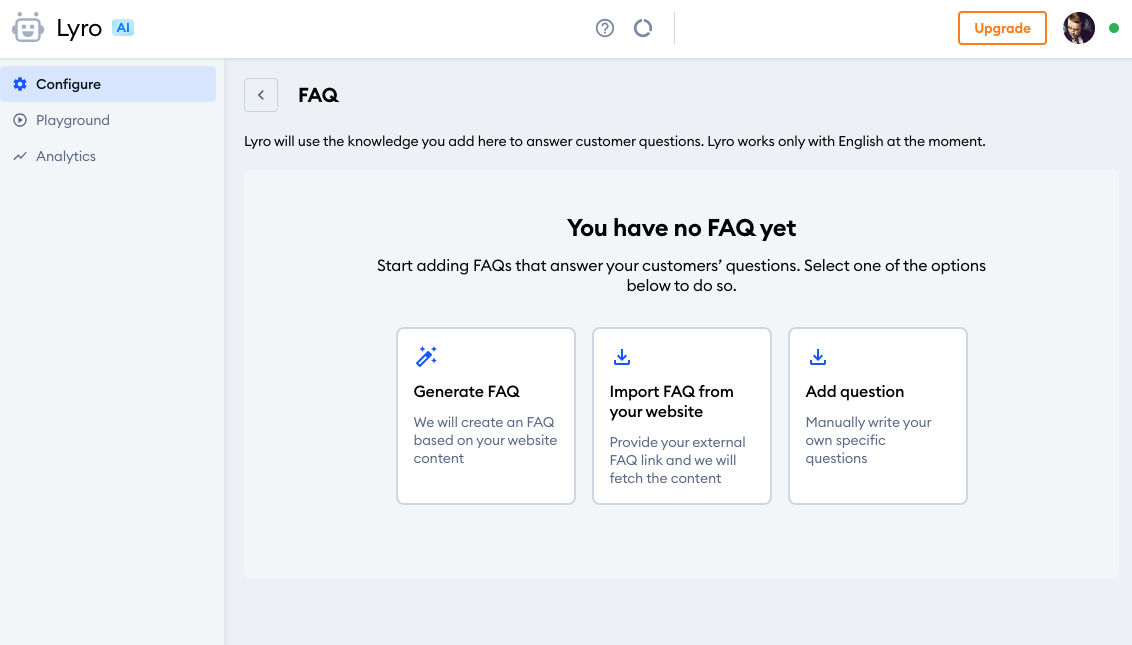 When you decide to use an existing FAQ on your website, we will ask you for the FAQ's URL page. Once the website is provided, select import to move forward.
Please note: you can modify the imported FAQ and make manual additions to it later on!

Once Lyro is ready, you'll see the Playground tab, where you can check Lyro's knowledge in a testing environment: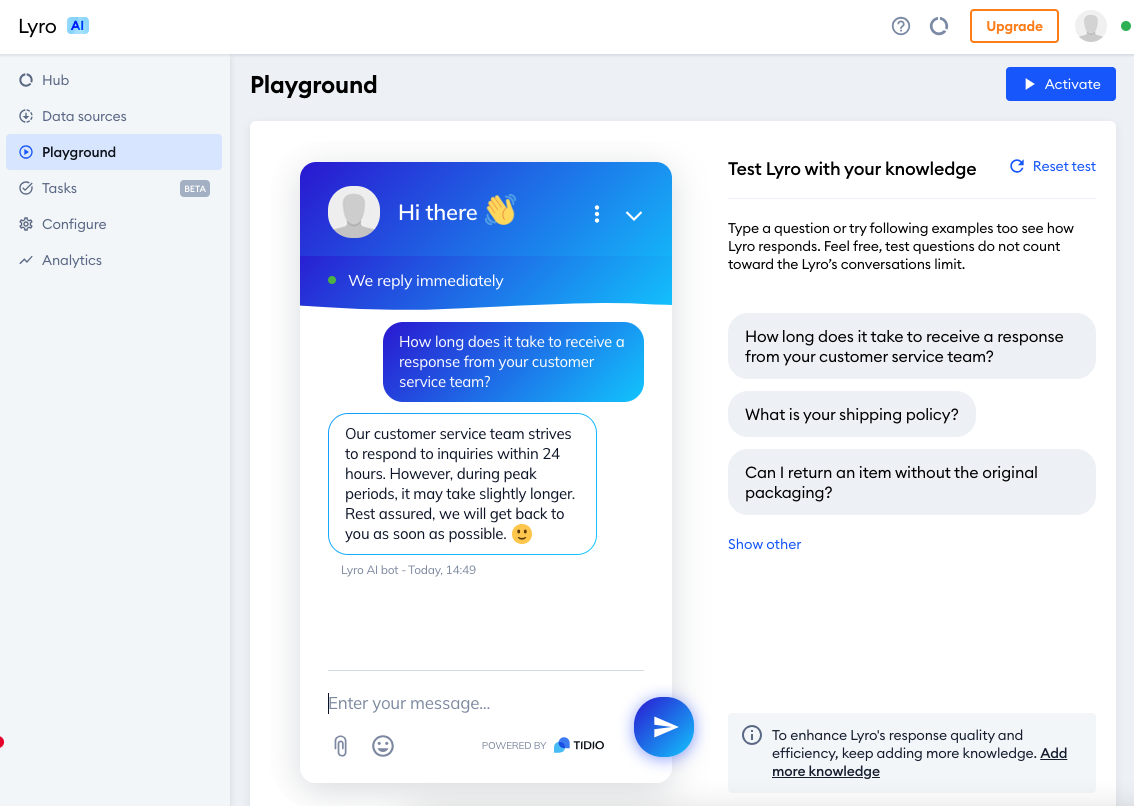 In the Configure tab, you can activate or deactivate Lyro, check your Lyro conversations limit, and update the FAQ.
You can also see the Analytics tab, where you will be able to check Lyro's performance (once it has the opportunity to answer some questions). More on this tool is available later in this article.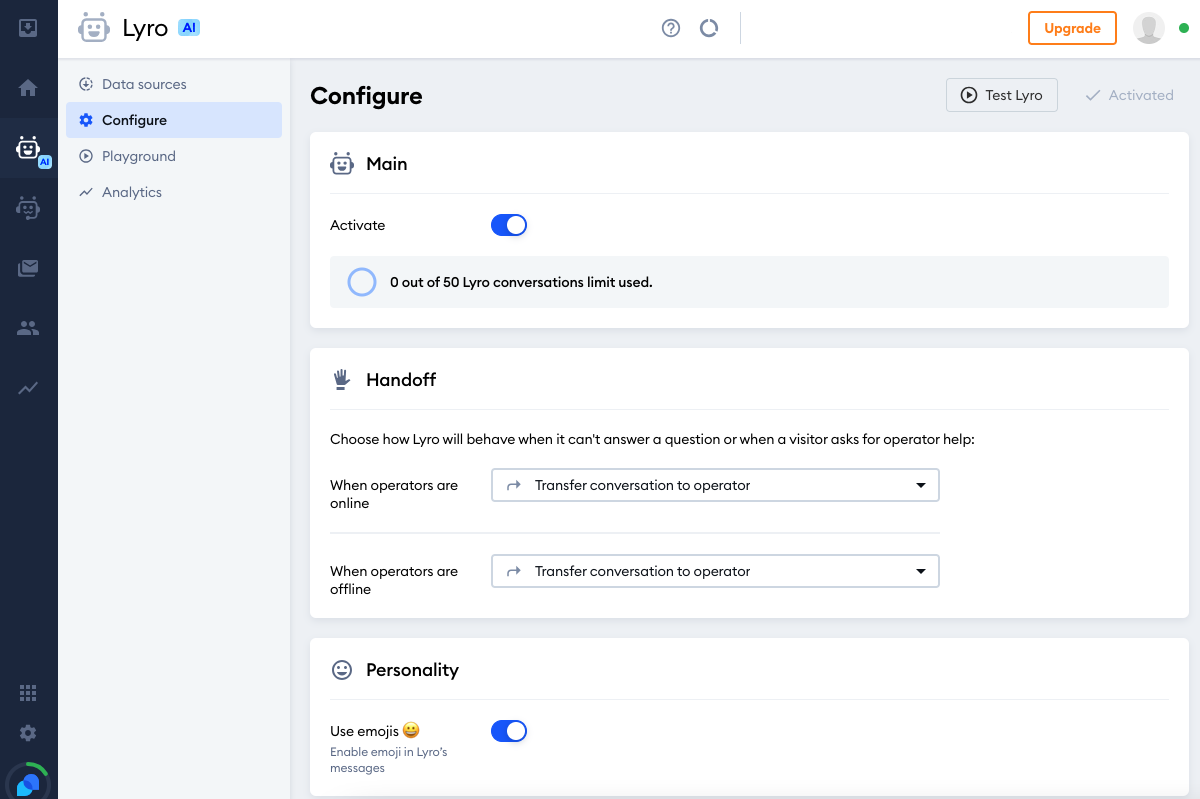 To update the FAQ answers, click the Open button next to the FAQ data source; that will open the questions management panel.

To edit questions and their answers, click on the three dots menu next to any question and select Edit:

When your FAQ is ready, remember to activate Lyro to present it to your website visitors.
Configure Lyro's handoff behaviour
You can decide what Lyro is going to do if a visitor asks to speak with a live operator, or if Lyro is unable to answer the visitor's question. In Lyro's settings, see two handoff options: one for when you're online, and one for your offline hours.

If you do not want Lyro to transfer a visitor to your live conversation inbox in a given situation, make sure you select the option you prefer:

Disable emojis for Lyro
You can also make sure Lyro does not use any emojis during conversations - this may be more appropriate for your business. See the Personality section and toggle the Use emojis switch to disable (or enable) the option: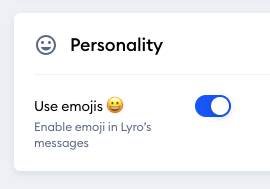 Check Lyro's performance (Analytics)
Inside the Lyro section, you will also find the Analytics tab - in there, you can see how Lyro has been performing in the last 30 days.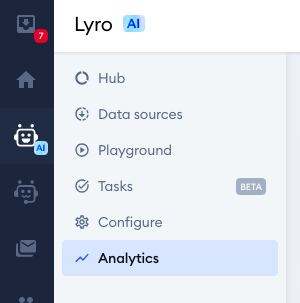 There are three pieces of data available regarding Lyro-handled conversations:
Answered
Unanswered
Transferred to operator
The Answered metric refers to all the questions that Lyro has answered properly, according to the FAQ available. The Unanswered metric refers to questions that Lyro was unable to answer, due to either a lack of knowledge or the question being unclear somehow. Lastly, the Transferred to operator metric refers to each time a visitor asked to speak with a live operator.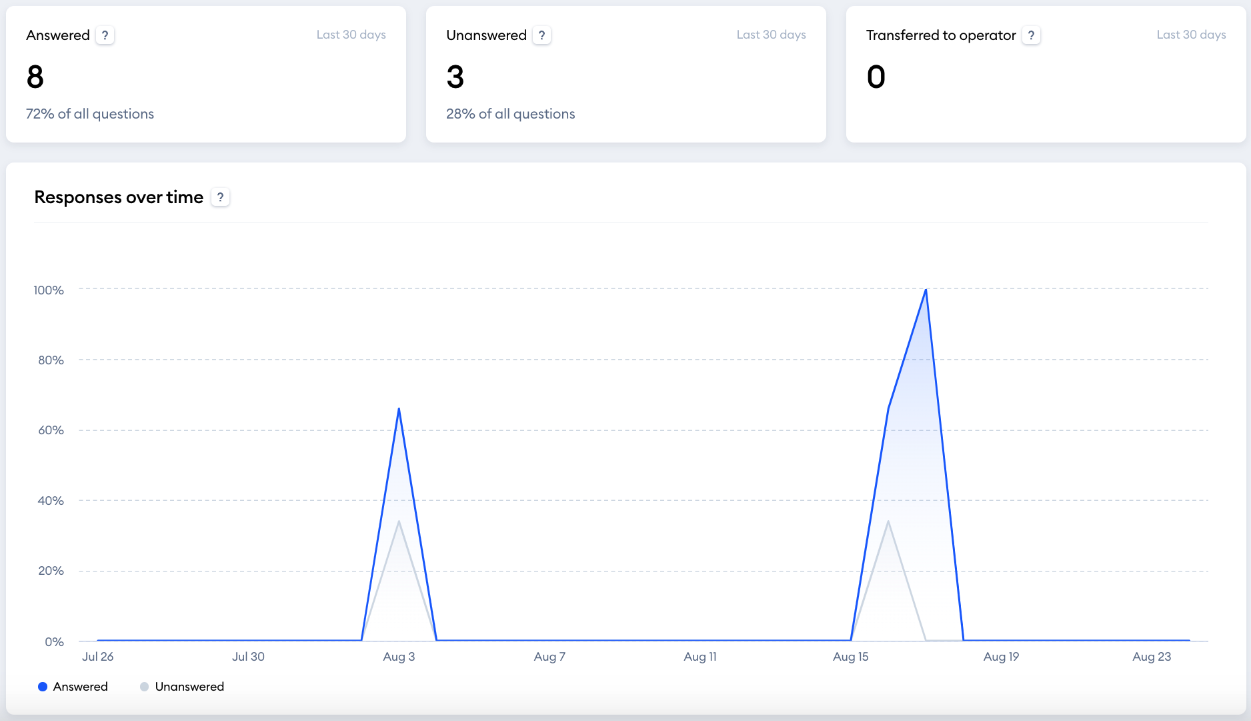 In addition to the raw numbers (and respective percentages) listed at the top, the Analytics section features a graph. This allows a quick overview of Lyro's performance, where you can compare the Answered and Unanswered metrics in visual form. The graph does not currently include the Transferred to operator metric, however, and the data is only available in percentages.
You can hover your mouse cursor over a specific point in the graph to see the associated number and date more conveniently: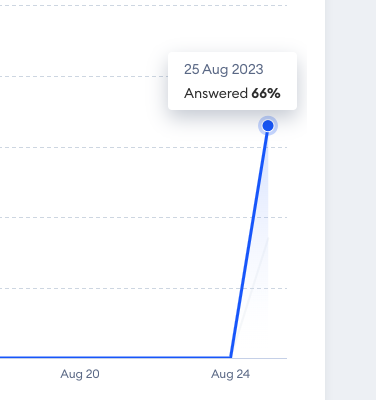 Frequently Asked Questions (FAQ)
Can I use Lyro for free?
Yes! You can test out Lyro for up to 50 conversations for free. However, if you would like to use Lyro for more than 50 conversations, you'll need to upgrade to a Tidio+ plan with a Lyro feature add-on.
What is the difference between Tidio's regular chatbots and Lyro?
Regular chatbots rely on pre-designed conversational paths, while Lyro uses artificial intelligence and natural language processing to understand questions and have human-like conversations with customers. Lyro can ask customers additional questions to provide more details and make sure customers are satisfied.
Are you using ChatGPT to power Lyro?
No, we are not. We're using Claude (Anthropic AI). We use Claude to power Lyro because this Large Language Model (LLM) has been fine-tuned to become helpful, honest, and harmless - making it the most trustworthy LLM on the market.
How is Lyro's quota (monthly limit) calculated?
At Tidio, a single Lyro use is essentially a single-time Lyro chatbot is activated per unique visitor. Lyro can be used multiple times by one unique website visitor, and it would still be counted as one use against your monthly Lyro limit.
If you subscribe to a Lyro plan, your limit refreshes each month on the day when Lyro was activated for your account. For example, when Lyro was activated for you on the 14th of June - your quota will continuously refresh on the 14th of each month.
Is Lyro secure for my data?
Yes. We use Claude (Anthropic AI) to power Lyro. Claude is the most secure LLM on the market right now. It uses industry-standard best practices for data handling and retention.
How can I get started with Tidio AI today?
Tidio offers multiple AI features besides Lyro. Check our other articles to learn more: