Tidio's Reply Assistant is designed to help customer service agents deliver high-quality, well-composed replies to customers faster. With the power of AI, the Reply Assistant can generate good-looking responses from the input provided by the agent. Additionally, for tickets, the tool can also be used to generate a summary of the communication so far.
In this article, you'll learn:
Using Reply Assistant
Tidio's Reply Assistant AI uses advanced machine learning algorithms to analyze the input provided by the agent and generate a well-composed reply.
Paraphrasing text input
To use the Reply Assistant, simply type in the input you would like to provide and click on the magic wand button. The AI will then generate a reply based on your input, which you can review and edit as needed. You can also accept the generated response as is or reject it and start over with a new input.

Summarizing ticket threads
The Reply Assistant offers an additional option when you're using the Ticketing tool. While you're inside a ticket thread in your Tickets folder, you will notice that the magic wand button now lists two options: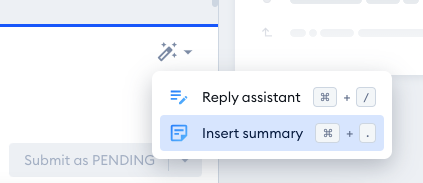 The Insert summary option is unique to Ticketing, and it produces a summary of the current ticket thread. This can be useful if you'd like to leave an internal note with a clear description of the whole interaction or its results.
As an example, here's a basic ticket thread where a customer asked some questions regarding a possible order: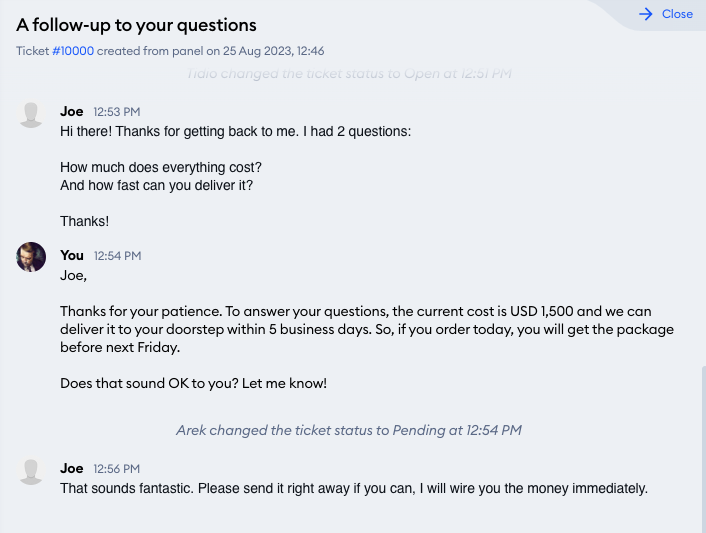 In this case, clicking on the Insert summary option resulted in a short conclusion of the thread: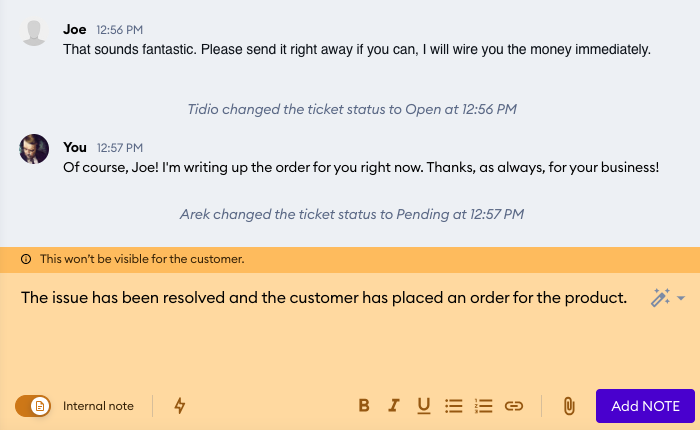 The operator used it for an internal note for quick future reference, before closing the ticket completely:

Tips for Getting the Most Out of Reply Assistant
Provide clear and concise input
The more information you provide to the Reply Assistant, the better it will be able to generate a relevant and helpful reply. Make sure to articulate clearly the context of the conversation and the customer's inquiry.
Be specific with your input
The AI is trained to recognize specific types of inquiries and respond accordingly. Be specific with the type of inquiry being made and the information you would like to include in your reply.
Use a professional tone
The Reply Assistant is designed to generate professional, helpful replies. Make sure to use a tone that is appropriate for a customer service context.
Review and edit generated replies
While Reply Assistant's AI is designed to generate high-quality replies, it's always a good idea to review and edit the generated reply to ensure that it is accurate and relevant to the specific situation.