As you may know, Google is phasing out Universal Analytics on 1st July 2023. Starting from that date, UA properties will no longer work. Similarly, our legacy integration with Google Analytics. But don't worry. We got you covered. You can switch from the old Google Universal to the new GA4 integration in a matter of seconds.
In this article, you'll learn:
When to migrate from Google Analytics to Google Analytics 4 (GA4)?
You should migrate your Google Universal integration to GA4 in Tidio when:
You have Tidio enabled on your website
You use old Google Analytics Tidio integration 👉 how to check if you use old integration? If this

page

loads and the reintegration message is displayed, then yes. You use old GA integration, and you're in the right place 🙂
You have a GA4 property in Google Analytics 👉 how to check if you have GA4 enabled? Read this article from Google.
How to migrate from Tidio's Universal Analytics integration to GA4 integration
💡
Please remember that Tidio's GA4 integration uses different event names than Universal Analytics integration. You might need to adjust your reporting in Google Analytics. See what events are reported to GA4 in our
article about all Tidio-tracked events in GA4.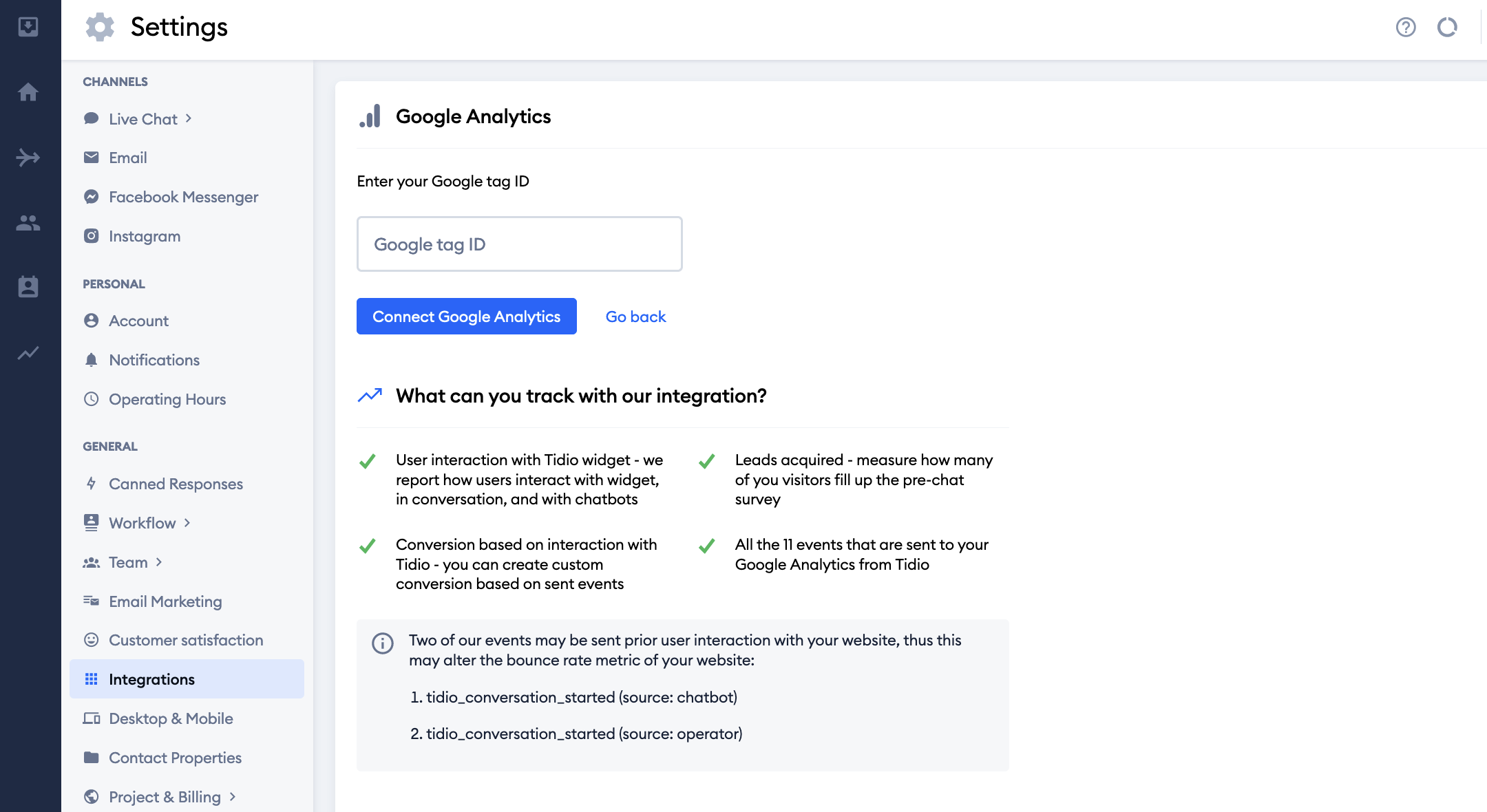 Moving from Tidio's UA to GA4 integration is very easy. All you need to do is to reintegrate Google Analytics. Here's a quick step-by-step guide:
Log in to the Tidio panel
Go to the Integrations section located in the left sidebar, right above Settings.
Search for Google Analytics Tile. It should be labeled as activated. If it is not labeled as activated, follow the above guide to install GA4 integration from scratch.
Click on the Google Analytics tile.
Uninstall integration with Google Analytics
Now go back to the list of integrations and select Google Analytics again.
Provide Google tag ID (See how to find Google Tag ID) and press connect.
You now successfully moved your Tidio integration from Universal Analytics to GA4.
What events can I track in Tidio?
You can learn about all available Tidio events you can track in GA4 by visiting our article about integrating Tidio with the new Google Analytics 4 (GA4).