How to install Tidio on Shopify?
The easiest way to install Tidio on your Shopify store is by installing Tidio through a dedicated Tidio app from the Shopify App Market. We explain how to install the chat widget step by step in our article about Installing Tidio on Shopify.
Which plan do I need to use for the Tidio widget on my website?
The good news is that you can use Tidio for Free! However, you can upgrade to our premium plans to enhance your visitors' experience and help your team work more efficiently. To see which plan works best for you, you can visit our article about choosing the best plan for your business.
Can I manage Shopify orders inside the Tidio panel?
Yes! You can see your website visitors' orders in your Tidio panel during a chat conversation. Moreover, you can also manage the orders by, for example, canceling the orders, submitting the refunds, or editing the shipping addresses. You can learn more about it in our article about managing Shopify orders in Tidio.
How to increase conversions with Tidio?
You're missing out if you're not using our coupon codes yet! At Tidio, we strongly believe in coupon code initiatives for your potential & returning customers. Tidio's Coupon Code Node can help you provide quick discounts for your Shopify store customers. You can learn more in our article about Coupon Codes.
Can I send product recommendations directly through Tidio during a conversation?
Yes, you can! Inside your chat conversations, you'll see a product directory on the right side. Sending a product, it's super easy! Just click on a product, and it will be sent to your customer via chat. It's possible to send the product via live chat and Messenger. You can learn more by reading our article about sending Shopify products to customers directly through Tidio.
Do you have any features that can decrease the abandoning of the carts by potential customers?
Yes! We have dedicated Chatbots ready to be triggered when your website visitors leave the cart. We also allow automatic tracking. You can learn more about tracking abandoned carts using Tidio.
Will my contacts be automatically synchronized with Shopify Panel?
Tidio sends all the contact data collected during conversations held in Tidio (such as email, name, and phone number) to your Shopify admin panel automatically! You can see our article about automatic contacts import if you want to learn more. You can see all the collected contacts through Tidio inside the contacts list.
Do I need to create the bots myself?
You can, but you can also use our ready-to-use Chatbot templates. Ready templates are available for your adjustment in the Chatbots section. You can now choose from over 35+ templates. To learn more on how to use & adjust Tidio's templates, read our articles about Chatbots templates.
How to build the bots myself?
You can create your own bots from the Chatbots section of the Tidio panel. All Tidio bots consist of building blocks called nodes. Each bot starts from a trigger which can be later connected to actions & conditions. If you would like to learn how to build your chatbot, you can see our video, where we explain the process step-by-step:
You can also learn more about chatbot creation by checking our article about building bots from scratch.
What is a Monthly Chatbot Limit?
Each Tidio account has a limited monthly chatbot use at the start. The default limit for the free, basic account is 100 uses per month. We sometimes refer to it as Chatbots quota or Chatbots monthly limit. You can see our article about Monthly Chatbot Limit to learn more about how we calculate it.
How to uninstall the Tidio widget from my Shopify store?
We're always sad to see you go, but you can find more information on uninstalling Tidio from your website in our article about uninstalling the Tidio chat widgets.
I used Tidio's Shopify Chatbots app; what to do after its removed?
Due to recent changes in Shopify's private app policy, we have updated how we support chatbots dedicated to Shopify. Specifically, this applies to chatbots utilizing Shopify nodes.
If you currently use our Tidio Bot App alongside our main app, Tidio - Live Chat & Chatbots. Please note that the Tidio Bot App will soon be removed. However, don't worry, Tidio with all its chatbots will continue to work perfectly. We have updated the main app so that Tidio - Live Chat & Chatbots will handle everything.
All you have to do now is a simple re-integration, which can be done in a few simple steps. Please find the instruction below.
Log into your Tidio panel.
Go to the Chatbot Section.
Please find a chatbot that utilizes Shopify nodes, such as the default templates for the Delivery Tracking Bot, Shipping Zone Bot, and Product Availability Bot.
Click Options
Click Show statistics
Click Disconnect
Now, confirm the step with disconnecting.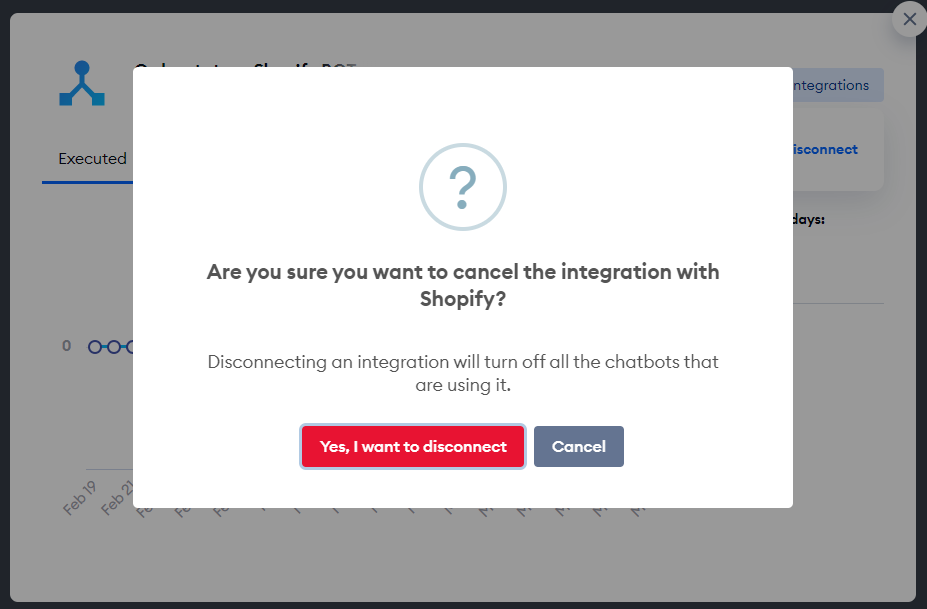 In the same location, you should see a new option called 'reconnect'. Please click on it.
Please provide your .myshopify.com domain. You can find it in the Shopify Settings.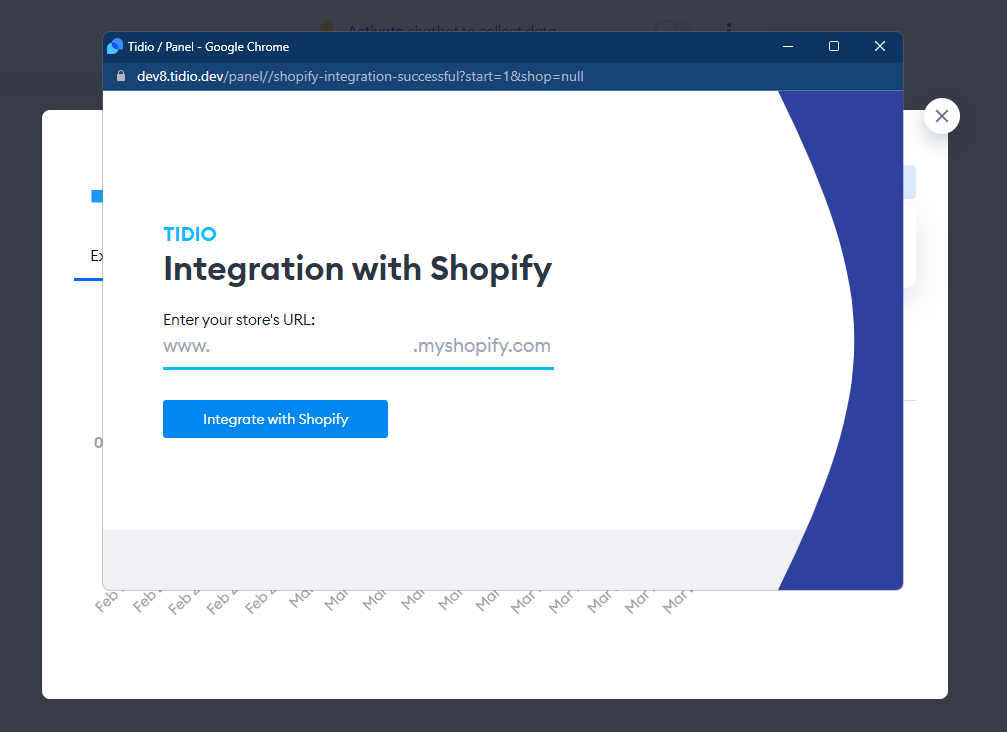 Almost done. Now please check the status of your bots. Most likely, you'll need to activate them.