At Tidio, you have two options for adding a Chatbot. You can do it by using our ready templates or by building your own Chatbot from scratch. Whether you prefer starting from a blank canvas or leveraging pre-designed templates, Tidio has you covered.
In this article, you'll learn:
Create Chatbot from Scratch
To build a custom Chatbot, open the Chatbots panel in your Tidio admin panel and click on the add from scratch button.

Creating a Bot manually allows you to build a scenario using available nodes. Each bot starts with a trigger that tells the bot when to start, and it's followed by actions and conditions.
The visual chatbot editor provides a grid where you can add and connect nodes such as triggers, conditions, and actions. Think of it as creating a "map" or "workflow" for your chatbot—a logical chain of events that occur on the visitor's side, often referred to as a chatbot decision tree.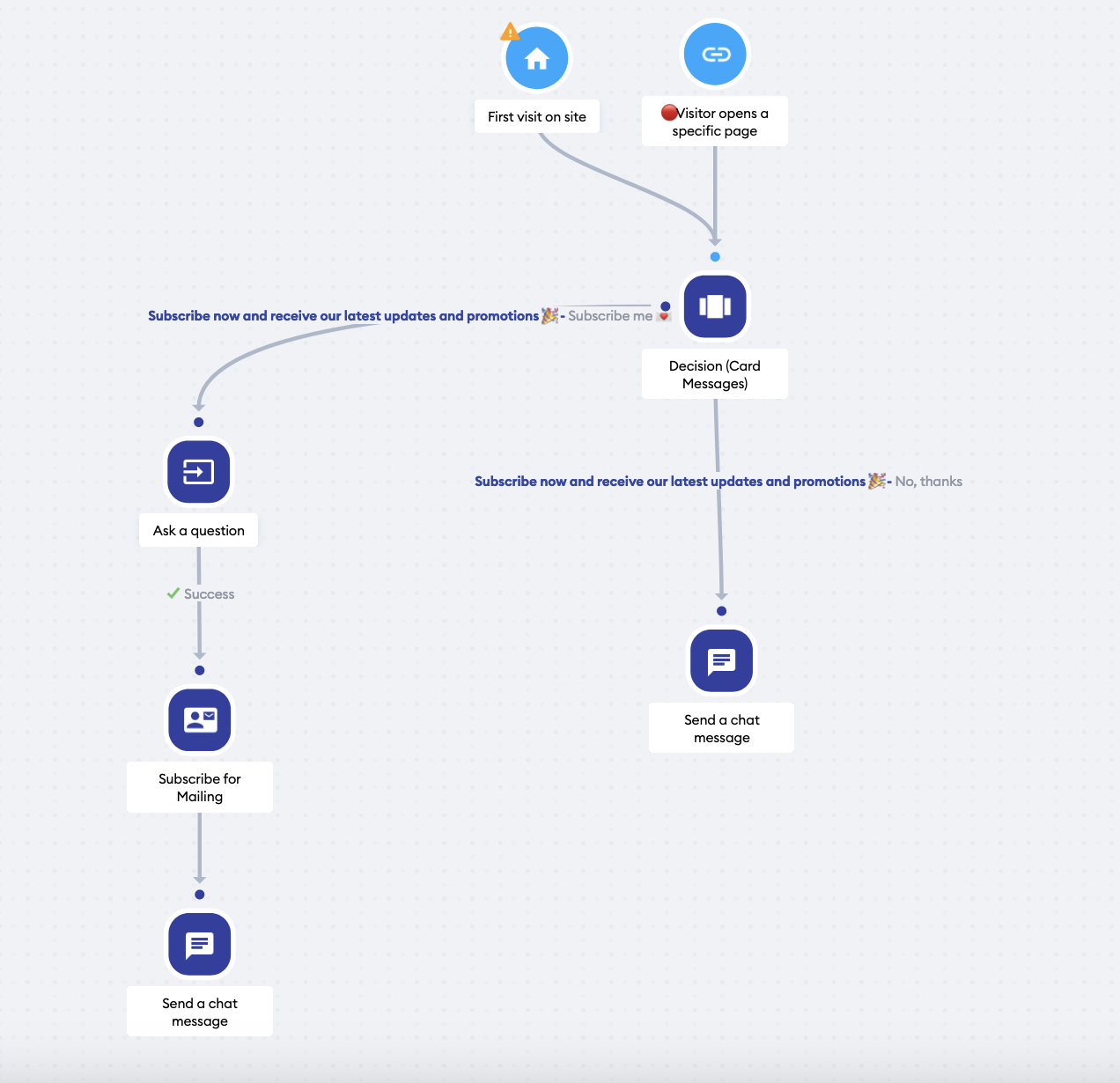 If you wish to learn more about the manual chatbot creation process or get inspired, see our articles about:
Add Chatbot Template
If you prefer a quicker start, Tidio offers a variety of pre-designed Chatbot templates categorized by goals:
Increase sales
Generate leads
Solve problems
Strategies (planned mix of a few chatbots which you can enable at once)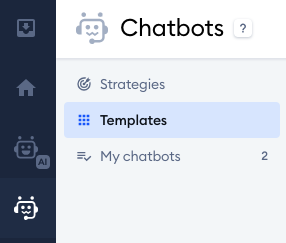 To find and add a chatbot template, open your Chatbots panel and ensure you're in the Templates section.
You can now browse all of our available templates. When you like one of the templates - hover your mouse over a chosen template and click on the blue Use Template button.
You'll see a new window where you can decide whether you wish to test out the bot in action (in the widget) by clicking on the Test-it-out button or see its editing map by clicking again on the blue Use Template button.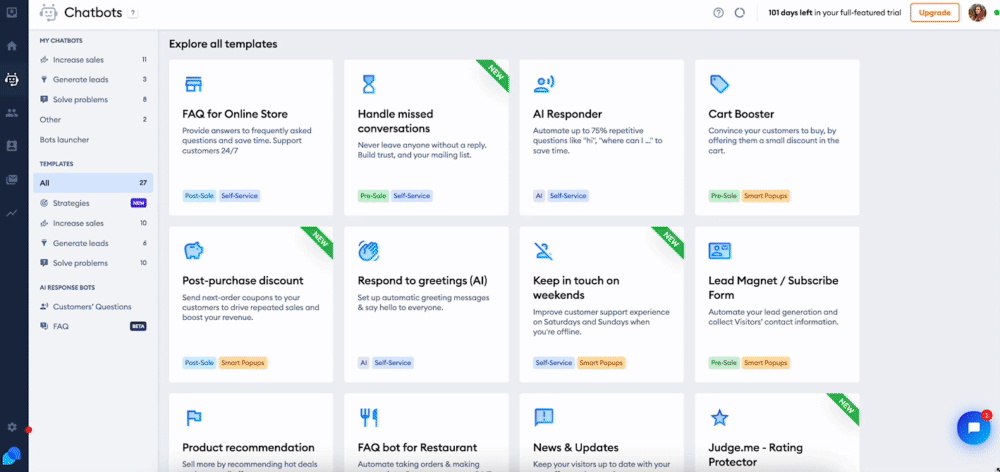 When you choose to Use Template, you'll enter the visual Chatbot's editing panel. This step will allow you to adjust the text shown to your visitors inside the bot.
💡
Please note that some of the pre-made Chatbots are available on Shopify only. If you select one of the Shopify-specific Bots, the system will ask you to connect the Bot with your Shopify store.
To edit the text inside the bot, click on each of the nodes you see on the map and edit the texts in the menu on the right-hand side.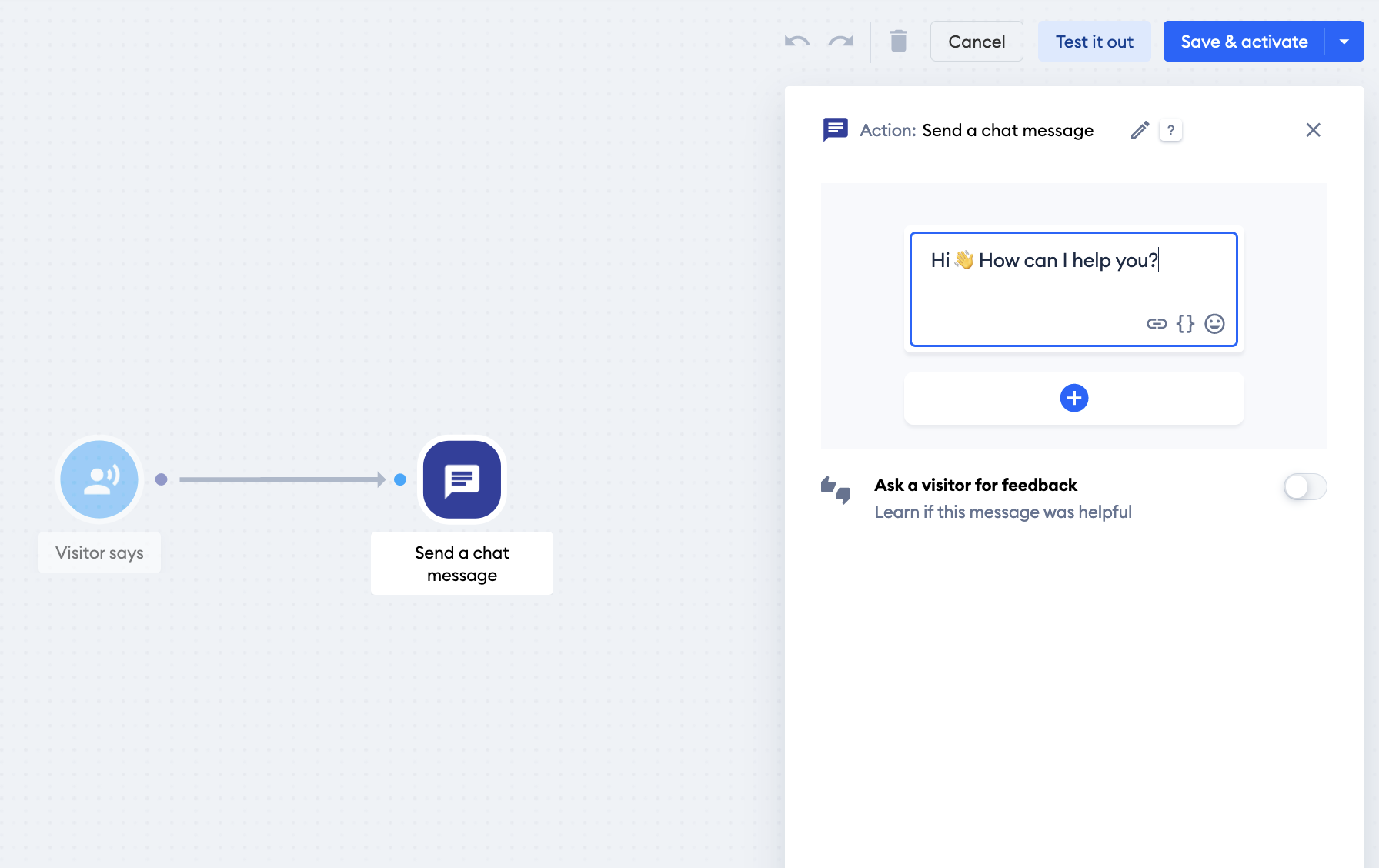 Remember to click save & activate when finished to ensure the changes.
To gain more knowledge about using our visual chatbot editor, see our video 💡