Integrating Tidio with Zapier enables you to seamlessly send data from Tidio to your preferred applications. This article provides a comprehensive guide on how to integrate Tidio with Zapier.
In this article, you'll learn:
💡
The Zapier integration is an internal part of our Chatbots editor, available as one of the
actions
. Send to Zapier action can be added to any automation you've created. Data collected through Tidio will be sent as zaps to other 3rd party apps.
When to use Zapier with Tidio
The Zapier integration within Tidio's Chatbots editor allows you to automate repetitive tasks. By creating connections called Zaps, you can automate workflows that were previously done manually. This integration eliminates the need for manual exporting of contacts collected through Tidio's chat.
See our examples of the Zapier integration with Tidio:
Send leads to your CRMs
Automatically send valuable contacts to your CRM, regardless of whether it is integrated internally in Tidio. With the wide range of CRMs available in Zapier, you can send contacts and leads to any CRM supported by the platform.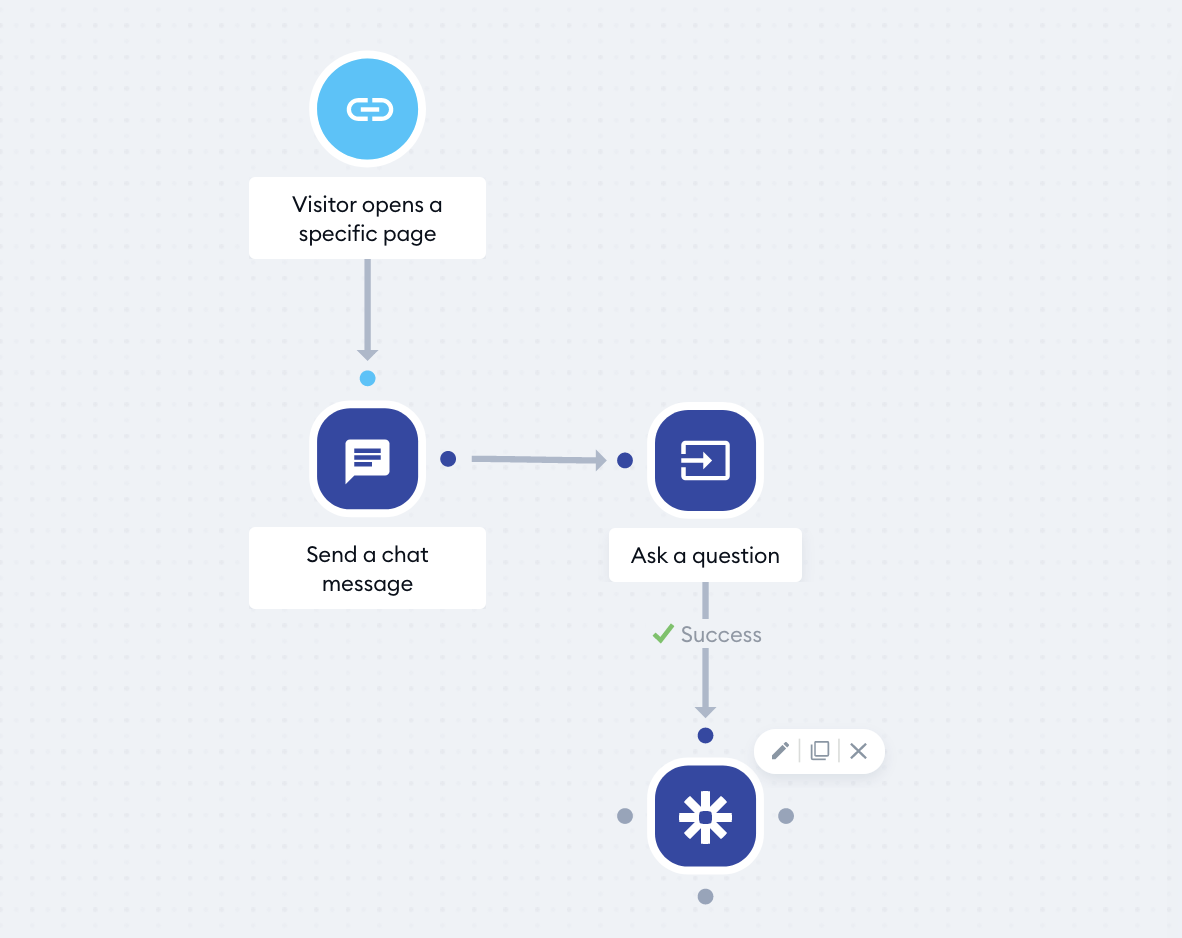 Set email notifications for every incoming message
Never miss a sales opportunity or customer message. Utilize the Zapier integration to receive email notifications for each incoming message, ensuring prompt responses no matter where you are.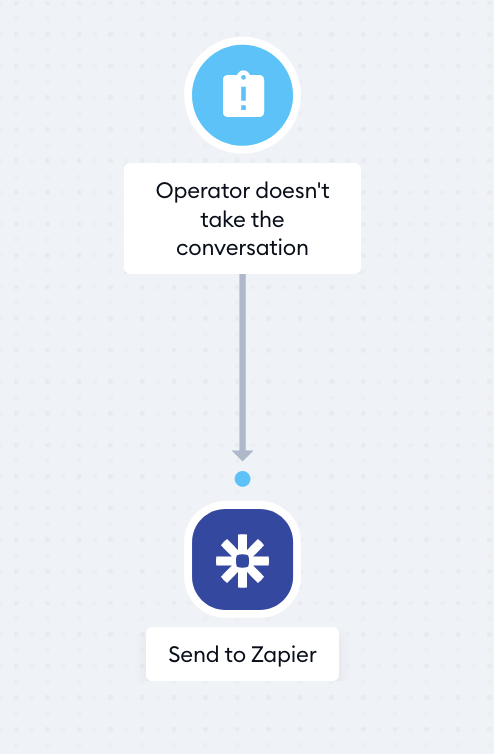 Improve customer service in your Shopify store
Leverage the Tidio integration with Zapier to automate and track the usage of Shopify-specific bots, such as the Shipping Zones and Check Order Status bots. Gain valuable insights into your business by analyzing customer inquiries and locations.
Shipping Zones Bot is an excellent indicator of where your potential users are. Keep track of the locations you receive a lot of questions about, and consider offering your delivery right there. You can create a Zap after the bot has been launched by sending the information to your email or Google Sheets spreadsheet.
Check Order Status, however, is an excellent way to see if you offer fast enough shipping. If you receive a lot of questions about the order status, you should work on how quickly your products are delivered to your customers. Just add a Send to Zapier action to your bot, and from there, analyze the number of inquiries in the tool of your choice connected with Zapier.
How to set up the integration with Zapier
In this example, we will show you how to set up an integration between Tidio and Zapier and connect it with Mailchimp. You can, of course, choose a different app or CRM to connect with.
To integrate with Zapier, open your Tidio admin panel, head to the Chatbots section, and add a completely new bot or edit the existing bot by adding the Sent to Zapier node.
💡
In this example, we'll be editing the Lead Generation bot so that it automatically sends the contact details to MailChimp.
Open any existing bot; in this scenario, we will open and edit the Lead generation bot.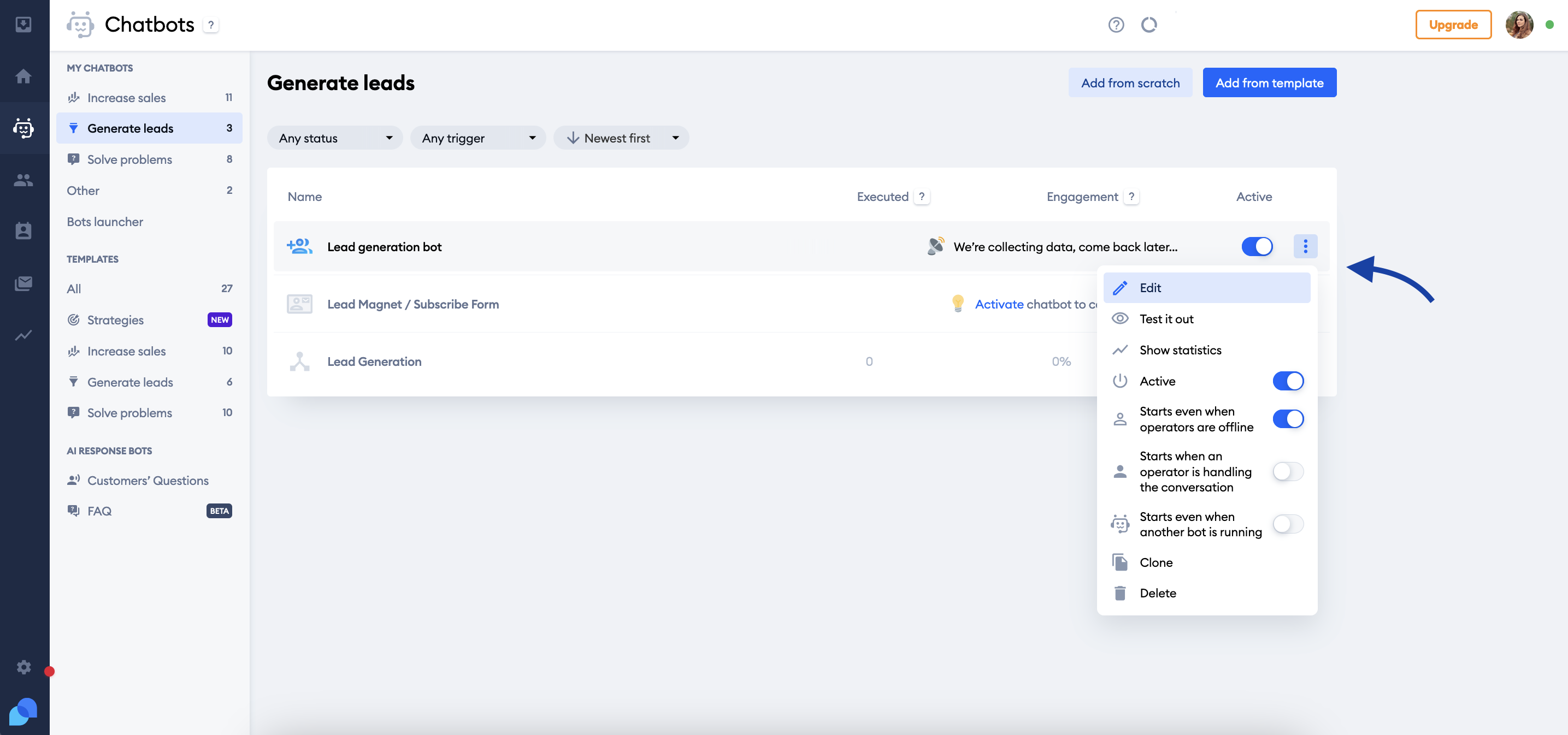 You'll see the visual chatbot editor map. Find the Send to Zapier node inside the Actions tab and add it to your editing map.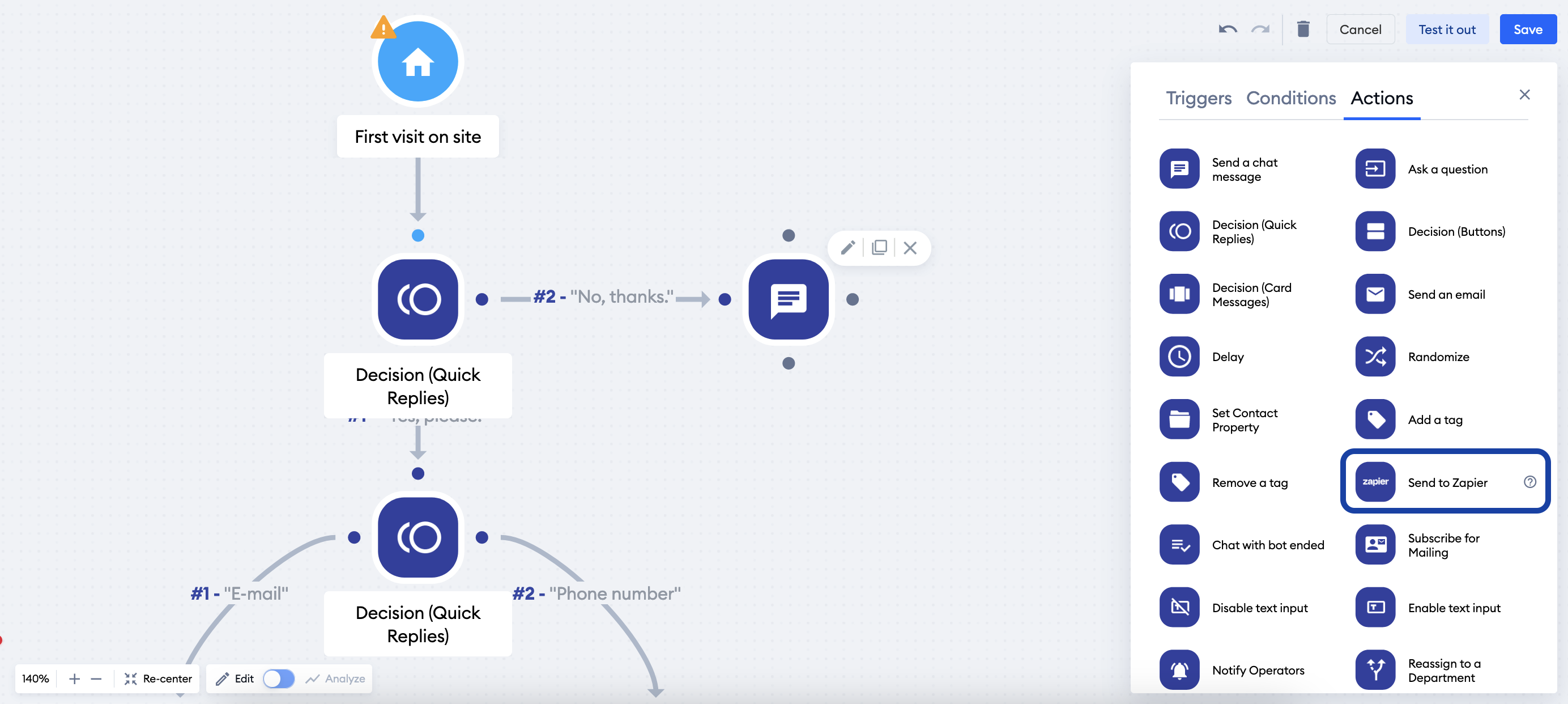 💡
Please keep in mind that information such as email addresses, phone numbers, etc., can be sent to Zapier only if they were collected through the Tidio chatbot. Information manually entered into the system will not be sent to Zapier.
Connect the Send to Zapier node with the end node of your existing bot.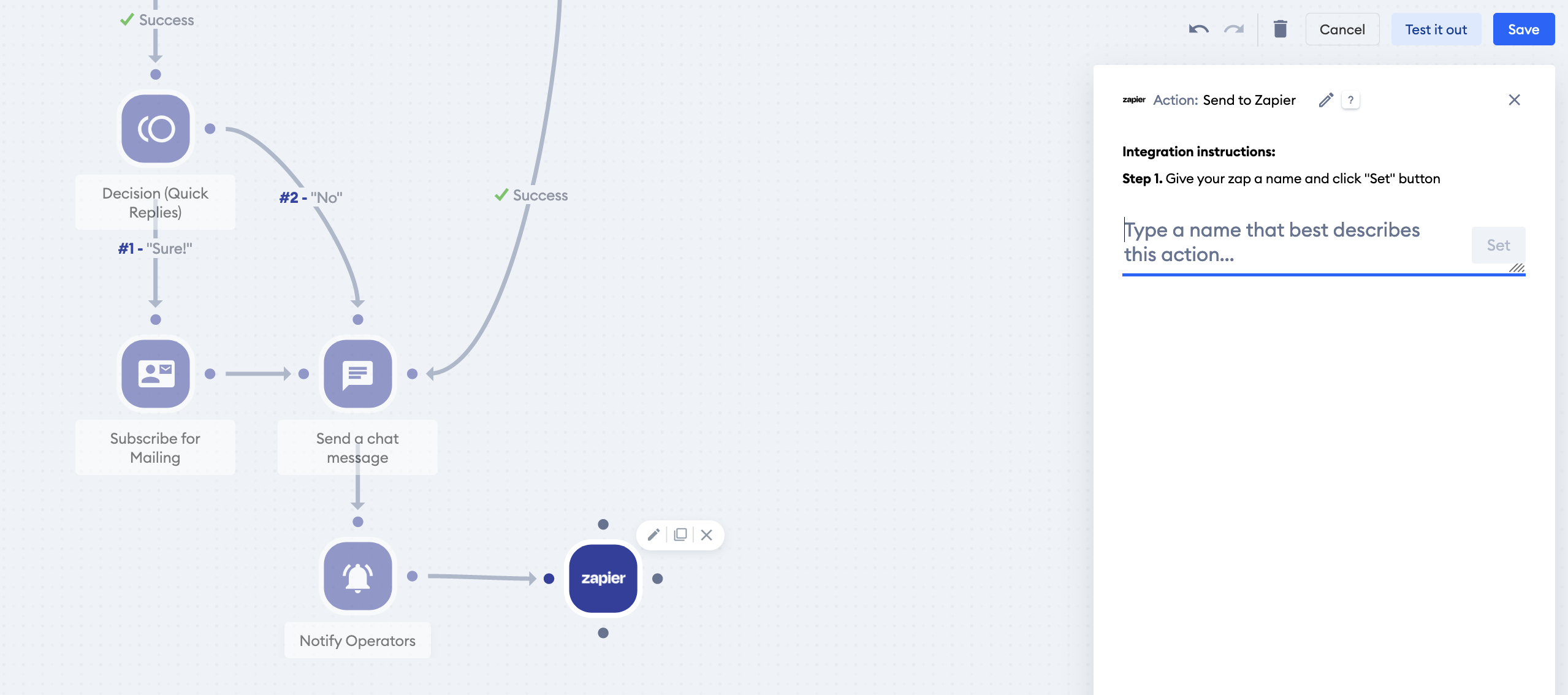 And follow the integration instructions visible on the right side in the visual bot editor: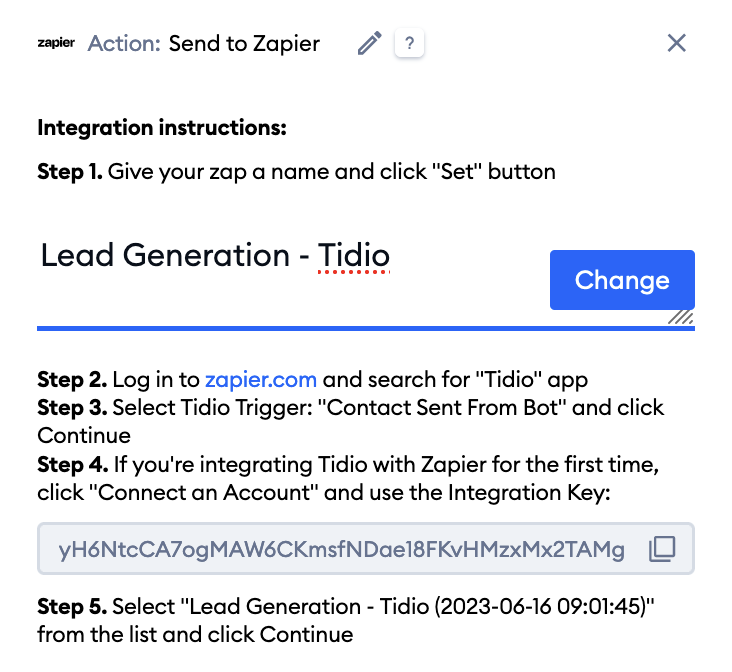 Now, access your Zapier account
Log into Zapier and look for the Tidio app.

Select Mailchimp from the list of suggested apps or search for the app: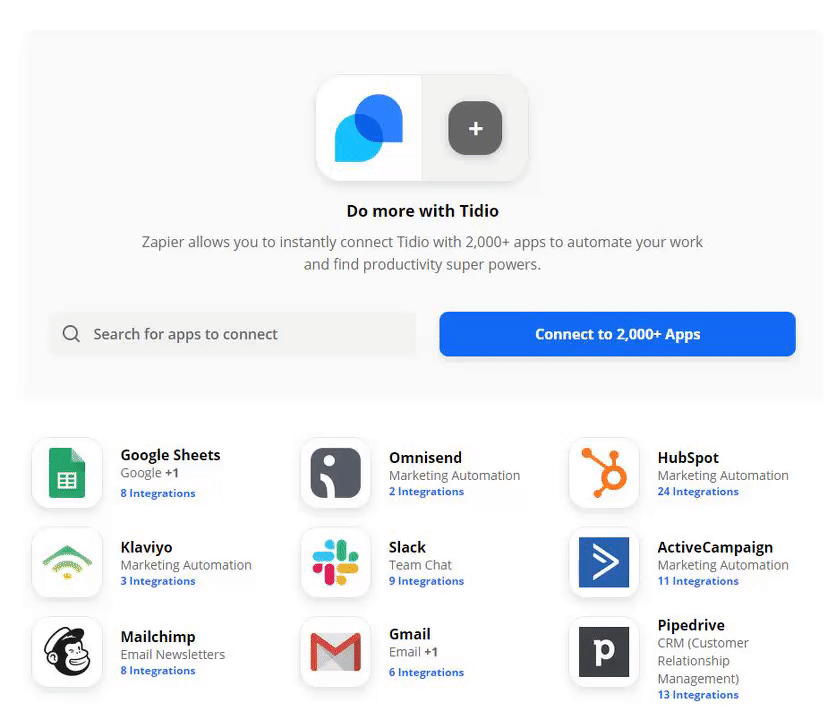 Select a trigger in Tidio that should fire action in Mailchimp – in our case, it will be Contact Sent From Bot in Tidio and Add/Update Subscriber in Mailchimp. Click Connect Tidio + Mailchimp button.

The next page will ask you to confirm the integration by clicking the Try it button.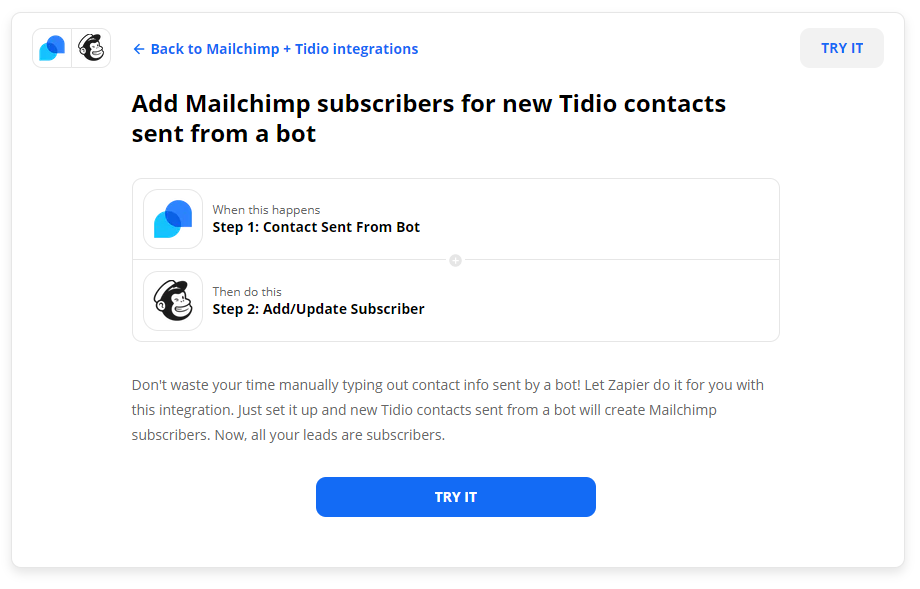 In the next step, you will be asked to sign in with your Tidio and Mailchimp accounts: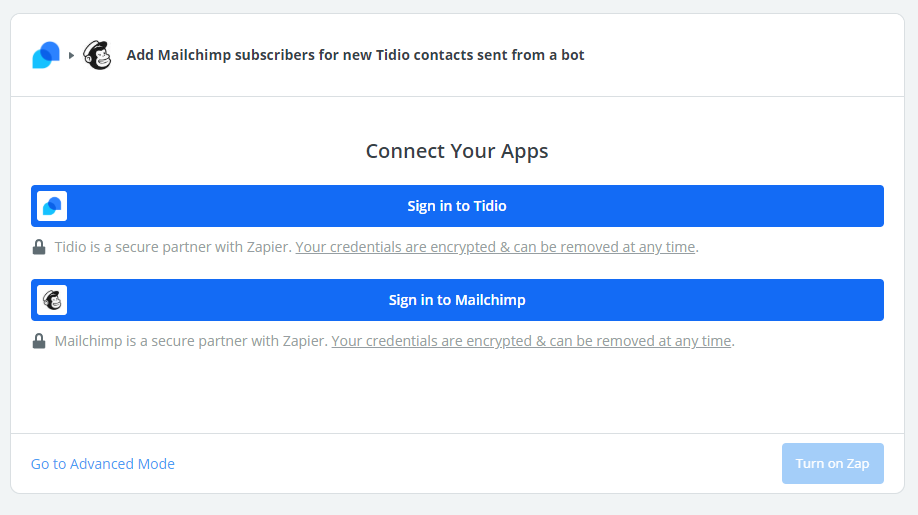 After you sign in, you will be prompted with a new window asking you to enter the Integration Key: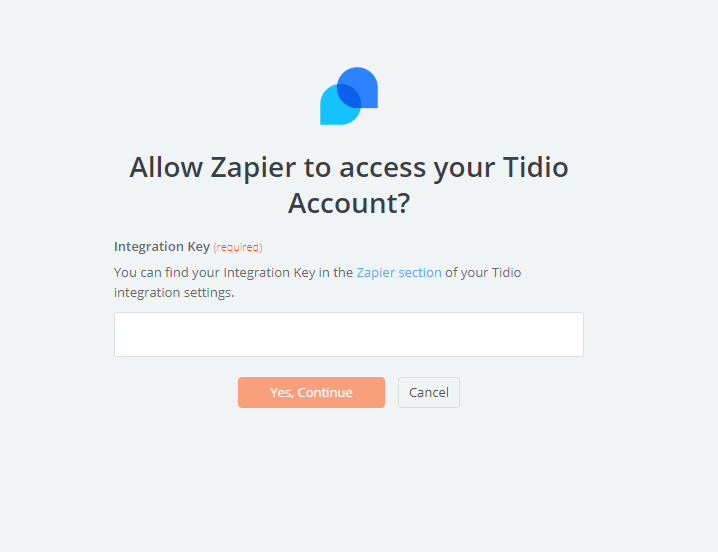 Retrieve the Key from the Integrations section (or from the 'Send to Zapier' node in your bot) and enter it in the dedicated field.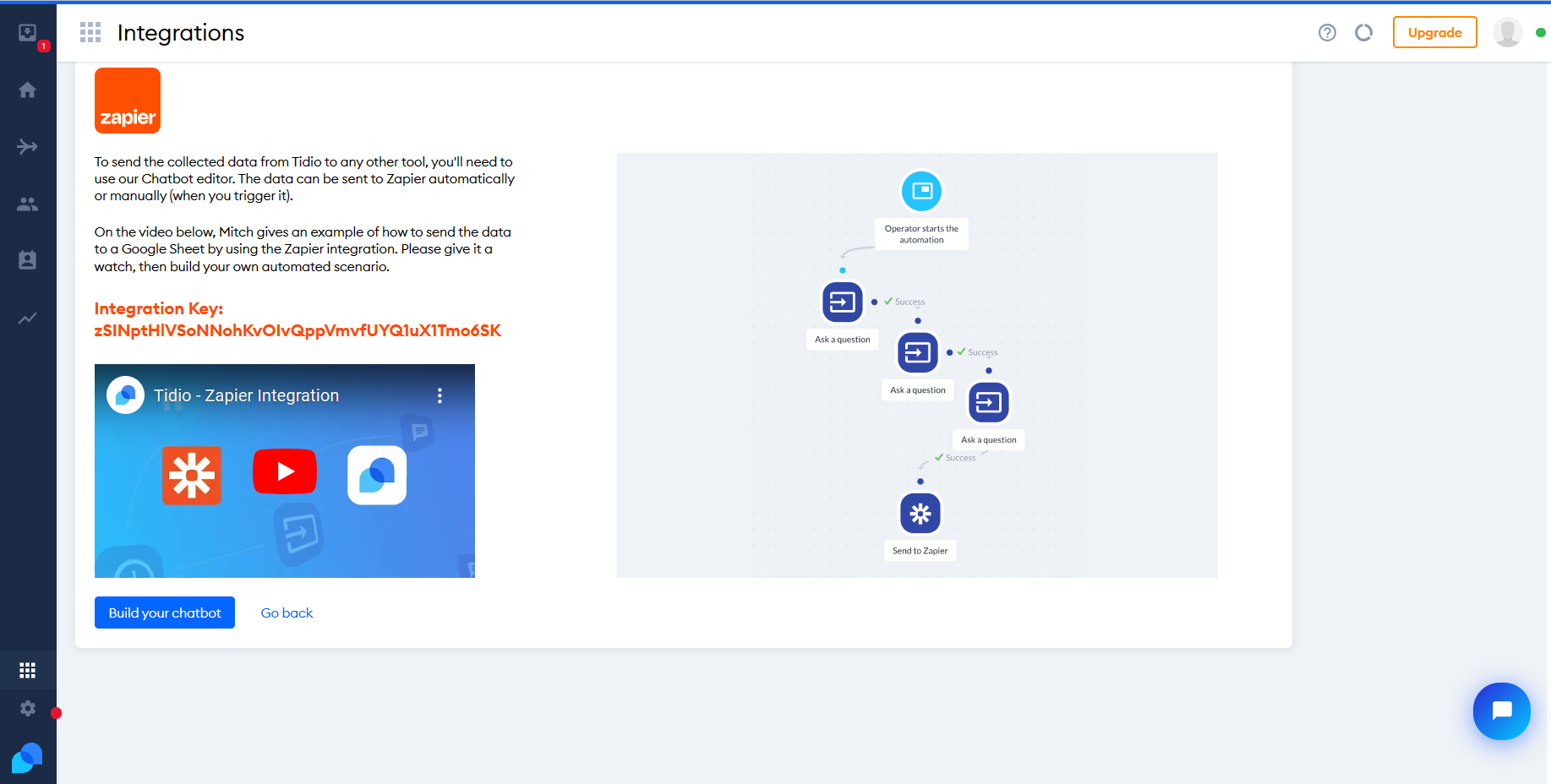 Repeat the same for Mailchimp – sign in to your Mailchimp account as required by Zapier. You will not be asked for an Integration Key in this case — instead, you simply need to allow the connection. Once done, you will see the apps populated in the dedicated field. What is now missing are the Node and the Audience. For the Node, select your bot ('Name YYYY-MM-DD 00:00:00'), and for the Audience – the groups of contacts that should be updated through the bot. Then, hit 'Turn on Zap':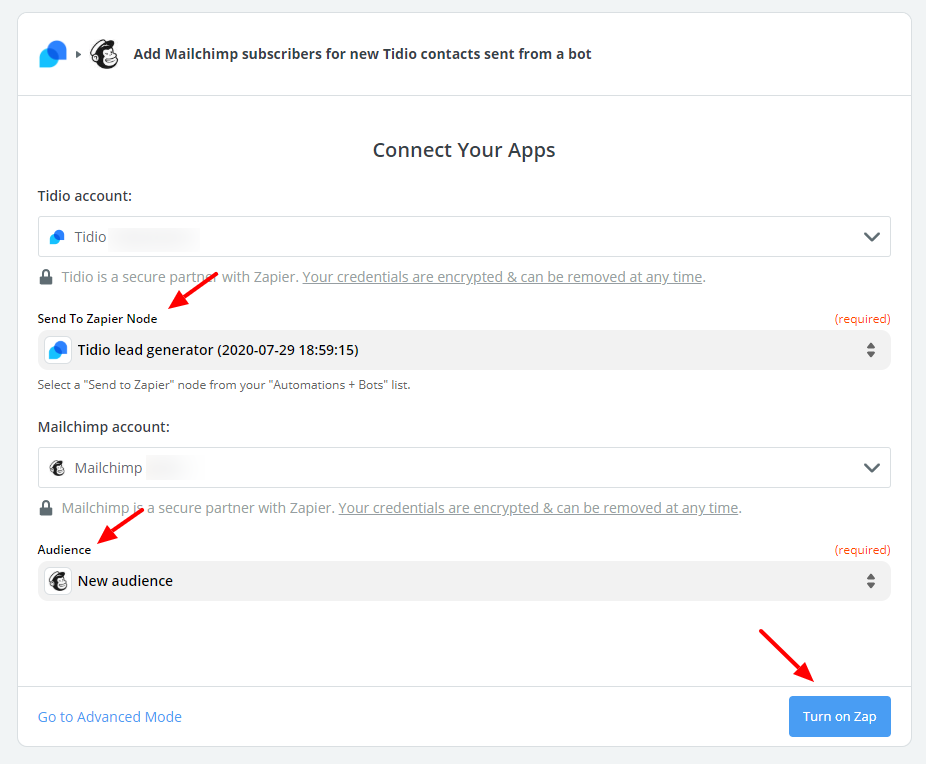 Your Zap is ready to use: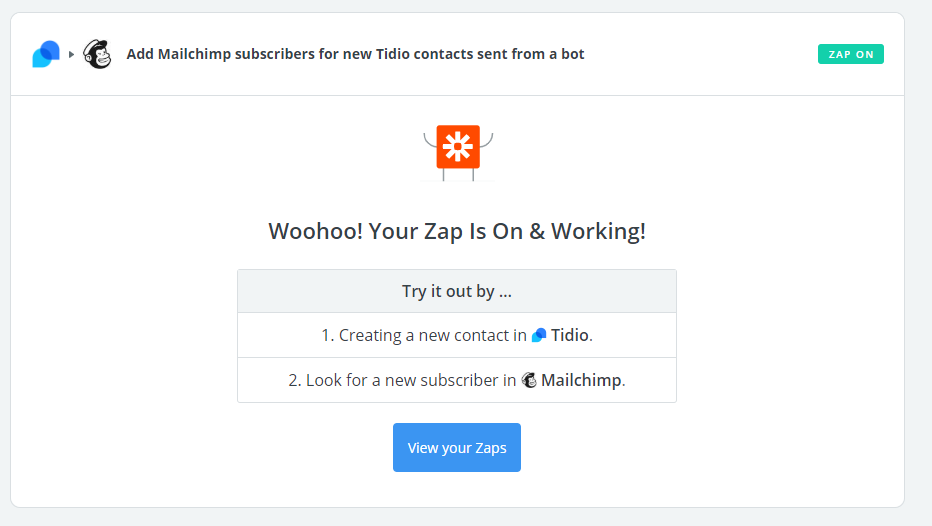 Let's try it out now! First, make sure to connect all nodes in our chatbot editor and save your configuration: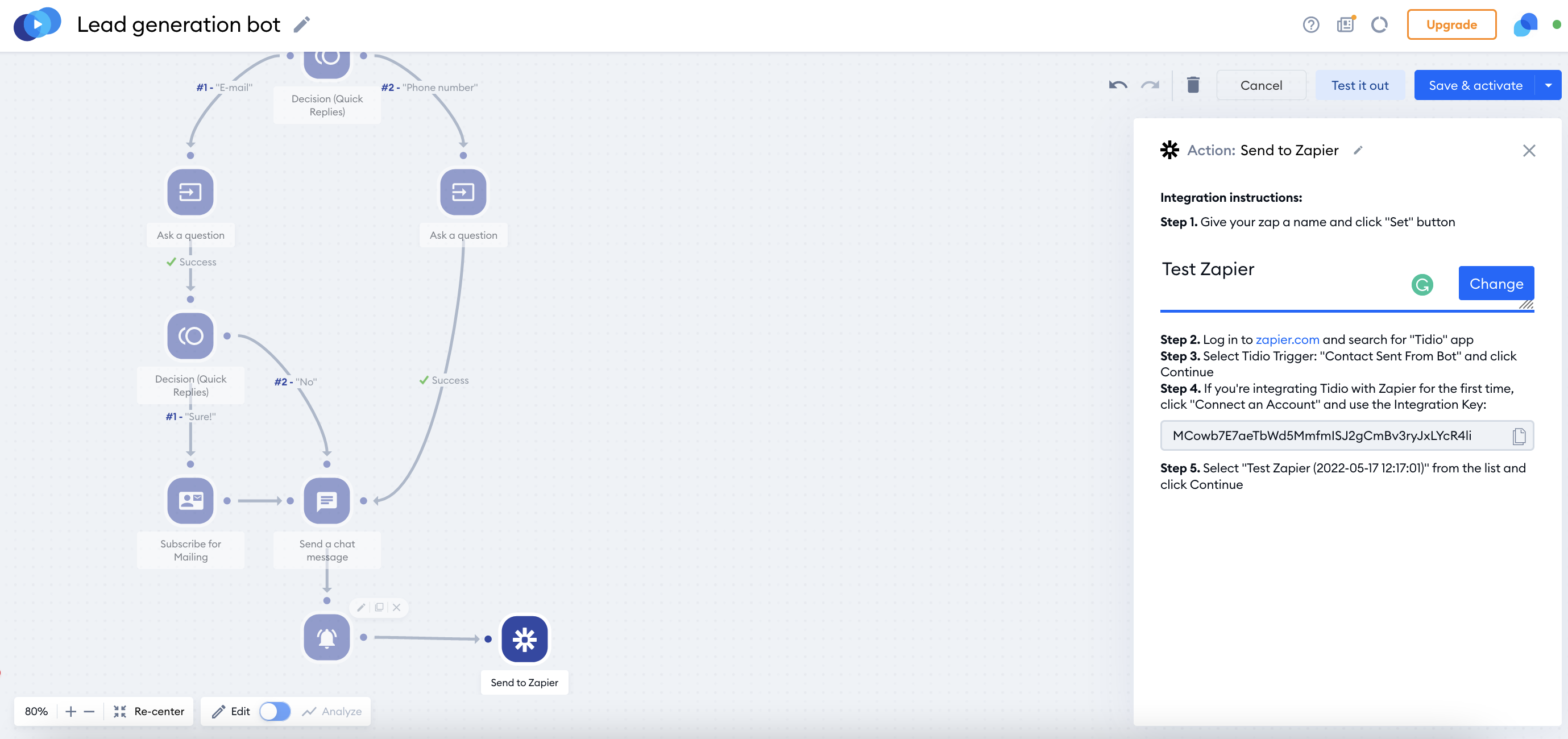 Then, test the integration in the widget window on your website. This is how it worked for us - we wrote a message on chat and provided the details: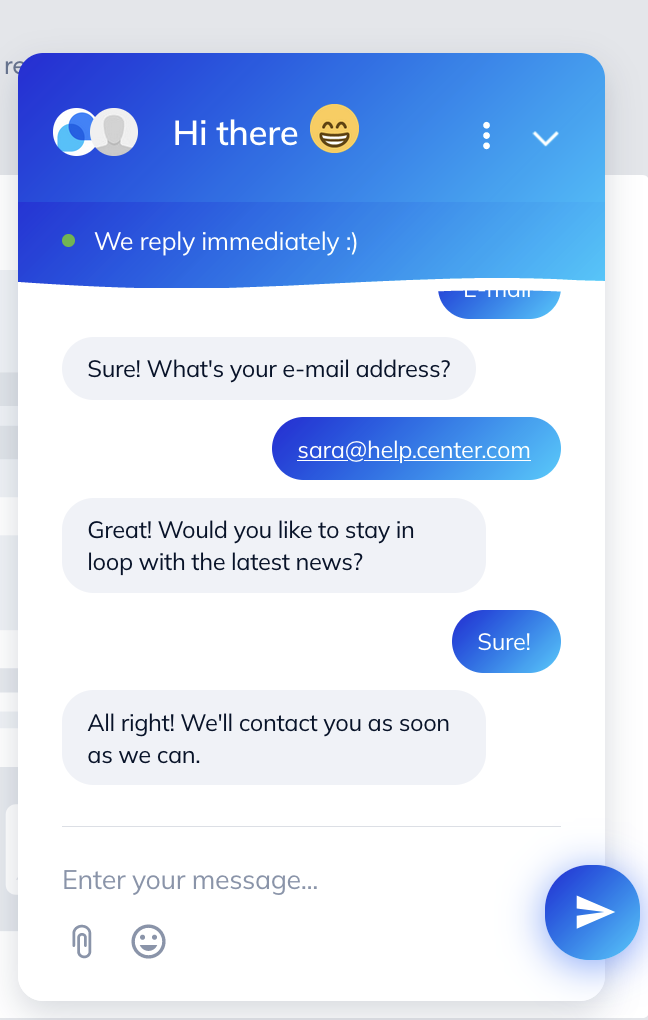 We received a new contact in Mailchimp after a few minutes.