Start using a more powerful view for managing your tickets & conversations. Our old Conversation section is now a One Inbox view.
In this article, you'll learn:
One Inbox benefits
Organize conversations smarter
Understand what conversations require your attention, thanks to the separate folders and new, clearer conversation counters.
Be there for your coworkers
Access your colleagues' conversations with one click. Manage your team and assist your coworkers in a blink of an eye.
New solved conversations box
Sort out the conversations when they're finished. When your discussions end, solve them to see a convenient preview of all your closed conversations in one designated folder.
One view for tickets and conversations
No need to jump between tabs. When you're done with the most urgent chats, access tickets immediately.
How to use One-Inbox
You'll automatically see our new One Inbox view by logging in to your Tidio account. You can later decide whether to stay with our new, more powerful view for managing your conversations or return to the old Conversations view by disabling it in your Tidio panel.
Live Conversations
In your One Inbox, you'll see three main preview options for the Live Chat conversations that contain three tabs: Unassigned, My open & Solved folders.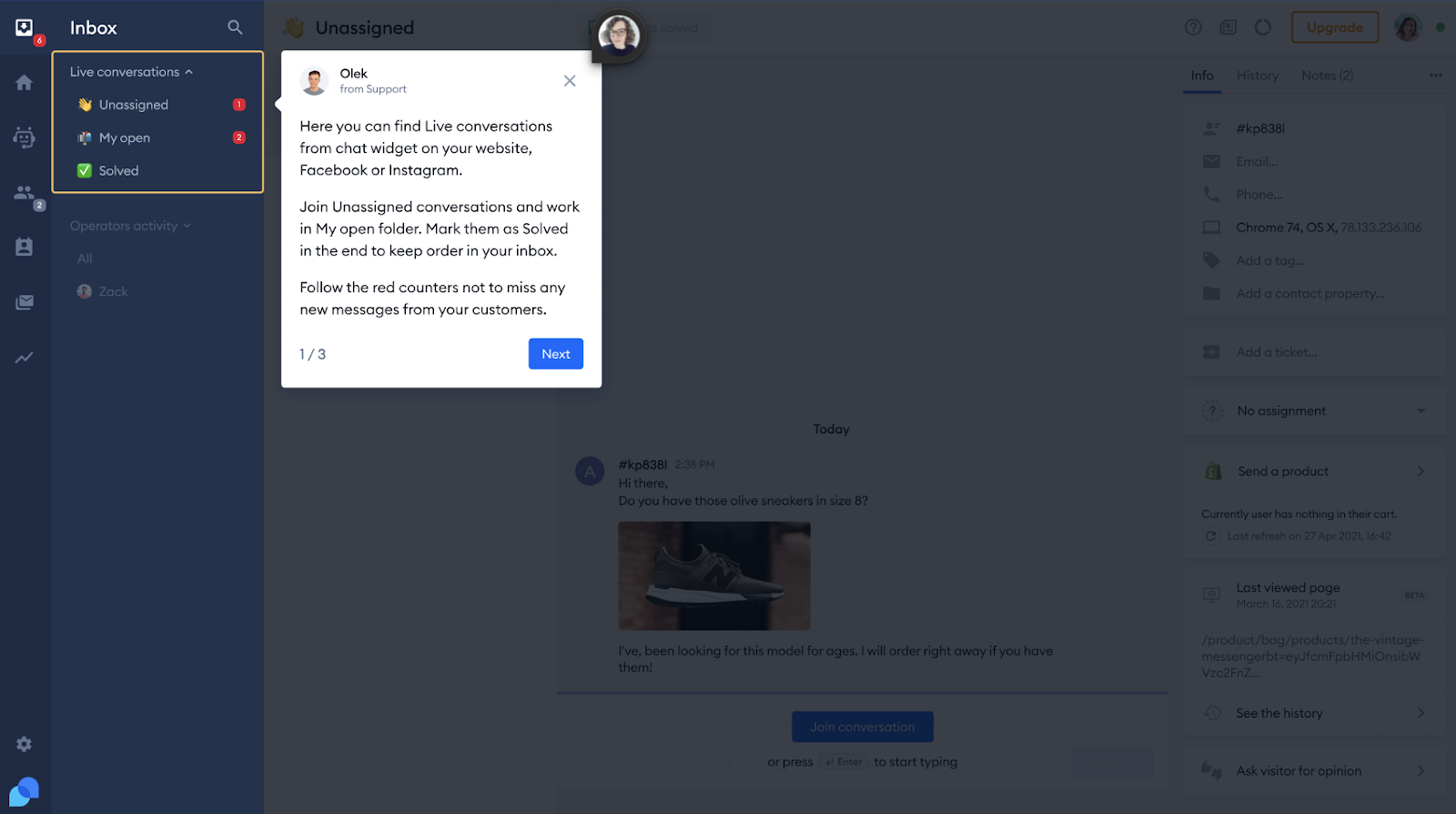 Unassigned
The unassigned tab shows you all incoming chats from your website visitors that haven't been assigned to any operators. It's the main folder from which you can pick up the conversation to join it and assign it to you as an operator.
My Open
My Open tab shows you all the conversations currently assigned to you as an operator.
Solved
The solved tab shows you all your finished chats. It's a form of history or archive with all your finished conversations that you solved.
The red counters next to each tab will inform you about new messages from your website visitors.
Operators activity
Under the Operators activity tab, you'll see a list of operators through which you can oversee their work and help them with their cases.
You can see the preview of other operators' conversations without joining them by clicking on the chat under the chosen operator. The operator & user will not be able to see that you're previewing the conversation. If you would also like to join the chat and be able to write, click on the blue join conversation button.