One Inbox is Tidio's powerful view for managing tickets & conversations. In this article, we will guide you through the power and functionality of One Inbox, helping you streamline your communication processes and enhance your overall customer support experience.
In this article, you'll learn:
One Inbox benefits
Organize conversations smarter
Understand which conversations require your attention, thanks to the separate folders and new, clearer conversation counters.
Be there for your coworkers
Access your colleagues' conversations with one click. Manage your team and assist your coworkers in a blink of an eye.
New solved conversations box
Sort out the conversations when they're finished. When your discussions end, solve them to see a convenient preview of all your closed conversations in one designated folder.
One view for tickets and conversations
No need to jump between tabs. When you're done with the most urgent chats, access tickets immediately.
How to use One-Inbox
You'll automatically see our new One Inbox view by logging in to your Tidio account. You can later decide whether to stay with our new, more powerful view for managing your conversations or return to the old Conversations view by disabling it in your Tidio panel.
Live Conversations
In your One Inbox, you'll see three main preview options for the Live Chat conversations that contain three tabs: Unassigned, My open & Solved folders.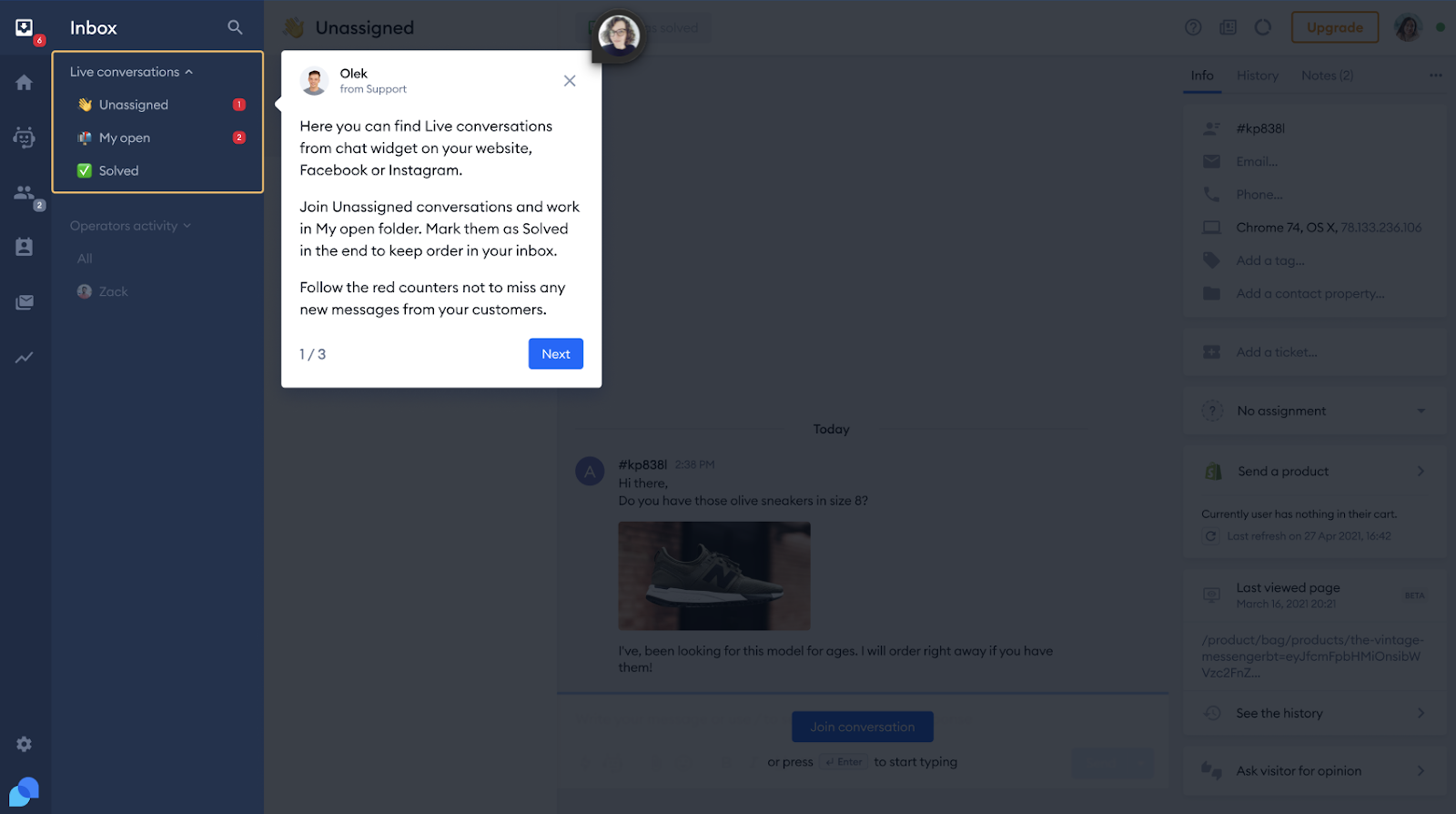 Unassigned
The unassigned tab shows you all incoming chats from your website visitors that haven't been assigned to any operators. It's the main folder from which you can pick up the conversation to join it and assign it to you as an operator.
My Open
My Open tab shows you all the conversations currently assigned to you as an operator.
Solved
The solved tab shows you all your finished chats. It's a form of history or archive with all your finished conversations that you solved.
The red counters next to each tab will inform you about new messages from your website visitors.
Operators activity
Under the Operators activity tab, you'll see a list of operators through which you can oversee their work and help them with their cases.
You can see the preview of other operators' conversations without joining them by clicking on the chat under the chosen operator. The operator & user will not be able to see that you're previewing the conversation. If you would also like to join the chat and be able to write, click on the blue join conversation button.
Conversations' Views
Conversations Views can help you prioritize your workload. They can help you learn about the conversation topics without even reading them and take care of those needing an urgent response first. It's a great help for all order-related issues & questions. It can help you and your team to manage the time more efficiently by dividing the conversation topics & channels between your operators or teams.
The Views feature enables automatic (AI) visitors' intent & channel recognition. When the intents are recognized, the conversations are grouped by the topics of the intents. Messages that come from Messenger & Instagram are visible inside the specified channels folders.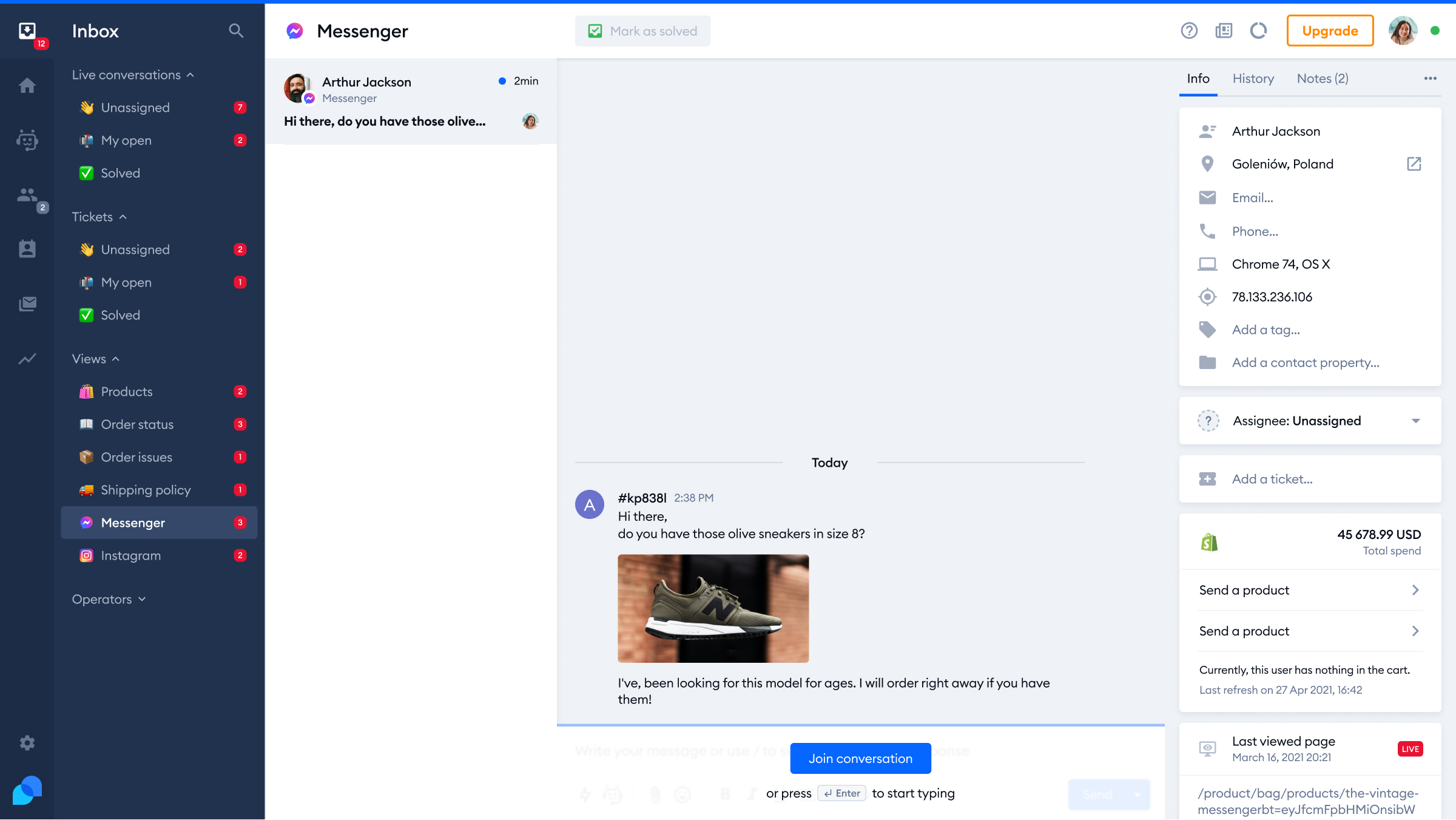 Custom View
To help you create the most convenient view for your Inbox, you can customize the views to adjust them to your preferences.
💡
Currently, the ability to adjust the conversations' views is available only for users who chose 'Online store' in the registration tour.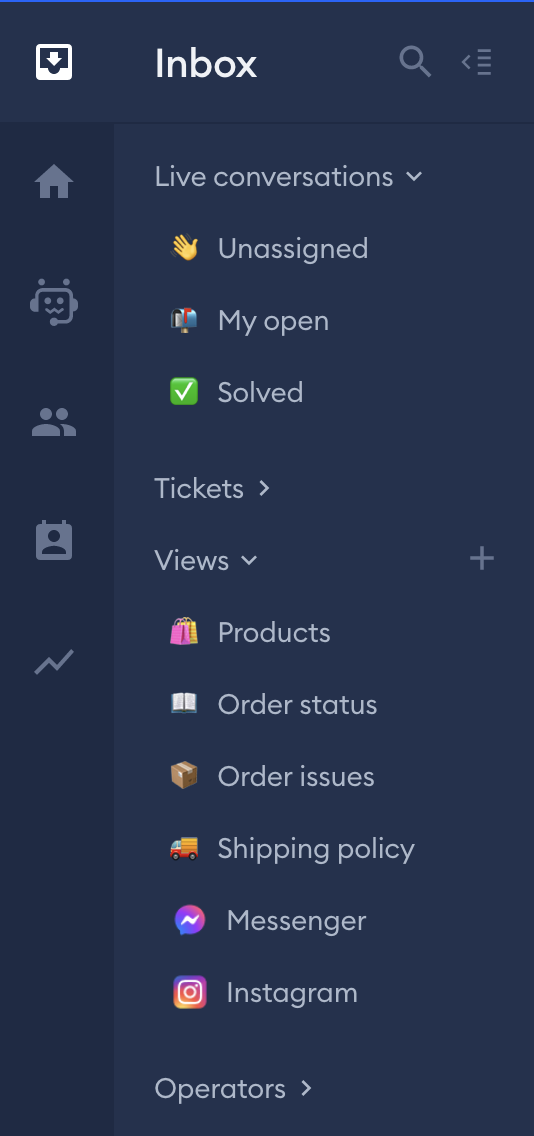 At this moment, you can choose from the following topics:
Account
Discount code
Generic support question
Gift card
Gratitude
Greetings
Job
Location
Open hours
Order cancellation
Order change
Order damaged/wrong
Order status
Order support
Payment
Phone
Pricing
Product
Product exchange
Refund
Return
Shipping change
Shipping delivery issue
Shipping policy
Shipping price
Subscription cancelation
Trial
Wholesale
and two communication channels:
Click on the + icon above the views menu to add more intents to your current view.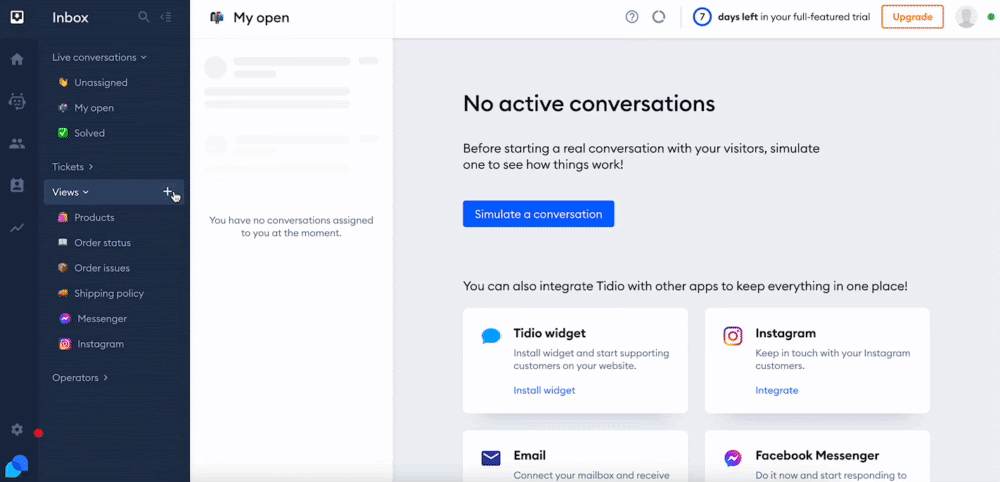 To add new intent, type in the name of the view that you will see on your Views navigation menu and select the conversation topics. Once you're ready, click the blue Create button to confirm your choices.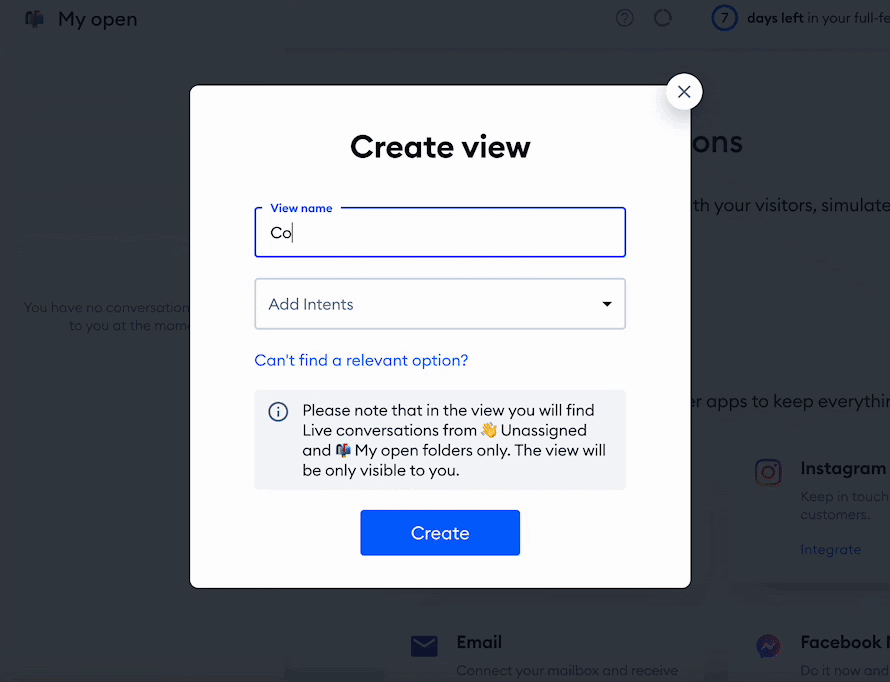 To edit existing views - click on the chosen topic from the navigation menu and then on the three dots next to the topic's name in the conversation column.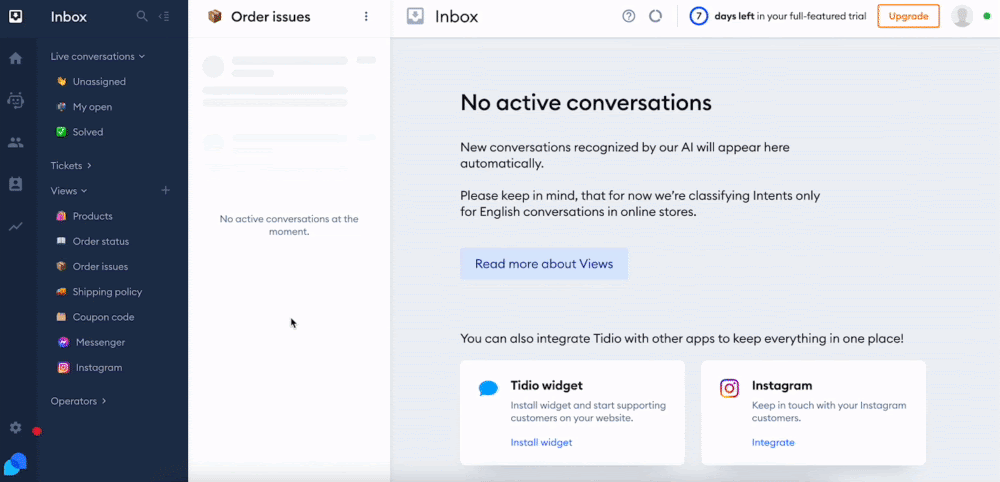 Now, you'll see the editing window, where you can adjust the names & intents of the views.
You can choose a few intents to one view. In this example, we will select a few intents under the shipping policy view in this example.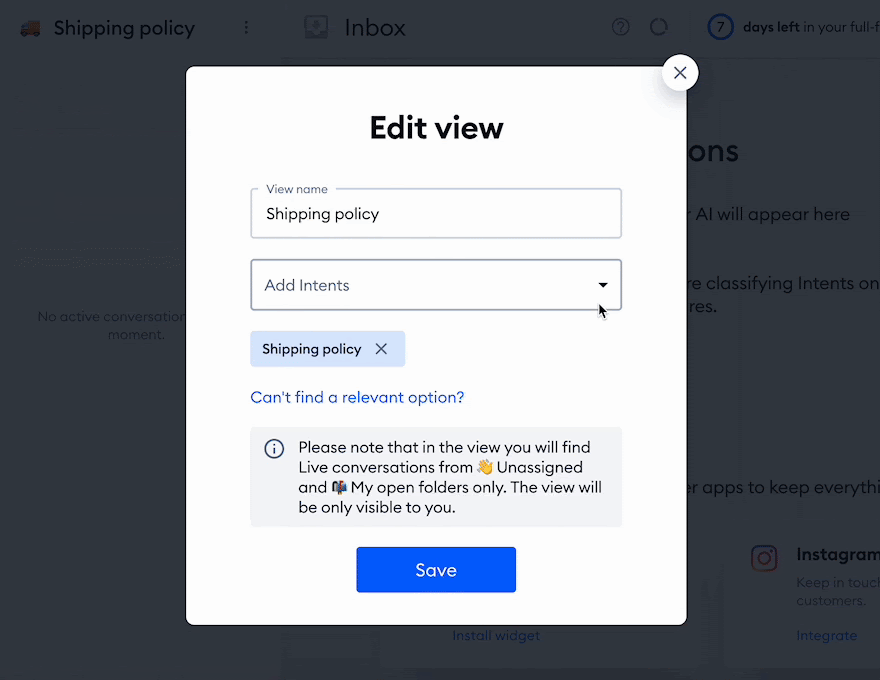 Please remember that the custom view is reserved only for you as an operator. Other operators will not see the changes to the view.
Also, deleting the view will not delete the messages inside the view. The messages will still be available in other tabs like unassigned or solved.
Customizing the intent views in Tidio allows operators to tailor their workspace to their specific needs, making it easier and faster to respond to incoming messages. By prioritizing particular views and information, operators can work more efficiently and effectively, ultimately improving the customer experience.
How do Views work?
When a new Unassigned message that contains one of the intent topics arrives or comes from the Instagram/Messenger channels - it's automatically classified into one of the intents or channels folders with a notification (the message must be more than one word long to be classified).
All conversations with the intent or channel picked by the operator (also the conversations previously assigned to the operator) will be visible to the operator in that view.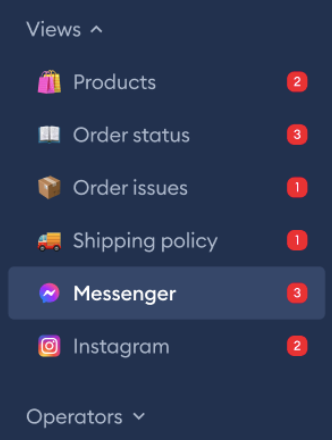 Please keep in mind that, right now, only conversations in English can be classified as topics, and our system only looks at the first message sent by the visitor. That means the messages with only one word, such as "hello" will not be classified into topic groups.