See how to report a bug in the Tidio system.
In this article, you'll learn:
What is the bug bounty program
Bug bounty program, also known as a vulnerability rewards program (VRP), is a crowdsourcing effort that rewards finding and reporting software defects. By and large, if you find a bug in our system and gather all relevant information, you can report it to us. We explain how to do that, in our article below.
We will need two working days to verify the bugs bounty report, after which we'll contact you with any follow-up information.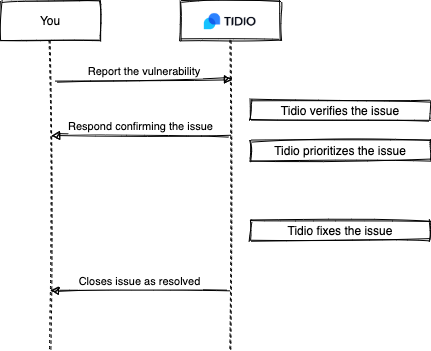 Bugs Bounty Report
We do not have strict rules on how the reports you send should look. Nonetheless, please keep in mind that the report should include data that allows us to replicate the vulnerabilities and assess the potential harm. Reports that do not provide explicit instructions for reproducing them will not be evaluated.
If you think you might have a valid report that would benefit both you and us - take a look into our security policy, where we emphasized in greater detail which resources and what vulnerabilities types areas are accepted in the reports.
To report any vulnerabilities, head over to our security page.
Tidio Panel Bug Report
If you have a "bug" to report that is of rather diminished/minor scale, e.g., chat widget not showing on your website or settings that are not being updated. Please contact us through our chat on tidio.com.
We will work on this together and solve it in no time.