When you have questions or need assistance, our Tidio Support team is here to help! In this article, we'll explain how you can easily reach out to us and explore the available support options. We value your time and strive to provide prompt and effective support to make sure your Tidio experience is seamless.
In this article, you'll learn:
Available Support Options
When you contact us, you'll talk to real, friendly humans, always ready to help! Our Customer Support is international and works from different time zones.
Here are our available support options: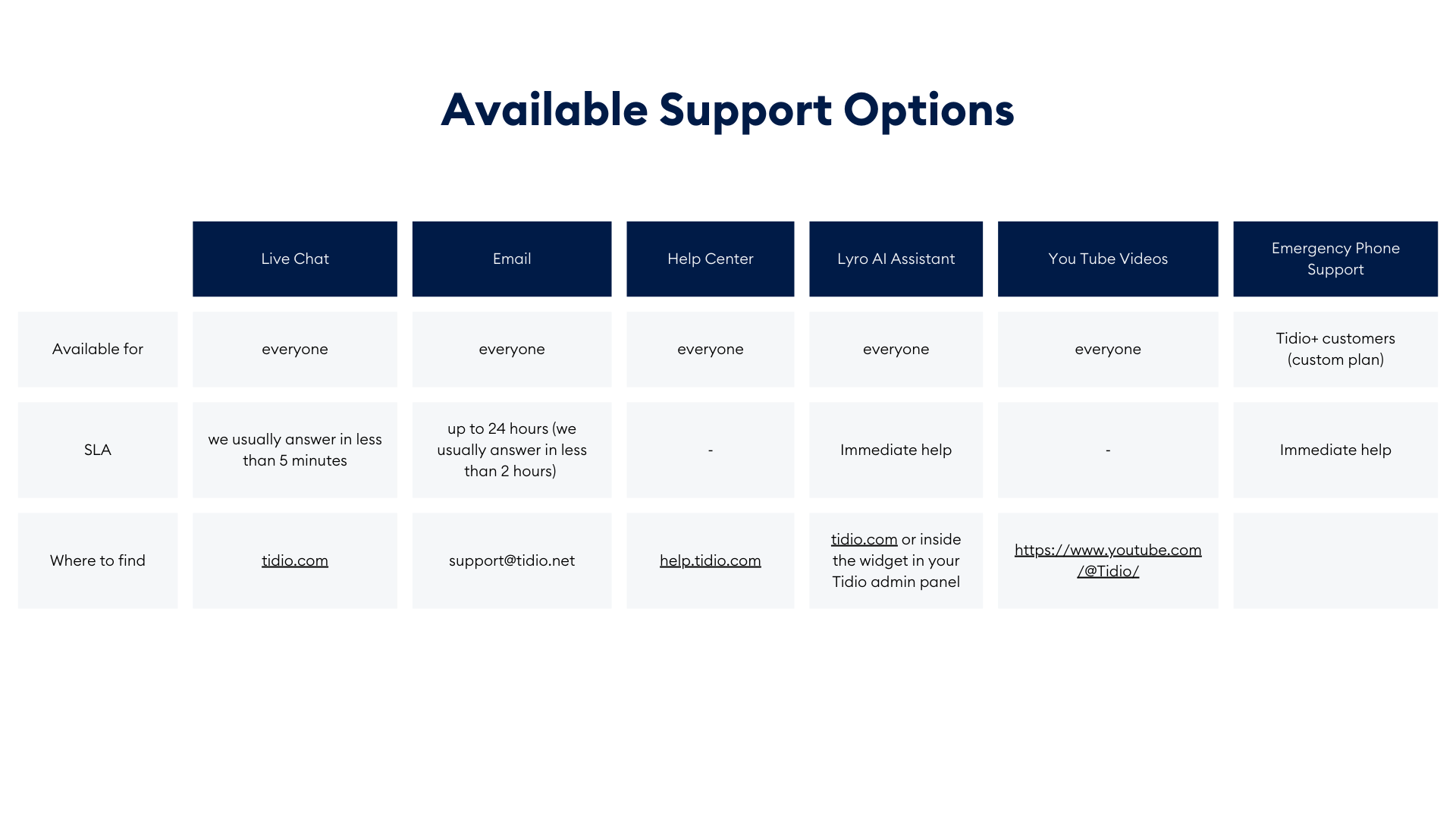 Why is there no Tidio phone support?
We genuinely believe that it wouldn't be possible to provide the same effective assistance over the phone. Live chat is always one click away in your Tidio dashboard, without the need to search for a phone number, dial the number, and wait for a call. It's simpler, quicker, and doesn't interrupt your daily routine! Let us list a few more reasons behind this decision:
Live chat allows us to provide almost immediate support --to start a conversation; you need to write to us. You're not put on hold waiting to be connected! During the conversation itself, we're able to instantly view your website, check your Tidio account and your settings. Thanks to all that, we can troubleshoot in no time.
We can exchange files and documents easily! You customize your chat widget and chatbots in a user-friendly visual editor, so we'd often ask you to send us screenshots or links to see a complete picture of the issue. We'd also send you screenshots to guide you through the Dashboard or the Chatbot editor.
Maintaining a call center involves investing a lot of resources! Reducing those expenses allows us to provide a free product, and... you won't pay a toll for international calls either!
Each conversation is kept in our records, so everyone in the team is up-to-speed with the conversation. You can return to the chat anytime in the future. Even if you don't get to speak to the same agent, you won't need to repeat yourself all over again!
And, finally, we use our product to provide customer service! It's easier for us to identify with our customers, because we're our customers, too!
FAQ
Can I check the status of Tidio maintenance?
Yes. You can see maintenance and outage updates on our status page.
Can I check the status of a feature request?
While our Product Team thoroughly reviews all feature requests, we don't send product updates related to those specific requests. To stay updated on what's new in Tidio, visit our blog and join our Tidio Community group on Facebook.
Where can I report illegal activity?
For any legal inquiries related to Tidio, send us an email at legal@tidio.net