In this article, we'll explore how offline email notifications can enhance your communication. The offline email notification option allows you to receive your website visitors' inquiries directly to your email.
In this article, you'll learn:
Offline Email Notifications
When you're online 🟢, Tidio can send you push notifications to keep you informed about new chats, messages, and visitors. However, when you're offline ⚪️, you can stay updated by receiving email notifications for all missed conversations.
The Offline Email Notification includes visitors' data and the content of the chat message. This allows you to stay up-to-date and promptly respond to their inquiries.
You can reply to their messages by simply responding to the offline email notification straight from your mailbox. You can also log in to your Tidio chat panel and answer the messages through Tidio's inbox.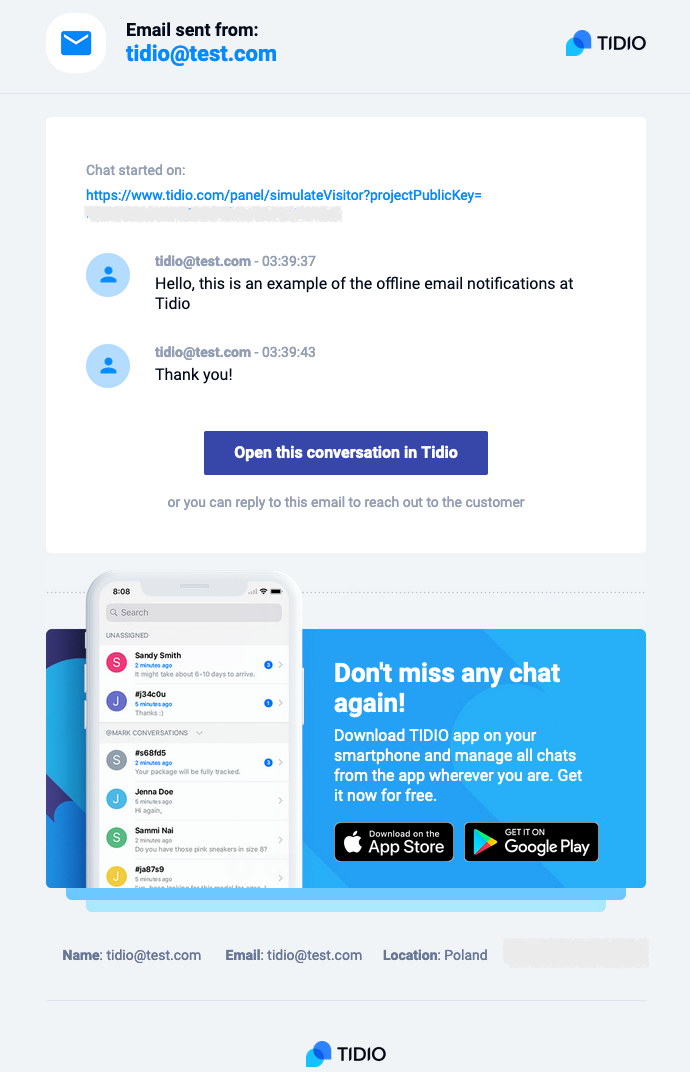 Enable Offline Email Notifications
If you would like to receive email notifications for any messages you receive while logged out or set to Offline, you can configure that under the Settings > Notifications section. There is a 5 minutes delay time which is counted from the last message received. This is made to avoid sending you all the messages in separate emails. Instead, the system will collect all those chat messages that have been written on the chat and send them to you in just one mail 🙂
Notifications sent to your Tidio login address
To set up the offline email notifications - make sure the box under the email column is checked for new messages. The new chat request box is checked automatically to ensure you will receive both - the new chat requests messages and messages from the conversations you're already assigned to.

When the 'email' box is checked, the email notifications are sent to the email address you're using to log into Tidio. The same applies to other operators; if they enable this in their Notifications settings, they will start receiving offline email notifications at their Tidio login addresses.
Notifications sent to other addresses
Perhaps you would like to add an additional email address to receive the notifications there, and not under your Tidio login address? In that case, you can use the Forward email notifications option that is below the main Notifications setting, and add a different email (or emails) manually.

If you wish to receive email notifications only at this additional address (or addresses), you can safely un-check the 'email' checkboxes from before. That way, the offline email notifications will no longer be sent to your Tidio login address, and will only be sent to the additional address(es) you've added under Forward email notifications.
An example
In the example below, a visitor sent a message while the chat was offline; five minutes later, an email notification was sent successfully. This is thanks to the chat remaining offline, and no operators picking up the incoming message during the initial 5-minute period (counted from the moment the chat was received).

💡
Please note that if you switch your status to online before the 5-minute mark, or if an operator is assigned to the conversation at the time, the email notification won't be sent.
The 5-minute delay has been added to ensure each message is included in the notification you receive. It's very common for visitors to send their inquiries in multiple chat messages instead of a single message. With this delay, you'll have the complete picture of the customer's issue, and you'll be able to react more efficiently.
To learn more, take a look at our article on how to go offline in your Tidio panel. (How to set up your operating hours and online & offline statuses. You can also do that by watching our video: