If you want to start using the desktop version of our Tidio panel, you can download the Tidio desktop app for MacOS, Windows & Linux devices.
In this article, you'll learn:
Download the desktop app
To log into your desktop app, you'll need to have a registered Tidio account. To create one, please follow our Getting Started with Tidio article. If you already have an account, keep reading.
You can download the desktop app in the Settings > Desktop & Mobile section of your Tidio panel. Click on the Download for Windows, Linux, or macOS button to download the desktop app.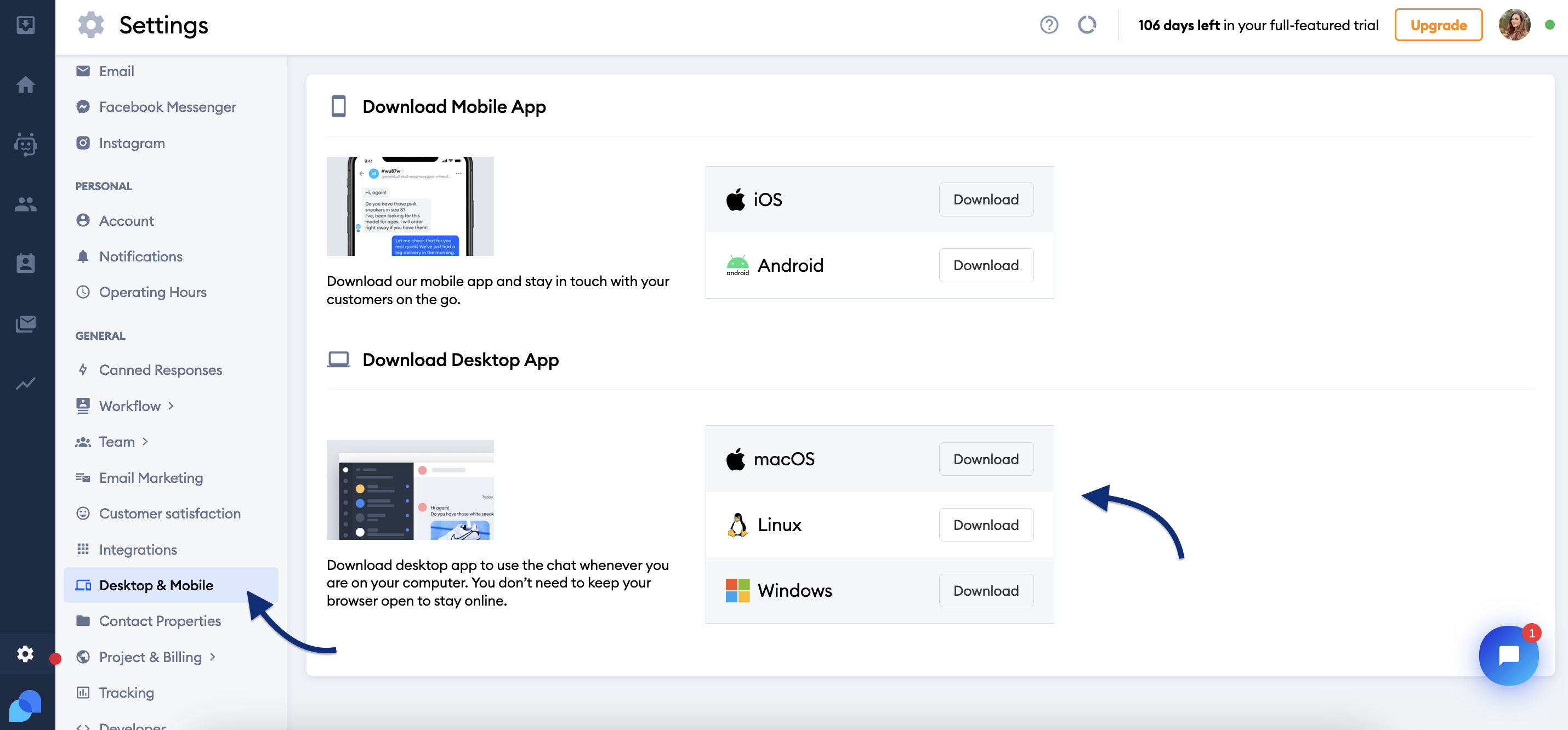 Install Tidio on Windows
To download the Tidio desktop app on Windows, follow the instruction below.
Hit Download

Hit the download button to download the Tidio app on your computer

Download the .exe file and open it.

If you can't see it, it should be saved in your Downloads folder by default:
C:\users\*username*\downloads\TidioChat.exe
Where *username* is the profile's name, you're logged into on your PC.

Follow the instructions to install the app.

It might ask you for administrator's permissions - if it does, hit yes and continue.

Log into your account

Now, you are ready to chat with your customers.
💡
Please remember that hitting the x button will close the app entirely rather than minimize it. If you like to hide it and keep receiving notifications, press the _ button.
Install Tidio on Mac OS x
Once you download the Tidio desktop app, it will show as the .dmg file on your computer. Please open it and drag the Tidio icon into your Applications folder.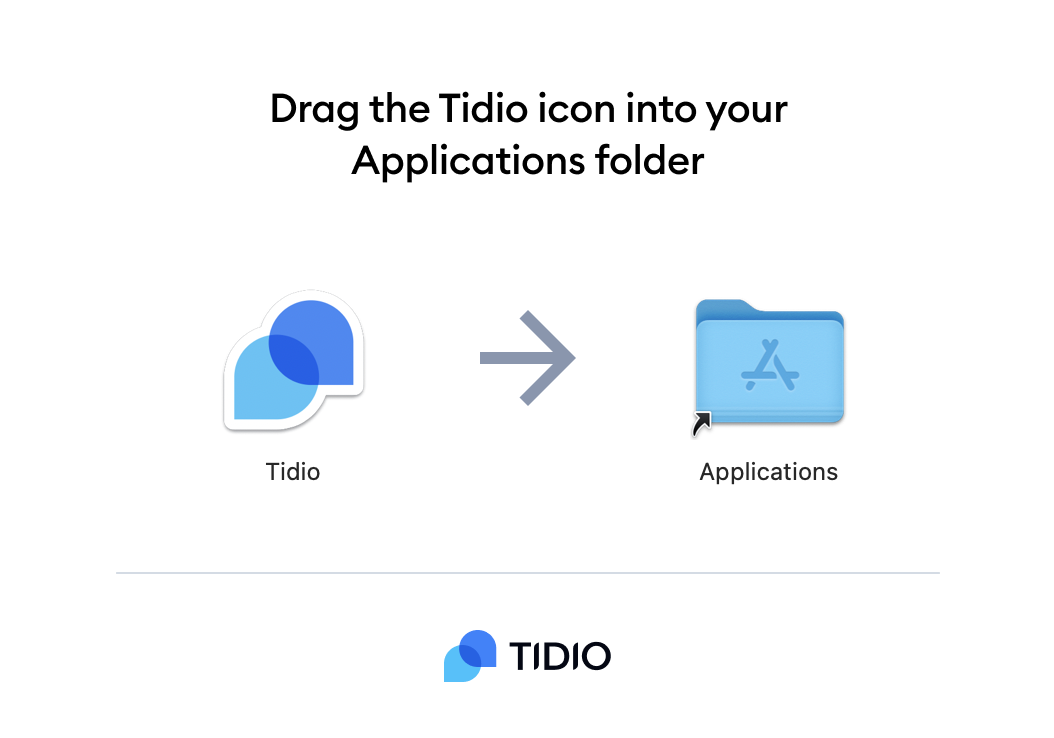 In some cases, information about unidentified developers may appear. Please review our Troubleshooting macOS desktop app article to proceed with the installation.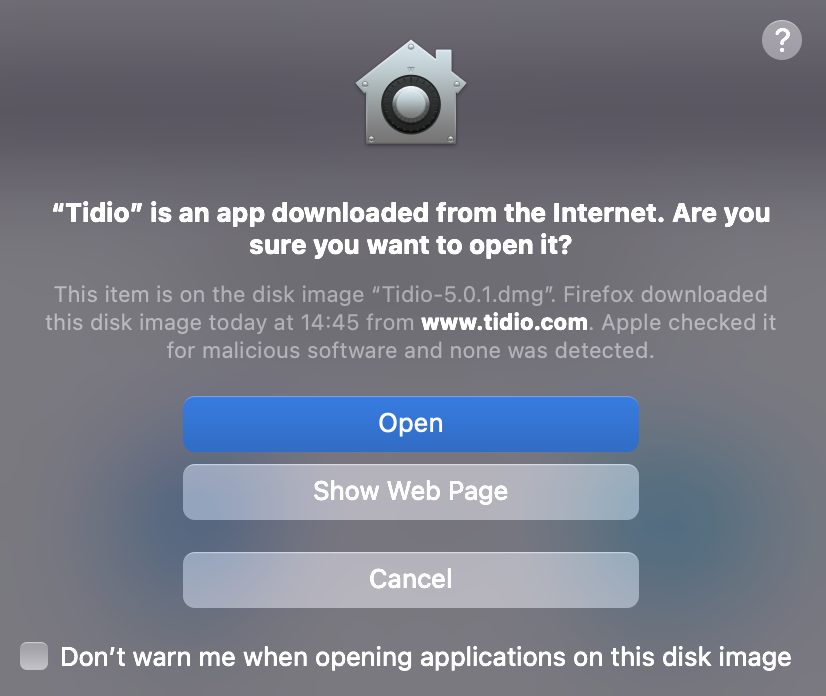 You can also go directly to Settings > Security & Privacy settings on your macOS computer and click Open Anyway. Now, try to install the desktop app again.
Log into your account - and that's it! You are ready to chat with your customers. You can hit the x button to minimize the app and keep it online in the dock.
See recent chat messages in the desktop app
When your computer goes into sleeping mode, you may not see the most recent messages in the Tidio desktop app. The app disconnects from the server when the computer is switched off or put to sleep. To see all the recent messages inside the desktop app, click the desktop app settings button on Mac or right mouse, click on Windows, and choose clear storage.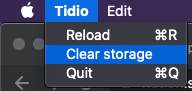 That step will ensure you see the most recent messages inside your Tidio desktop app.
Extend the Windows 10 Notifications
To configure the amount of time notifications display on the screen in Windows 10, go to Settings > Ease of Access on your computer.
Click Other Options and select how long you want the notifications to be shown. You can choose anywhere from five seconds up to five minutes.