The Automatic Solve feature will help you save time by automatically solving finished chat conversations for you.
In this article, you'll learn:
Benefits
Less manual work, more automation
At Tidio, we love automating tasks that can save time. Thanks to the automatic solve feature, you don't need to remember to solve each conversation manually. That's less manual work for you and your team!
Clear Inbox
We know that with many conversations, it's hard to keep track of all finished conversations. Our Automatic Solve feature will help you keep the inbox clear by solving all finished chats for you so you can focus only on those that still require your assistance.
Works in Offline mode
With conversations being automatically solved, you don't have to worry about your assigned customer returning when you're offline. After the conversation is solved, new messages from the returning visitor will go to the Unassigned folder or chosen department. That ensures no message is missed, and other operators are notified to jump and help immediately.
How it works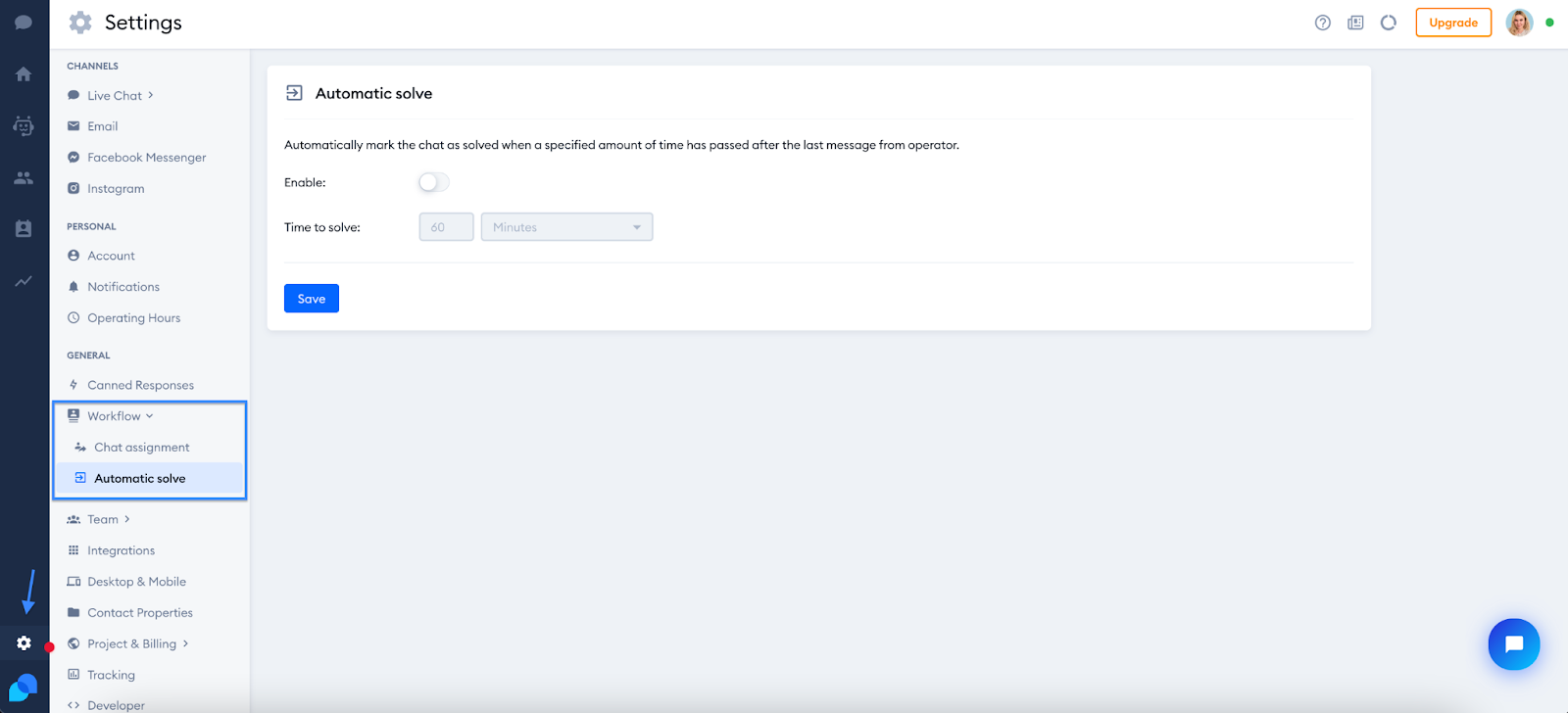 Automatic Solve allows you to solve chat conversations automatically in a defined period. Tickets/Emails need to be closed manually as they usually require a longer time to reply.

Only conversations where there was no reply from the customer for a specified amount of time will be automatically solved, so you don't need to worry about missing a message from the visitor.
The counter (time to solve) for solving the conversation starts when the first message from the operator is sent, and that can be either:
a response to a visitor's message
a new message from the operator via Visitors List to a visitor

Each following chat message from the operator will restart the counter, giving visitors time to respond.

Automatic Solve works for all new conversations only. That means all the previous chats that started before enabling the auto-solving feature need to be solved manually.
When Automatic Solve is enabled, it works per the whole project and for all operators. You can set the conversations to be closed maximum of up to 72 hours or 120 minutes, depending on which time frame you have chosen (hours/minutes).
💡
Conversations between bots and visitors, as well as Tickets/Emails, are not auto-solved.
How to enable Automatic Solve
You can enable Automatic Solve by heading to Settings > Workflow > Automatic Solve tab.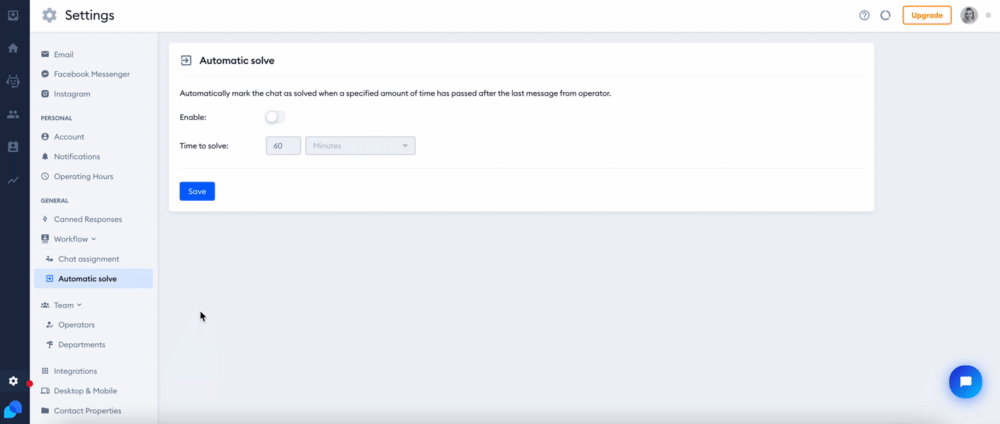 Click on the Enable toggle to turn on the Automatic Solve and specify the time after the conversation should be solved.

Once you specify the time in minutes or hours (maximum up to 72 hours or 120 minutes), click on the blue save button to activate the Automatic Solve.

Great! Now, relax, and don't worry about solving the chats manually.