Did you know Instagram has over 1 billion active users? That's an enormous potential for you, the business owners. Now, Tidio integration with Instagram can help you generate new leads, sell your products and free your operators from answering repetitive questions.
In this article, you'll learn:
Why should you use Instagram chatbots?
Tidio integration with Instagram has many benefits that will improve how you operate on Instagram. Take a look at just a few of them.
Free operators time to answer repetitive questions
You can set up chatbots to handle communication with your Instagram audience for you.
Generate more sales and leads
Getting more leads through the interaction with Chatbots increases your chances of converting at least some of them into paying customers.
Answer customers' questions when operators are offline
Relax in your free time and let the Chatbots do the work for you.
Easy to implement
Chatbots are easy to implement. You can use predefined, ready-to-use templates or build chatbots from scratch in our Tidio creator.
Integrate Tidio with Instagram if you haven't done that yet!
How do the chatbots work?
Generally speaking, a chatbot is a piece of artificial intelligence (AI) software that can carry on conversations with its users, sometimes even mimic human conversations.
Chatbots at Tidio:
can be triggered on chosen events (we called them triggers)
conduct defined actions throughout the bot's workflow
behave differently for given conditions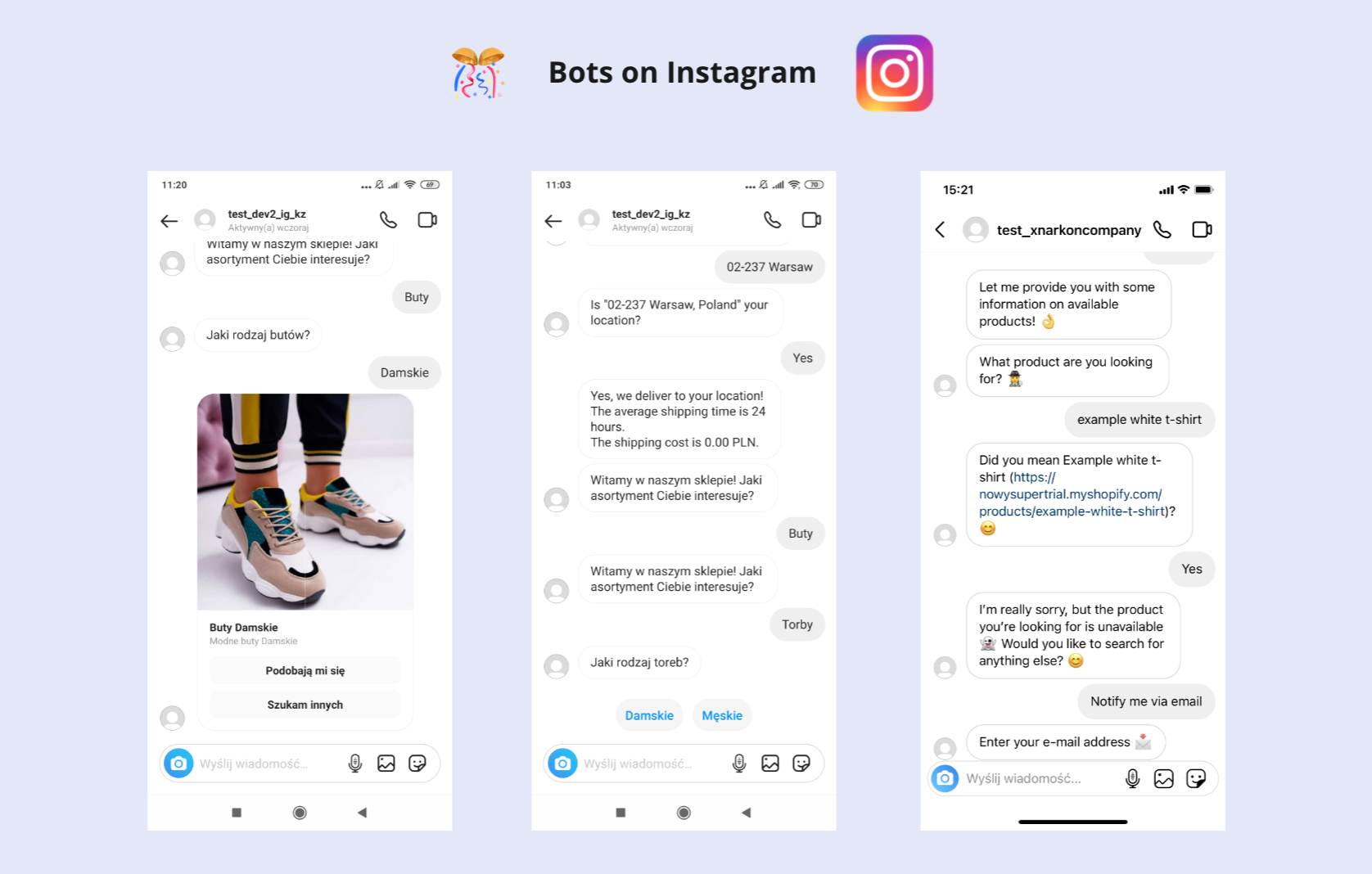 Available triggers for Instagram bots
Below, you can see a list of available trigger nodes that evoke a bot on Instagram. To learn more - take a look at our article about triggers.
Visitor says (AI Chatbots)
This trigger helps you define example phrases sent by visitors on which chatbot should be started. Tidio's algorithm tries will match visitor text with example phrases and trigger the correct chatbot.
Learn more by looking at our article about Natural Language Processing trigger.
Operators start the chatbot
This trigger's not triggered automatically. The Operator needs to start it manually from the conversation panel during the chat with the visitor.
Operator doesn't respond/take the conversation
This trigger can start a bot based on the defined minutes when the operator hasn't sent a message.
Operator leaves the conversation
Triggers chatbot after the operator left the conversation with a visitor.
Available actions for Instagram bots
Below, you can see a list of available action nodes that can be used inside the bots on Instagram:
Send a chat message
A standard text message will be sent to the visitor.
Ask a question
The chatbot will ask the customer a question and validate the answer (e.g., proper email address, valid phone number).
Decision ( Quick Replies)
Bots send customer text information and display possible answers as bubble buttons (quick replies).
Decision (Buttons)
Bots send customer text information and display possible answers as rectangular buttons.
Decision (Card Messages)
Bots send the customer - text & image & link and display possible answers as rectangular buttons.
Send an email
A predefined email message will be sent to the customer.
as well as other actions that are usually not visible for the Instagram users/website visitors:
Delay
Allows you to delay sending the following chatbot message
Notify operators
The conversation will be sent to the operators (unassigned section inside the Tidio admin panel).
Set contact property
New information will be assigned to a given user in Tidio.
Add a tag
A tag will be added to the user contact.
Remove a tag
A tag will be removed from the customer's contact.
Send to Zapier
Information about the customer can be sent to Zapier.
Chat with bot end
A message after all chatbots actions are completed will be sent to the users/visitors.
Subscribe for mailing
The customer's email will be tagged as subscribed to the mailing list.
Available conditions for Instagram bots
Based on contact property
Bots can consider information assigned before to the customer in Tidio
Day
Bots can be triggered on given days
Mailing subscriber
Can check whether the customer is tagged as a subscriber in Tidio
How to use chatbot creator?
Using the chatbot creator is very easy and includes the drag-and-drop system with three possible steps to make:
Add trigger
Add chatbot action
Add condition
To learn more about chatbots creator - check the series of our articles - How to start with chatbots 🚀.
Predefined templates
You can find the predefined chatbots templates by logging into your Tidio admin panel and heading over to the Chatbots section.
We have prepared some dedicated datasets for the Visitor Says (AI chatbots) for the most common issues:
Discount Code
Order Status
Shipping Policy
Automate Repetitive Answers
Learn more by looking at our article explaining the predefined chatbots templates.