Each Tidio account has a limited amount of monthly chatbot uses at the start. The default limit for the free, basic account is 100 uses per month. We sometimes refer to it as Chatbots quota or Chatbots monthly limit.
In this article, you'll learn:
To learn even faster, you can watch our video where we explain everything about the Chatbots Monthly Limit in Tidio:
Check your Chatbots limit
You can check your current Chatbots limit by heading over to the Tidio panel dashboard section, where the insights about Chatbots and Email marketing are displayed.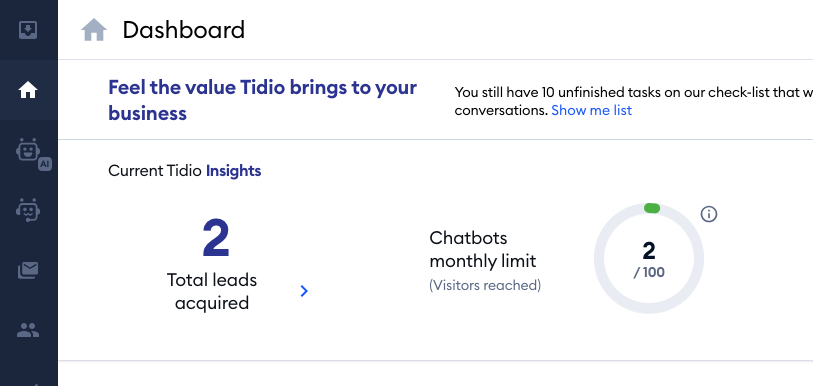 Chatbots limit Calculation
At Tidio, a single chatbot use is essentially a single time a chatbot is activated per unique visitor.
Example: Let's say you have added a bot that welcomes all your new website visitors. This chatbot will trigger and send a message each time a new (unique) visitor enters your site. That means one trigger will be deducted from your chatbot's monthly limit per unique visitor.
You can use multiple chatbots for one unique website visitor, and it would still be counted as one use to your monthly chatbot's limit. (e.g., a bot that welcomes your new website visitors, discounts for returning visitors, auto-replies for missed chats, etc.)
Chatbots Limit Reached
When you reach your Chatbots monthly limit, the chatbots and their automatic messages will stop serving new visitors to your website. Remember: your chatbots can send unlimited messages to a limited number of unique website visitors.
To keep track of your limit, check the chatbot monthly limit in the dashboard of your Tidio panel. You will see how many more visitors they can serve this month.
The live chat option will still be available for you. Your live chat is not affected by the chatbot's limit. Your visitors can still chat with you as usual unless you're on the free Tidio account with chat conversation limit. When you reach your monthly limit, only your chatbots stop working. The chatbot's limit resets every 30 days (counting from the day you activated Tidio or purchased your Tidio upgrade).
If you find you need more uses than 100 default uses per month, you can consider an upgrade to our premium plans, which can increase your Chatbots limit. See how to upgrade your Tidio account in our article about the upgrades.