The Coupon Code node streamlines the process of offering discounts to your store customers, making it easy and efficient to provide quick and attractive deals.
In this article, you'll learn:
Shopify Coupon Code Node
Benefits
Easy to use
You don't have to leave Tidio anymore to set up the coupon codes. Set up the coupons at Tidio without leaving the panel!
Quickly add multiple coupons
A quick option to add multiple % discount coupons to your Shopify panel. Each new coupon you add via Tidio will automatically appear in your Shopify Discounts section for subsequent use.
Match Coupon codes with orders
You will be able to match your Coupon code used to the actual revenue they brought into your store
E.g.
- 100 codes sent
- 20 codes used assisting $2000 sales in total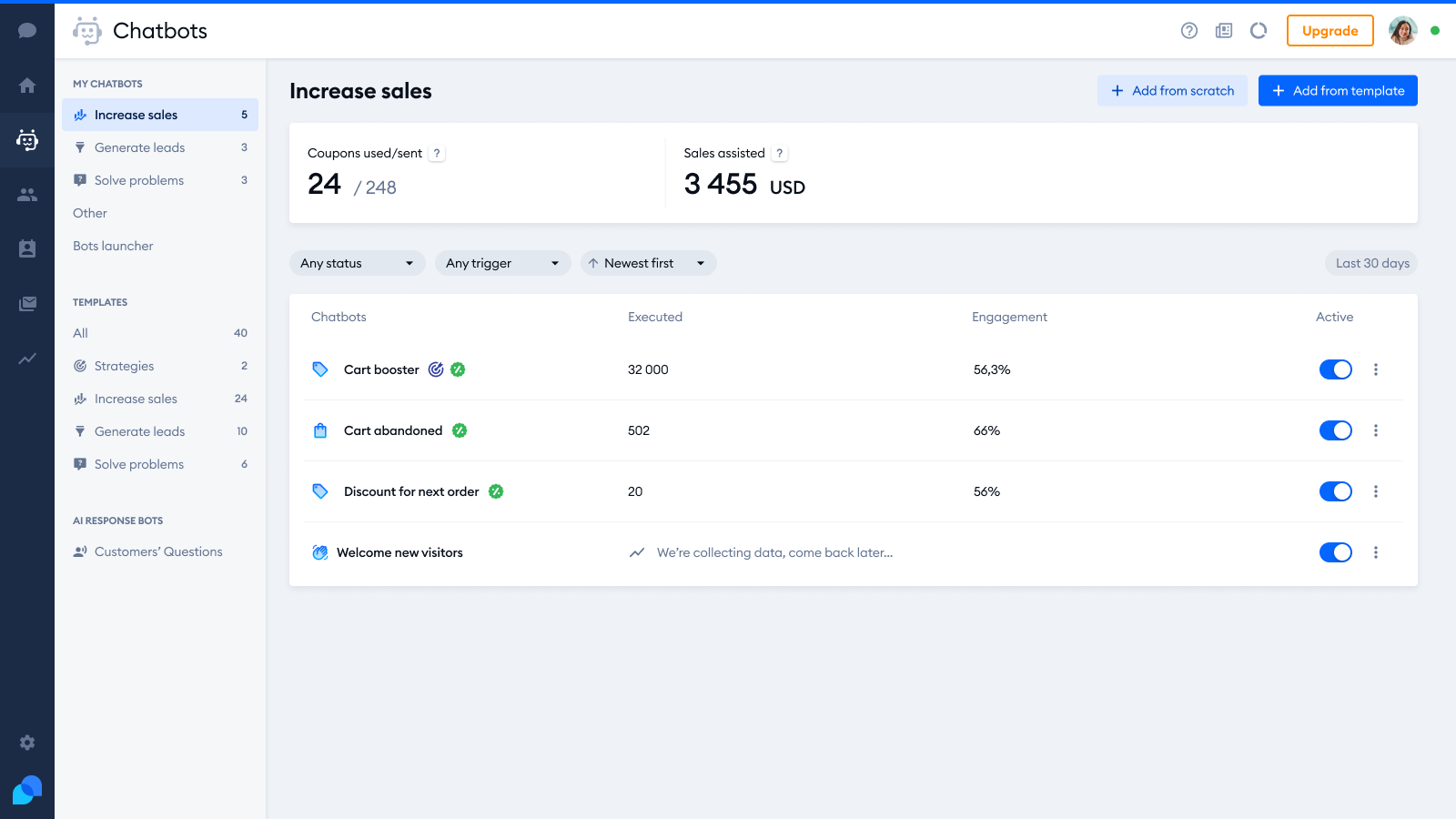 How Coupon Code for Shopify works
To add a Shopify Discount code via Tidio, all you need to do is edit an existing chatbot or create a new one from scratch. You will also find the Coupon Code node in our templates. To a newly created chatbot, please add the Shopify Coupon Code Node at the place where you wish the code to be shown to your visitor.
If you haven't done that yet, Tidio may ask you to integrate with your Shopify Store:

Once you're integrated with Shopify, the node will allow you to type a message you wish to show to the customer along with the code:


By clicking the + Add Coupon Code button, you can choose your already created Shopify coupons or create a completely new coupon.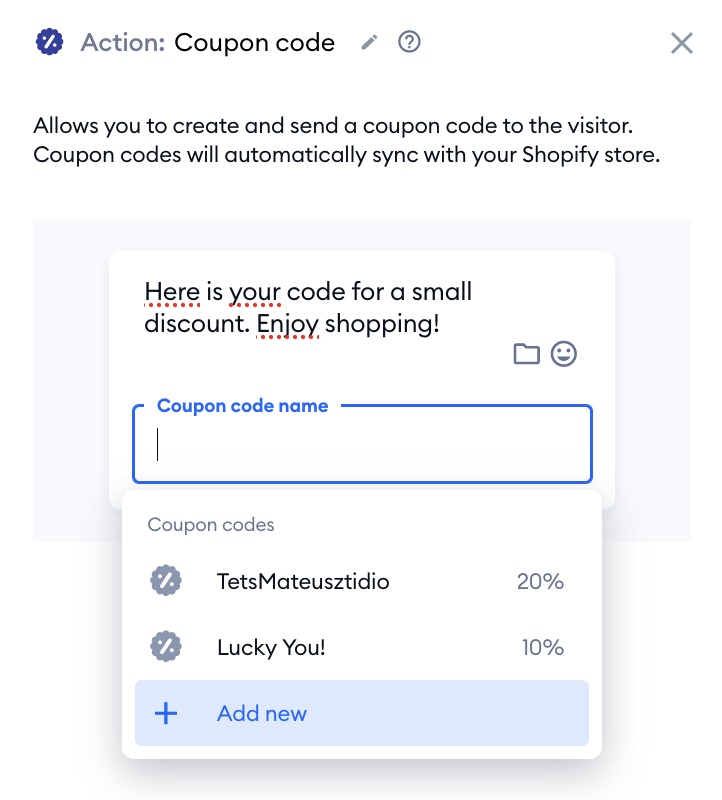 To create a new coupon, click on the Add new button.
Now, add name (up to 16 characters), and a % value of the discount for the entire order.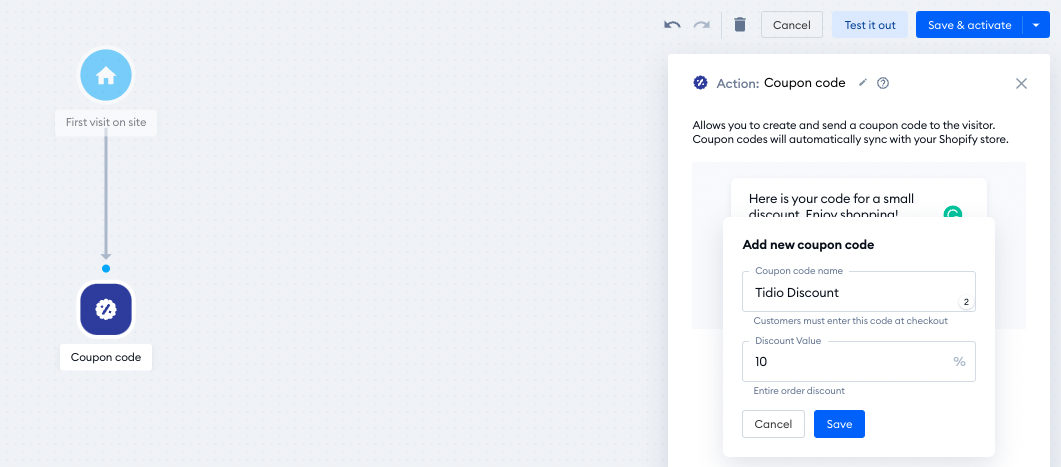 Once you click Save, the discount is automatically saved in Shopify.

All you need to do now is to click the "Save and activate" button in the chatbot editor for your customers to see it in your chatbot flow.
Frequently asked questions about Shopify Coupon Code Node
May I adjust the discount value?
You can do that from the Shopify Panel. Remember that, for now, the node will help with a % value discount for the whole order. Trying to change the discount value of an existing code in Tidio will not reflect in the Shopify discount section. You are, however, free to create more new Discount Codes and use them.

If I create a new discount code in Tidio, will the other ones be deactivated?
No, they remain active until you disable or delete them in your Shopify Discounts section.
May I create a fixed amount discount with the Coupon Code node?
For now, we can only create a % discount for the whole order.
Update existing chatbots with Shopify Coupon code node
If you have an existing bot and would like to use a coupon code node inside of it, please follow the step-by-step guide below.
1. Go to the My Chatbots section in your Tidio admin panel and find a chatbot that sends discounts as regular chat messages (send a message action).
2. Click on the three dots on the right-hand side and choose the Edit button.
3. Delete the Send a chat message node that sends discounts and replace it with the Coupon code node (available in Shopify Actions)

4. Please drag & drop it to the visual chatbot map and connect with different nodes.
5. Now, add a coupon code.
6. Save the chatbot.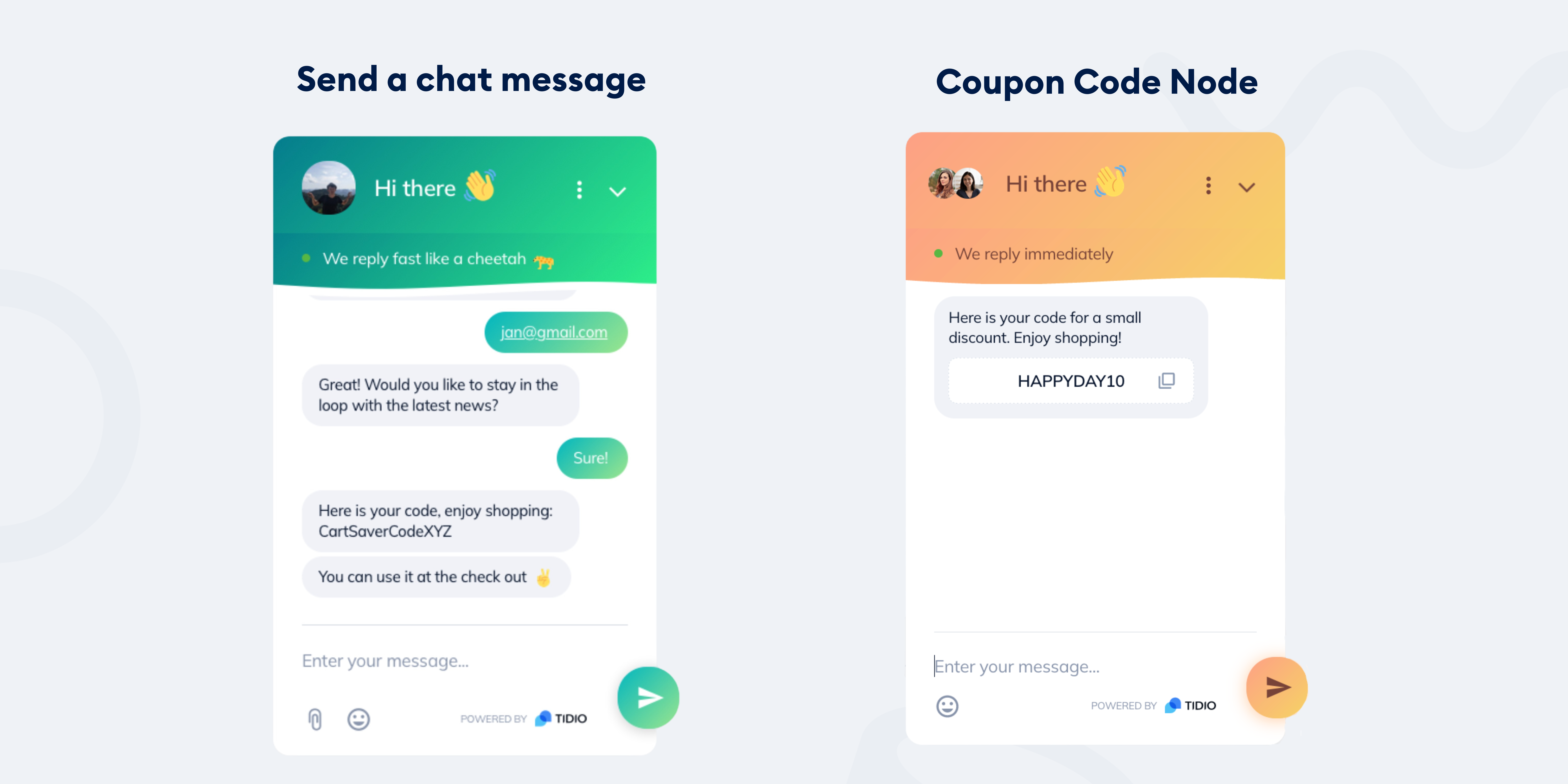 Your website visitors can easily copy the coupon code and paste it directly into the promo code fields at checkout.
Coupon Code Node for all other users
Great news for all Tidio users! Coupon codes are now available to everyone, regardless of whether you use Shopify or not. This means you can offer your customers exciting discounts and promotions, no matter what platform you use for your online store.
Coupon Code Node that is available for all other users needs to be manually typed into the node, but the design of displaying the coupon code inside the chat widget will be the same as we show above.
To add a coupon code, drag and drop the Coupon Code Action onto your Chatbot's visual editing map.
You'll see an editing window on the right, where you can edit the message & type the discount code that exists, and it's available for your customers in your store.
Here's how the message & discount will look on your website visitor side: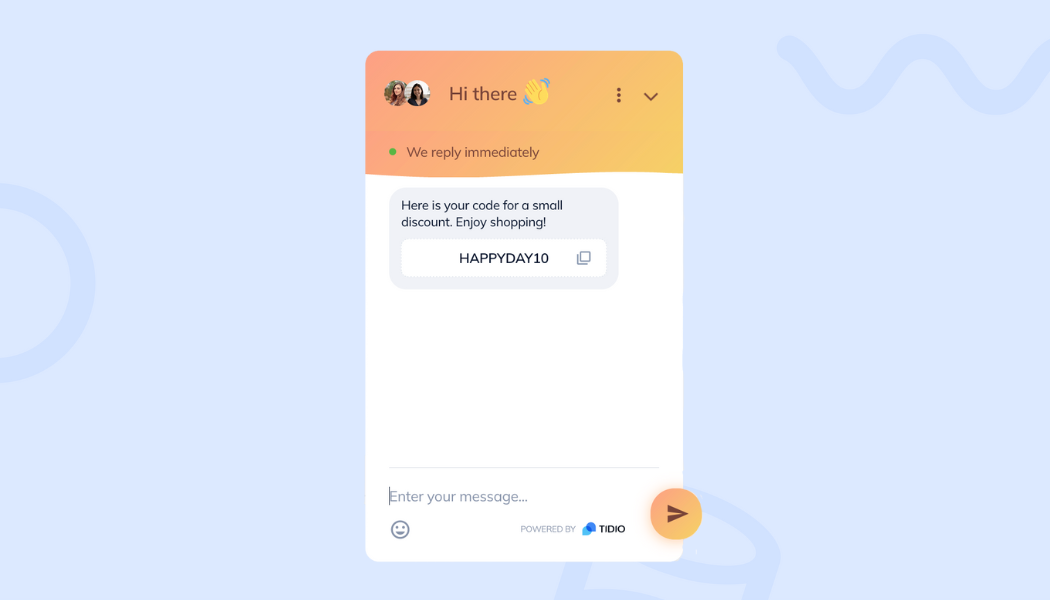 Your website visitors can easily copy to code and paste it directly into the promo code fields at checkouts.
Great job! Now, see how your sales grow! We wish you all the best!