Tidio gives you the option to import your contact data from another CRM in CSV and TXT files. You can upload those documents in the Contacts section, located on the left of your admin panel.
In this article, you'll learn:
💡
This option is only available for our old customers who have access to the mailing plan. We're currently working on making the mailing tool better for all of our new customers 🚀
How to import your own contacts to Tidio
Prepare the CSV or TXT files
To make the import procedure go smoothly - you need to organize your data before uploading it into your Tidio panel. Every piece of information should be placed in a separate column in your file. We advise adding a header row and matching each piece of data with the correct header.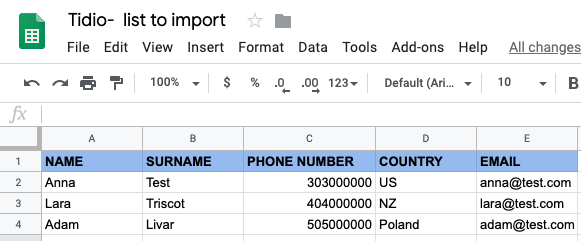 The data displayed in the Contacts section are as follows:
ID
Name
Email
Emal consent (subscribed or unsubscribed)
Created at (day of adding the contact)
Conversation rating
Browser language
City
Country
Phone
Tags
Upload the document
You can upload your documents inside the Contacts section, on the left in your Tidio panel. Once you're there, click on the import from file button above your current contacts list in the upper-right.

Once you click on the import your contacts button - a new panel will pop up, asking you to upload your CSV or TXT file. You can do that by clicking on the blue click here button or just dragging and dropping the document into the window.
Match your data with the attributes displayed in the Contacts section
The import window will take you to the second step after uploading the file. You will then match your data with the right attributes from the Contacts section. You will see the header row names on the left, your data in the middle, and the contact attribute (to which the data will be assigned) on the right.
To match your data with the attributes - click on the drop-down menu under the 'contact attribute' column and choose the correct attribute from the list.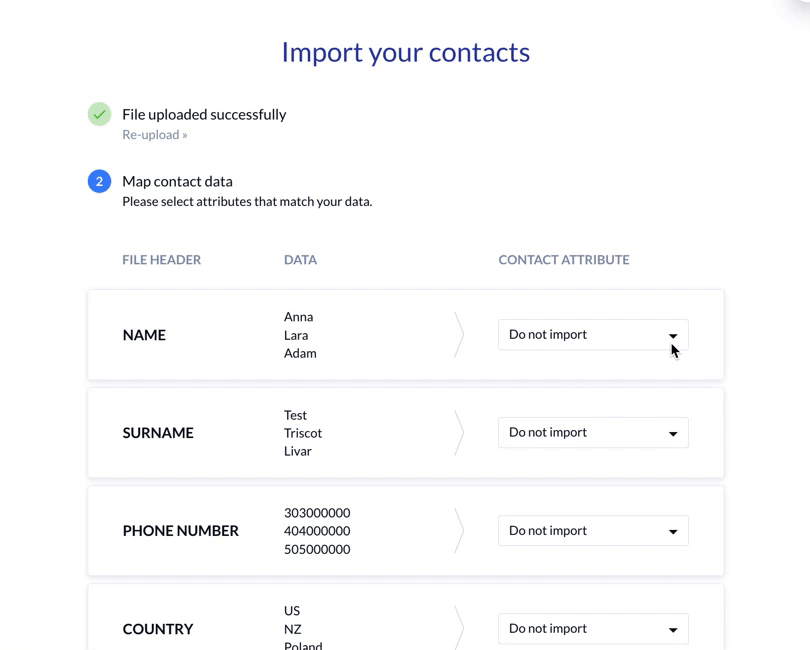 Once all the data have their attributes - click on the blue confirm mapping button under the columns.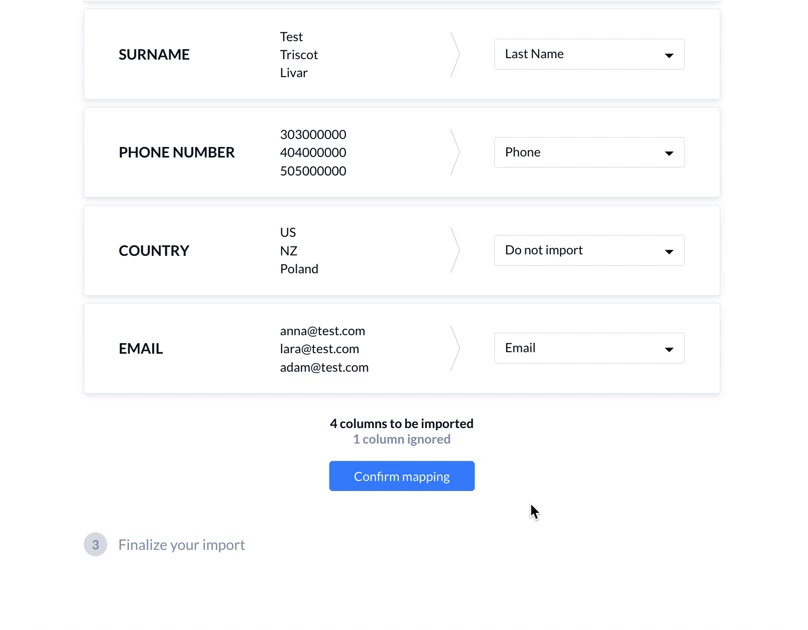 Finalize your import
While finalizing the import procedure, you can decide what to do with your existing contacts. An existing contact is one that already has an email address assigned to it.
You will have two options to choose from:
Import new contacts and update existing contacts. This option will import all of your new contacts and update the ones who already have emails in your Contacts list;
Import new contacts and skip existing contacts. This option will import all the new contacts without updating the ones you already have in your Contacts list.
Finally, you will be asked to confirm that all imported contacts have given you their permission to email them.
All done! Now you can see all of your imported contacts in the Contacts list.