Tidio, integrated with the WIX platform, offers an excellent solution for automating visitor interactions and answering their queries. In this article, we will provide a comprehensive guide to setting up and using Tidio chatbots on WIX. Whether you want to create chatbots from scratch or use ready-to-use templates, we'll cover the essential aspects to help you leverage the power of chatbots effectively.
In this article, you'll learn:
Creating Chatbots
To create a chatbot for the Tidio widget on your WIX website - log in to your Tidio panel.
Once you're in the dashboard - click on the Chatbots icon on the left side menu bar. To create your very first bot - click on the blue Add from scratch o choose one from the ready-to-use templates.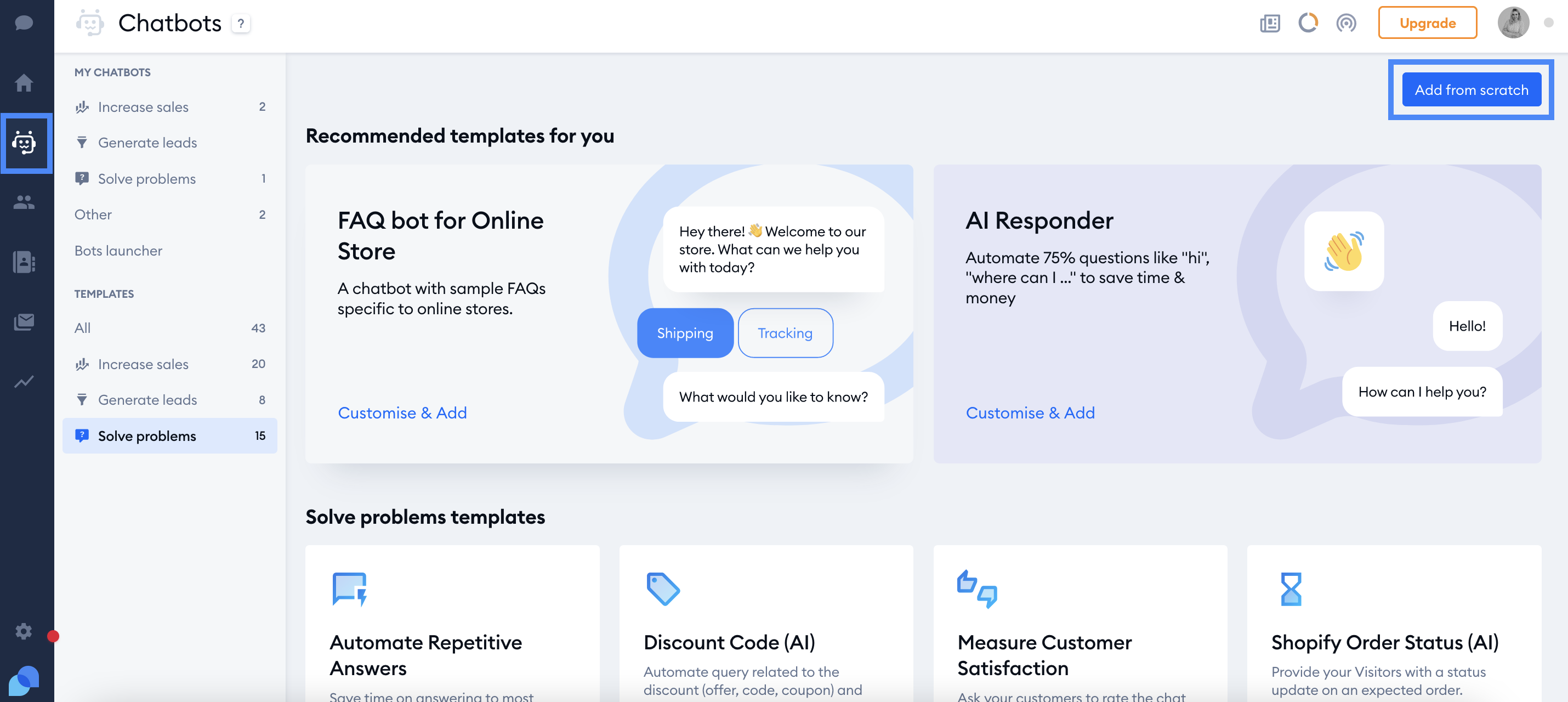 Available nodes
If you decide to create your bot from scratch or adjust one of your templates, below, we will explain what each node allows you to do.
💡
Some of the nodes may not be available on the WIX platform as they were designed for other platforms specifically.
Triggers
A new workflow always has to start with a trigger – something the visitor needs to do to create this particular automation.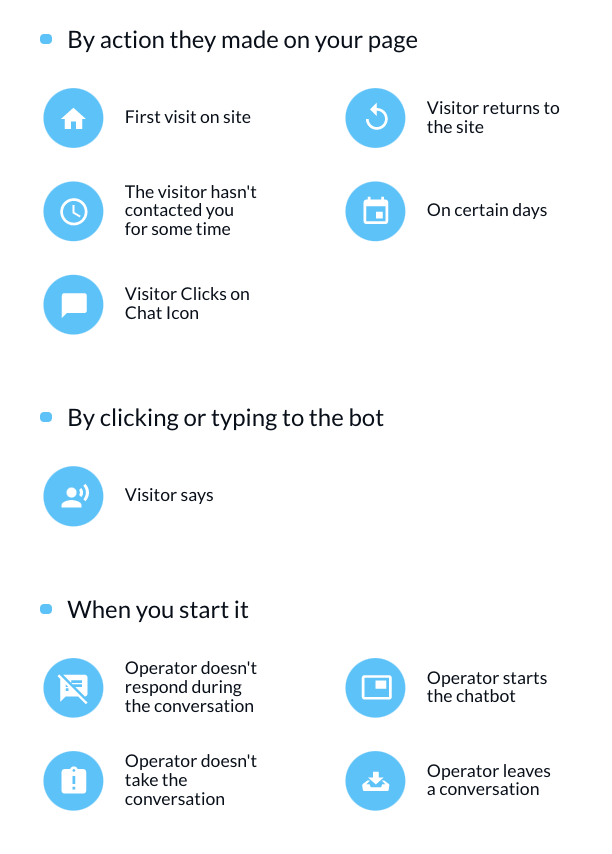 Once the starting point is specified, you can add and connect the actions placed right after the trigger. Since the grid shows the logical chain of events, the actions must be connected in chronological order. The line connecting them needs to be drawn from the action to the reaction that follows.
Actions
Actions allow you to build the flow by telling your bot what kind of action should be performed at the moment.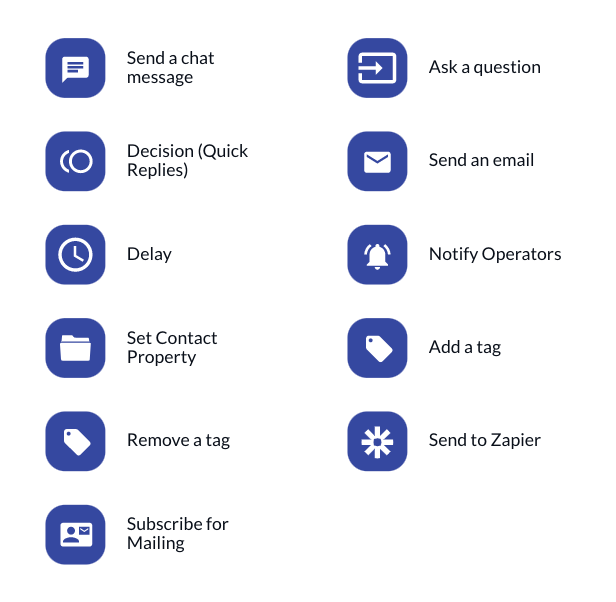 Conditions
Conditions have their internal settings, allowing you to specify if they should target the specific element, omit it, or work as a wild card.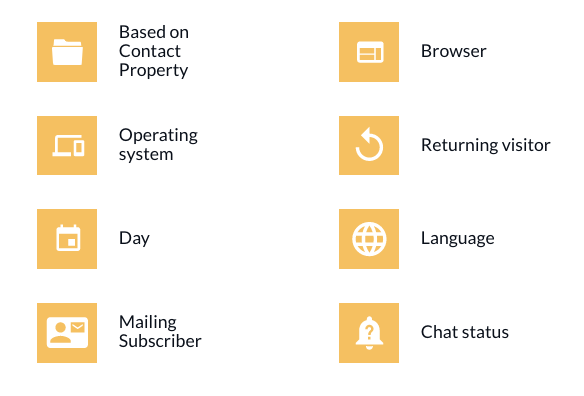 Ready to use templates
Tidio also prepared many helpful templates for you. If you wish to use one of the templates, you can choose one from one of three available categories:
Increase Sales
Generate Leads
Solve Problems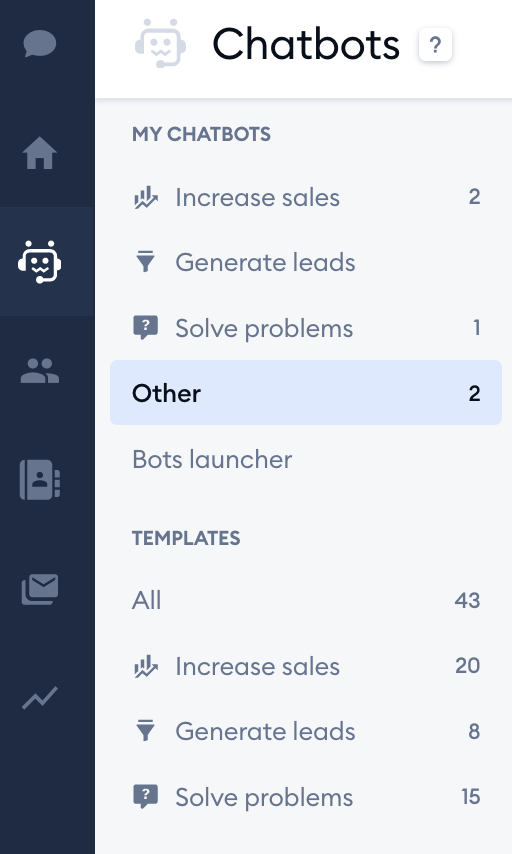 When you find a template you would like to use, you can test it out - just hover the mouse over the chosen bot and click on the Test it out button. When you decide to add the template to your bots, click the Customize & Add button.
Existing bots
To edit the existing, please visit the Chatbots section on the left side of the Tidio admin panel. Lookup for the bots under the My Chatbots section, click on the three dots menu next to your chosen bot you wish to adjust, and click on the Edit button to enter the editing map of the bot.